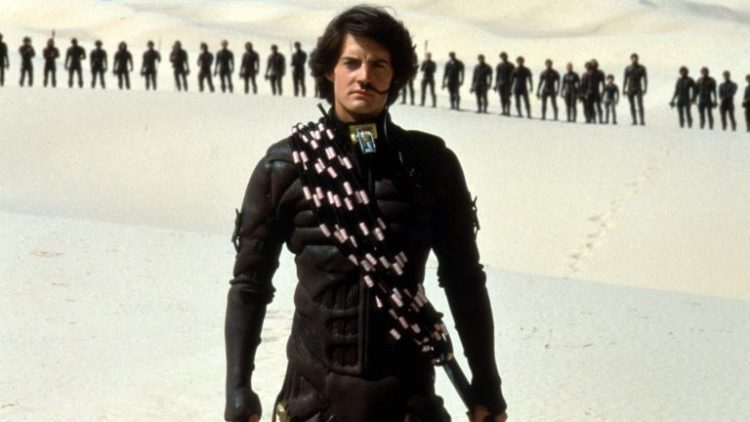 It's hard to believe that some of the best directors of all time have created flops in the box office. Critically acclaimed and award winning directors like Woody Allen, Steven Spielberg, Clint Eastwood and Robert De Palma have in fact made films that they regret. But it happens. All of us have made mistakes, even legends of the screen. Be it a starting point in their careers or simply experimenting in an area outside their comfort zone, some of the most acclaimed behind the camera geniuses have made clunkers.
However, it's important to note that if not for some of these films, these directors wouldn't be the talents they are today. While it's never easy to see one of your films get panned ultimately they provide a valuable learning experience. There's nothing wrong with moving in another direction. It if works, great. If it doesn't, you step back, reassess and move forward. That said however,
Here are 20 of the worst movies by otherwise great directors.
Scoop – Woody Allen
Woody Allen is one of the most iconic and prolific directors of all time. He has made 40 filmsand most were critically acclaimed and have become classics. Allen's movie themes of social discomfort are filled with droll sarcastic jokes and one liners that have made his filmmaking unique. For the man who made film classics like "Bananas", "Love and Death", "Annie Hall" and "Manhattan", it's difficult to believe Allen wrote and directed 2006's "Scoop". Allen always seems to have a muse. Diane Keaton fit into several of his films perfectly. However at the time he made "Scoop", Scarlett Johansson was the director's muse. While Johansson was an okay fit for "Match Point" she was not for "Scoop". It feels like the casting is wrong in this lighthearted comic murder mystery, and Johansson falls short delivering Allen's one liners.
The Bonfire of the Vanities – Brian De Palma
Brian De Palma directs suspense, crime and psychological films. His films include "Carrie", "Dressed to Kill", "The Untouchables" and "Mission Impossible". De Palma did not do so well when he directed 1990's "The Bonfire of the Vanities". The film is based on Tom Wolfe's 1987 satirical novel about Wall Street and greed. While the book delves into the minds of the characters, the movie presented them as one dimensional. De Palma cast some of the biggest stars at the time. Melanie Griffith, Bruce Willis and Tom Hanks were in their prime, but even they couldn't give the substance to the characters as Wolfe intended.
1941 – Steven Spielberg
1979's "1941" is the worst film directed by Steven Spielberg. Coming off his hits, "Jaws" and "Close Encounters of the Third Kind", it's hard to believe Spielberg directed a screwball comedy. "1941" was actually co-written by Robert Zemeckis. Spielberg and comedy don't mix however. The comedy is about panic in Los Angeles after the Japanese bombing of Pearl Harbor. While it had many stars including Dan Akroyd, Tim Matheson, Nancy Allen, Ned Beatty, Christopher Lee and John Candy, the film is just silly. It cost a lot to make and didn't earn much at the box office. Critics panned it, but "1941" did gain a cult following when the extended cut was released in 1983 which showed some character development. It remains a film that surely Spielberg regrets.
Ghosts of Mars – John Carpenter
John Carpenter directed great horror and sci-fi films including "Halloween", "Escape From New York" and "The Thing". "Ghosts of Mars" must be an embarrassment for him. The 2001 movie is about a Martian police unit in 2176 that must go to a remote mining outpost to collect a dangerous criminal. When they arrive, the mining post has been deserted and those still there are possessed by former inhabitants of the planet. The film stars Natasha Henstridge, Jason Statham and Ice Cube. Ice Cube is completely miscast and the overacting and the formulaic story are awful.
Hereafter – Clint Eastwood
Clint Eastwood has become one of the best actor turned director of all time. His award winning films include "Million Dollar Baby", "Sully", "American Sniper" and "Mystic River". 2010's "Hereafter" is his worst film. Steven Spielberg happened to serve as the executive producer. The parallel stories of three people affected by death had potential. The film begins with an emotional scene where Cecile de France's character survives the 2004 Indian Ocean tsunami. The movie goes down from there. Even Matt Damon, as a reluctant clairvoyant, can't save the movie. The third story about British twins trying to reunite is dull. While "Hereafter" tries to understand the afterlife, it just comes off as preachy with too much unnecessary dialogue.
Alexander – Oliver Stone
Oliver Stone is known for his award winning films including "Platoon", "JFK" and "Natural Born Killers". These movies were all relevant and fast paced. "Alexander" was a disaster. The 2004 biopic about Alexander the Great, one of the greatest military leaders in history, was three hours long and did not deliver as an epic historical drama should. Much of this was do to the miscasting of Alexander. Collin Farrell couldn't hold up to the reputation of Alexander the Great, the renowned Macedonian conqueror.
The Greatest Show on Earth – Cecil B. DeMille
It's hard to imagine that the great film icon Cecil B. DeMille could have a film on the worst list. Yet, the 1952 extravaganza "The Greatest Show on Earth" is one of the worst movies1939. Ironically, the film won Academy Awards for Best Picture and Best Story. However, it is considered the worst film to ever win the award. Cecil B. DeMille brought the epic to Hollywood. He directed 1934's "Cleopatra" and 1939's "Samson and Delilah". Despite a star cast including Charlton Heston, Dorthy Lamour, James Stewart and Betty Hutton, "The Greatest Show on Earth" barely had a plot. It's basically just a big circus. At 2 1/2 hours, the lavish spectacle drags us through the "Big Top".
She Hate Me – Spike Lee
Spike Lee has made groundbreaking films throughout his career. The Brooklyn born director gave us "Do the Right Thing", "Malcolm X" and "She's Gotta Have It". His films are filled with subplots that tie together and create unique perspectives on social issues. What went wrong with 2004's "She Hate Me"? The film has a solid and diverse cast including Anthony Mackie, Kerry Washington, "Ossie Davis, Jim Brown, Monica Belluci and Ellen Barkin, but even these fine actors can't save the script. The story is supposed to be an allegoric criticism of corporate money with the character, Jack Armstrong (an executive at a biotech company) under investigation by the Security Exchange Commission. The premise is strong but the multiple subplots don't tie together coherently at all.
The Lady Killers – Joel and Ethan Coen
The Coen brothers are the kings of dark comedy. They have given us "The Big Lebowski" and "Fargo". Their films combine uncomfortable laughs with surprising violence. Based on a British film, 2004's "The Lady Killers" does not live up to the Coen name. The stories jokes are over the top. Even good actors like Tom Hank, Marlon Wayans and Irma P. Hall can't save it. The story of a gang of criminals pretending to be musicians rent a root cellar from a religious widow, Mrs. Munson, in order to dig a tunnel to a casino vault. When Mrs. Munson discovers the plot, the bumbling gang attempt to kill her. Unlike other Coen films, "The Lady Killers" has no real underlying point to justify the black comedy.
A Good Year – Ridley Scott
Ridley Scott brought us blockbusters like "Alien", "Blade Runner" and "Gladiator". After the success with "Gladiator" he and Russell Crow reunited to film 2006's "A Good Year". It doesn't make sense. From a masculine heroic epic to a sappy romance with a dull story. "A Good Year" is about a high strung investment broker (Crowe) who inherits his uncle's vineyard in Provence, France and learns to slow down. It is not exactly what we've come to expect from Ridley Scott.
The Ninth Gate – Roman Polanski
The great director Roman Polanski gave us "Chinatown" and "Rosemary's Baby". What happened with "The Ninth Gate"? The 1999 clunker starred Johnny Depp as his career was taking off, but even Depp couldn't save this movie. Disguised as a horror film, "The Ninth Gate" is not even scary. A rare book dealer is drawn into a plot to find an ancient Satanic text that will open the gates of Hell. Needless to say this movie wasn't received at all by critics and by this point in Polanksi's career he was so wrapped up in his own personal mess that he didn't have much of a chance at all.
Dune – David Lynch
"Dune" was such a mess that David Lynch distanced himself from the movie when it was released and claimed he had limited artistic control. The 1984 movie starred Kyle MacLachlan and even Sting but failed miserably. Lynch distanced himself from the movie when it was released. The epic takes place in the far future in a desert where noble families fight each other. Lynch gave us great dark movies like "Eraserhead" "Mulholland Drive", "Blue Velvet" and of course the hit television show "Twin Peaks". "Dune" was his box office failure. While Dune remains somewhat of a cult classic, it appears that a remake could in fact warrant interest again in the original.
North – Rob Reiner
Rob Reiner is a popular and great director. He has given us great comedies and dramas. "North" failed miserably. The 1994 comedy has an all star ensemble cast including Elijah Wood, Jason Alexander, Dan Aykroyd, Julia Louise-Dreyfus and John Lovits. There are even cameos by Bruce Willis and a 9 year old Scarlett Johansson. The story based on the novel by Alan Zweibel is perhaps one of the worst movies ever made. It cost $40 million and only earned $7 million. The story of a 9 year old child prodigy who decides to divorce his parents and travel the world to find new parents is pointless. We can't even wrap our heads around Bruce Willis as the Easter Bunny. Critic Roger Ebert gave the movie zero stars.
https://www.youtube.com/watch?v=N9Kczkj15qM
Jack – Francis Ford Coppola
Francis Ford Coppola is one of the best directors of all time. He gave the world "The Godfather" and "Apocalypse Now" amongst many others. His 1996 movie "Jack" stars one of the greatest comedic actors of all time, Robin Williams. Even Williams couldn't save this poorly written and frankly unfunny movie. It's about a boy who ages much faster than normal. He's a 5th grader in a 40 year old man's body. He'll end up dying young, so how can that be funny? While the film does attempt to make a poignant and meaningful story about holding on to life it didn't do a successful job at it. Frankly it doesn't fit well into Coppola's film resume.
Deadly Friend – Wes Craven
Wes Craven is widely considered to be a legend in the horror film genre. He directed classic horror movies like "The Hills Have Eyes" and "Nightmare on Elm Street". Later on Craven would direct "Scream" which was also a huge hit. However, one of his lesser known films, "Deadly Friend," is definitely his worst film ever. The 1986 movie is about a murderous robotic teenage girl. The premise and the special effects are awful. Today you might look back at this film and think that with a little work and modern day effects it could be pulled off. However, the in 80s this was nearly impossible and wound up looking like a murderous mess.
https://www.youtube.com/watch?v=d6UNQB1Lo1s
Oscar – John Landis
John Landis decided to give Sylvester Stallone a comedy and the 1991 movie "Oscar" was clearly not the best forum for this.. "Oscar" is about a Chicago mob boss in the 1930's who has an unruly daughter. As he tries to marry his daughter off, her craziness causes trouble. Many critics consider this one of the worst films ever made, and most certainly the worst attempt by Landis. Remember, Landis has directed some of the most classic comedy films including "Animal House", "Trading Places" and "The Blues Brothers". It's disheartening to think he could have made "Oscar" but like all great directors, somewhere in there he thought a hit was brewing.
Illegally Yours – Peter Bogdanovich
When Rob Lowe's character is called for jury duty in the 1988 movie "Illegally Yours", he finds that it is for the murder trial of the girl he was in love with in high school. The romance was unrequited but Lowe's character is determined to find her innocent. Peter Bogdanovich has directed great comedies like "The Last Picture Show", "What's Up Doc?" and "Paper Moon". In 1985, Bogdanovich directed the critically acclaimed and award winning "Mask". Unfortunately, "Illegally Yours" never nearly lived up to the quality of the other films we just mentioned. It seems that the later on Bogdanovich moved in a decade, the more out of touch he became.
Deal of the Century – William Friedkin
While many "common" film watchers might not know the Friedkin name, this is the director who made "The Exorcist" and "French Connection." With that kind of resume it's hard to believe William Friedkin made the awful 1983 comedy "Deal of the Century." For one, it is certainly Chevy Chase's worst movie and Gregory Hines couldn't have been happy about it. What is meant to be a comedic satire of 1980's politics just comes off as ridiculous. Chevy Chase's character is an arms dealer who is selling war planes to a South American dictator. The plot is dumb and Chase goes over the top making it a slapstick comedy. Sigourney Weaver also had a credit in this film she'd probably like to forget.
Dark Shadows – Tim Burton
"Dark Shadows" was a popular soap opera on 1970's television. The story of Barnabus, a cursed vampire doomed in his Maine estate was eerie and mysterious. Tim Burton's 2012 movie version of "Dark Shadows" is not a good translation. While Burton is typically great at combining eeriness with comedy, his movie relies too much on quirkiness and comedy. There's no mystery and it's not scary at all. Burton's "Edward Scissorhands", "Beatlejuice" and "The Nightmare on Elm Street" are classics. In "Dark Shadows" Johnny Depp plays Barnabus who came to America from England in the 1750's. He became a wealthy playboy, but when he breaks the heart of a witch, she curses Barnabus by turning him into a vampire and burying him alive. When he is unearthed in 1971, Barnabus returns to find his mansion near ruins and his family doomed and crazy. This was a horrible remake of a great television show.
Mimic – Guillermo del Toro
Guillermo del Toro is a great director of fantasy horror movies like "Hellboy" and "The Devil's Backbone". Unfortunately one of his first films, "Mimic", was basically just a B horror movie. Based on a short story by Donald Wollheim, the movie is about an epidemic of disease carrying cockroaches in Manhattan. The disease is called Strickler's Disease and is deadly to children. A CDC entomologist played by Mira Sorvino is called in to work on a solution. She is able to eradicate the disease and kill off the cockroaches with an enzyme and leaving just females so they won't reproduce. Three years later the roaches have adapted and evolved. They become killer creatures that mimic the victims as they kill. The plot is ridiculous and meant to creep the viewer out. Sadly two sequels were made that went direct to video. Del Toro was upset with the film when it was released but felt vindicated with the release of the director's cut in 2011.
Save
Save
Tell us what's wrong with this post? How could we improve it? :)
Let us improve this post!