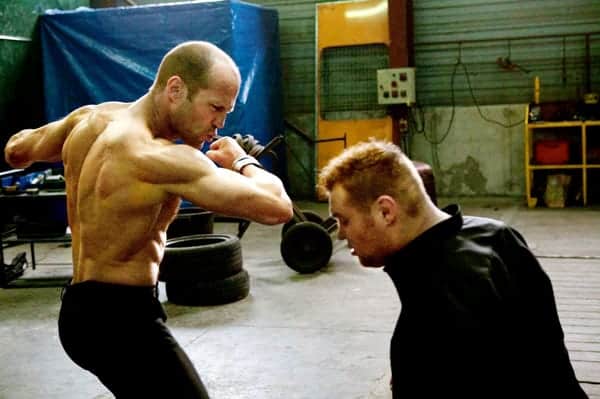 So if you're wondering just how intense Jason Statham's fight scenes can get you should know that he's actually done his own stunts in the past. Plus, he has trained in Wing Chun kung fu, karate, and kickboxing. So all those fancy moves he's dishing out onscreen aren't just for show, he's actually had some training and knows what he's doing. Of course he's an action star and nothing's really connecting, most of the time. Accidents do happen after all but the whole point of the scene is to look awesome and not let the audience know that anything untoward has really happened. The only unfortunate part about being in action movies is that Statham has been typecast now for a while and doesn't seem to be leaning in any other direction.
Oh well, do what you're good at. It's certainly fun to watch.
5. The Transporter
The choreography of this scene had to be intense and the final shot, when it came, had to be gratifying to the actors since it couldn't have been all that easy. I mean come on, he's moving around the bus, using the bars as much as possible, and somehow keeping away from this many guys in an enclosed space while he kicks the living crap out of them.
4. Death Race
This is just down and dirty, there's no other way to say it. There's no real technique to this fight, only raw power and sheer ferocity. Of course a lot of these hits would have put any one of these men away in a couple of shots, maybe three at the most. But the shot of Statham slamming a guy face first into a vise is just painful to watch. It made for a good scene though.
3. Furious 7
https://www.youtube.com/watch?v=i0E3TMrU7Sg
Big and strong vs. quick and agile. Hobbs vs. Deckard, part I. If you've watched the whole Fast and Furious franchise by now you know they went a second round when they were escaping from prison at the behest of Mr. Nobody. But this fight kicked things off so beautifully that it made no nevermind that Statham was the bad guy and earned a Rock Bottom for his efforts.
2. War
In a real fight who would you pick? They've both been well-trained and are skilled practitioners, but I get the feeling that Jet Li has been doing it for longer and could possibly pick Statham apart. Of course Statham is bigger, possibly stronger, and close to being just as quick, but it'd still be a toss-up. Personally I think the fight coming to a stalemate, before the final shot, was the best way to end it.
1. The Expendables
Even mercenaries have a code that says you don't hit women, at least not civilian women. Statham when he's calm and collected is dangerous enough, but when he's good and mad and has a definite reason to be he becomes slightly unhinged in a very controlled and measured sort of way that should have other guys apologizing the moment they realize he's headed their way.
So he's been typecast for a while, big deal. He's good in the roles he plays.