Is Zac Effon officially the new actor to watch in 2017? Not only did this guy just reveal he was saved from a burning building by none other than Hugh Jackman, but sources say he just landed the lead for the Venom spinoff movie. Efron tweeted out last night that he was doing a costume fitting and Eddie Brock workout for Venom. Turns out that the tweet has been deleted since Sony hasn't made any official announcements. Clearly Efron was called by someone over there who told him "take that down now!"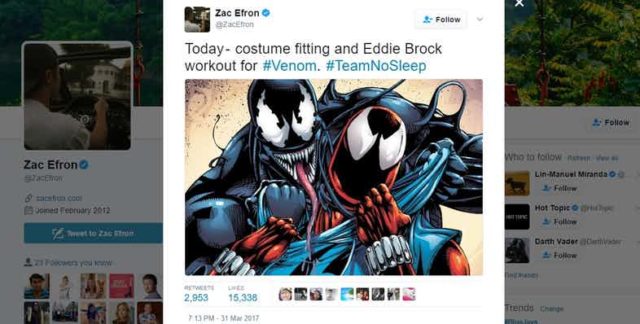 Don't worry Zach, you're not the first one whose hinted at a role before the official introduction of the part. Tom Holland did the same thing for Spider-Man: Homecoming. According to Screenrant:
Venom had languished in production hell for several years, following the collapse of the studio's planned Spider-Man shared universe (which was set to include the Venom project, Amazing Spider-Man sequels, and a Sinister Six team-up movie). Originally, Transformers and Star Trek writer Alex Kurtzman was attached to helm Venom, with Drew Goddard (now executive producing the Marvel Netflix series) in charge of Sinister Six.
Many comic book fans might have cause for concern with Efron landing the part. Those who still associate Efron with High School Musical have every right to be worried. But I'm going to argue against this. Efron had substance abuse problems a number of years ago and since his recovery he's slowly moved up in his career. I personally think this Venom role could catapult him into "leading man" status. He's got the looks. He's as chiseled as any human being out there. And Efron's proven to be a solid actor. Don't count this guy out yet. I really think 2017 could be the year of Zac Efron.
Save