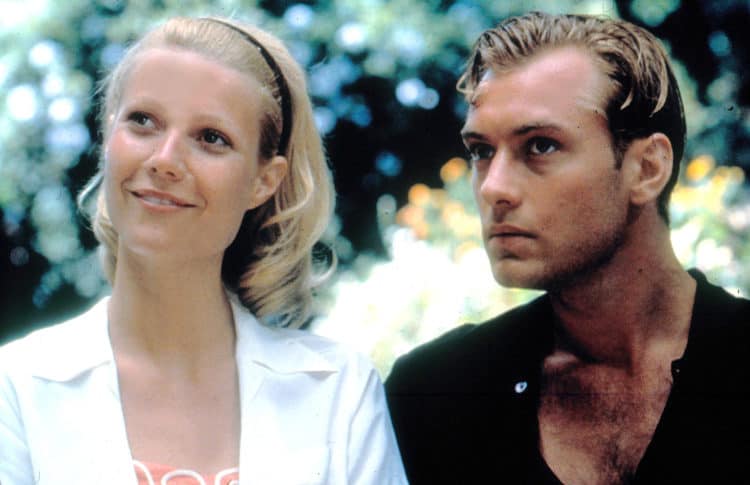 When we hear about Gwyneth Paltrow, her fashionable sense of style and growing lifestyle brand are the first things that come to mind. Paltrow never stays in one place, and seems to have a lot of things going on at the same time. The actress first made waves in the early 1990's as a promising young star, who was the daughter of actress, Blythe Danner (Meet the Parents) and director, Bruce Paltrow. It did not take long for Paltrow to penetrate the film industry and land major film roles. This allowed her to gain critical acclaim and be recognized as an award-winning actress. Here are her five best crying scenes, in no particular order:
5. The Talented Mr. Ripley
The psychological thriller felt like preppy fashion show that featured a good-looking cast, a picturesque setting, and a gripping storyline. The film followed the Tom Ripley, portrayed by Matt Damon (The Martian), an ambitious man who befriends a rich and spoiled millionaire playboy, Dickie, portrayed by Jude Law (Closer), who was in a relationship with Marge, portrayed by Paltrow. Tom gets jealous of Dickie's lavish lifestyle and goes through extreme measures to steal his identity. The scene where Marge got suspiciously scared of Tom after discovering that he was in possession of Dickie's rings was a turning point in Tom's deceitful ways. He became aggressive and started to threaten a clearly distraught Marge. As much as we were impressed with how far Tom's lies had got him, we were ultimately rooting for Marge's safety and Dickie's tragic disappearance to be given justice.
4. Bounce
&t=3s
The heavy romantic drama tackled loss and second chances. Paltrow portrayed the role of Abby, a young widow whose husband died in a horrible plane crash. She falls in love with Buddy, portrayed by Ben Affleck (Gone Girl), who later on reveals to have sold her deceased husband the plane ticket that led to his demise. This big revelation scene where Abby confronted Buddy with the truth was a whirlwind of emotions. Here she was opening her heart again after a devastating loss, only to find out that a cruel act of fate had their lives interconnected. The film had us thinking about how a lot of circumstances in life are beyond our control. It's how we react to these situations that ultimately determine the course of our lives.
3. Shallow Hal
The comedy taught us a valuable lesson on the perception of beauty. The storyline followed Hal, portrayed by Jack Black (School of Rock), a bachelor who judges his dates based on their physical appearance. He runs into a self-help guru who hypnotized Hal and altered his judgmental tendencies. He falls in love with Rosie, portrayed by Paltrow, a plus-sized woman, who a Hal sees in a different light. The hypnosis wore off in time, and Rosie's real physical appearance was finally revealed. This caught Hal off guard at first, who eventually came to his senses. The scene where Hal and Rosie met again served as a fresh start for the two characters. Hal realized how beauty is just not physical, and how a beautiful heart trumps a beautiful appearance any day.
2. Proof
Seeing a family member go through the process of aging can be a heartbreaking process. The drama, which was adapted from a stage play, followed a genius mathematician named Robert, portrayed by Anthony Hopkins (The Father), and his children. Paltrow portrayed the role of one of his daughters, Catherine. The film tackled Robert's mental illness that led him to gradually deteriorate through time. The scene where Robert's former student, Hal, portrayed by Jake Gyllenhaal (Nightcrawler), went through Robert's mathematical notes and relayed his doubts regarding its authorship to Catherine was highly emotional. Catherine was a relatable character in the sense that she was a loving daughter who still wanted to put her father on a pedestal despite of his worsening medical condition.
1. Se7en
The David Fincher classic was a psychological thriller that followed Detective David Mill, portrayed by Brad Pitt (Fight Club), and retiring Detective Lieutenant William Somerset portrayed by Morgan Freeman (Invictus), who team up and try to track down a serial killer who has been using the seven deadly sins as motives for his murders. Paltrow portrayed the role of David's wife, Tracy. The diner conversation scene between Tracy and William is such an underrated part of the movie. It showed the depth of both characters, as William prods Tracy to open up to him after sensing that something was wrong. Tracy revealed that she was pregnant, but was considering an abortion due to the chaotic environment she was living in. William gives her timely advice, which also allowed her to see things from a different perspective. The scene showed a different dynamic between the two, and served as a foreshadowing of sorts, all done in true Fincher fashion.Matt Damon