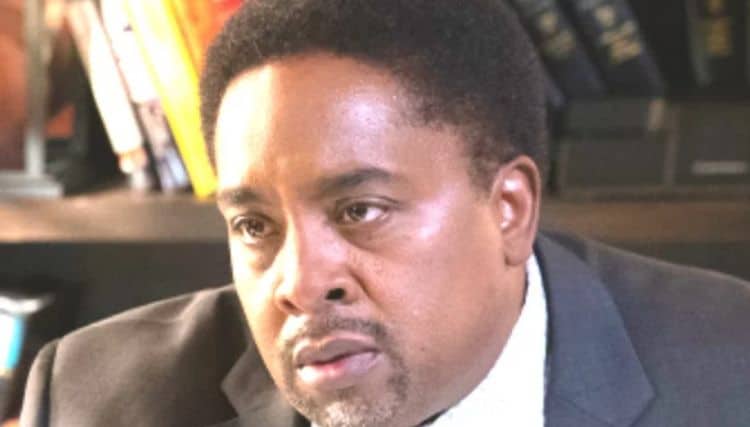 You can't talk about the Golden Era of hip hop without talking about the legendary DJ and producer, Eric B. Born Louis Eric Barrier, Eric rose to fame during the 1980s as 1/2 of the duo Eric B. and Rakim. The pair released their debut album, Paid in Full, in 1987 and it is now widely considered a classic. Eric B. and Rakim continued to dominate the game until the early 1990s. In addition to his work with Rakim, Eric B. also released a self-titled solo album in 1995. It his his only solo project to date. Although things have been quiet for Eric B. on the music front for many years, he hasn't completely left the entertainment industry behind. Since 2019, Eric has had a recurring role in the popular TV series Blue Bloods. In the series, he plays Lt. Mike Gee and while he doesn't appear in every episode, his presence is felt every time he's on the screen. Keep reading to learn 10 things you didn't know about Eric B.
1. He Wanted to Be a Basketball Player
Eric B. was born and raised in New York City. When he was growing up, rap music was still in its very early stages so a career in hip-hop wasn't something Eric saw for himself. Instead, he had dreams of becoming a professional basketball player. During high school, he was a member of the basketball team at William Cullen Bryant High School in Queens. Despite his love for basketball, Eric eventually decided to shift his focus to music. Even though his life ended up taking a different path than the one he initially saw himself, things have still worked out well for him.
2. He Suffered the Loss of A Child
Eric B. has had lots of beautiful moments in his life, but he's also had to deal with lots of challenging times. One of the most difficult things he's had to endure was the passing of his daughter, Erica. In 2020, Erica was killed in a car accident while driving through Connecticut. She was just 28 years old at the time of her death. According to an article from People, Erica "was driving northbound on I-91 near exit 22 in Cromwell, Connecticut when her vehicle stopped in the center lane. A Penske truck — driven by a 28-year-old man — was unable to stop before rear-ending Barrier's Mini Cooper Countryman".
After Erica's passing, Eric B. issued a statement saying, "This was an unfortunate vehicular accident that claimed her life however, and it's also crucial that we pray for the other driver involved. Our hearts also go out to him and his family as we hold no ill will in our hearts for those involved. Again, we accept GOD's will and want to sincerely thank the good samaritans, first responders and impeccable medical staff who cared for our daughter at Hartford Hospital, Hartford CT."
3. He's Had Some Trouble With The Law
Jail is one place that no one ever wants to be, and unfortunately, Eric B. has had to spend a little time behind bars. In the fall of 2019, Eric B. was arrested in New Jersey in connection with an incident that occurred almost 20 years earlier. Eric B. had been involved After serving about two weeks in a local jail, Eric B. was released on bail. Eric B. ultimately pled guilty to charges of aggravated assault and resisting/eluding arrest from 2002. He was placed on probation. Since then, it appears that Eric B. has been staying out of trouble and he has been focused on his career.
4. He Used to Work in Radio
Eric B.'s journey in the music industry has been an interesting one. Prior to joining forces with Rakim, Eric worked at WBLS, a radio station in New York City. While working there, Eric B. became interested in finding a rapper who could rap while he DJ'd. He considered working with rapper Freddie Foxxx, but he ended up crossing paths with Rakim first. Little did Eric B. know, that meeting Rakim would change the course of both of their lives.
5. He Is Involved in the World of Boxing
Eric B.'s dreams of becoming a professional basketball player may never have come to fruition, but that doesn't mean that he completely left sports behind. He has been very involved in the boxing world for several years. During an interview with Ryan Songalia, Eric B. explained that he is a longtime boxing fan who eventually decided to get into the business aspect of the sport. At the same time, it's unclear exactly what Eric B.'s involvement is.
6. He Has Disputed Claims That Marley Marl Produced "Eric B. Is President"
For years, Marley Marl has been credited with producing Eric B.'s song "Eric B. is President". However, Eric B. has spoken out against this claim. While talking to Hot New Hip Hop, Eric B. said, "Marlon was the engineer of the session, not the producer of the session. If he produced on the record it would have said he produced and he would have got publishing. Marlon has not gotten a dollar in publishing and never has taken us to court to get publishing and he is not the producer. What happened was Marlon was the engineer…I took the records to Marley Marl's house in Queensbridge and paid Marley Marl to be the engineer. Marley got paid. That's why he's not a producer, that's why he is not getting publishing. I brought the music. I just couldn't work the equipment because that's not what I did. If you look on the record, it says mixed by Marley Marl and MC Shan. "
7. He Is An Entrepreneur
If there's one thing we can say about Eric B., it's that he's the kind of person who has always known how to get to the money. Rap may be how he initially started building his fortune, but over the years he has also gotten involved in other business ventures. He owns several restaurants across the United States as well as other properties in the tri-state (New York, New Jersey, and Connecticut) area. Although making music and running restaurants don't have much in common on the surface, Eric B. has probably been able to use lots of things he learned in the music industry to help him in other areas of business. In a world where there are dozens of stories about musicians who have lost their entire fortunes, it's great to see that Eric B. has worked hard to set himself and his family up for the future.
8. He Dated Wendy Williams
We've all heard the phrase "it's a small world" and the truth is that the entertainment industry is even smaller. People from different corners of the business cross paths all the time, and during the early 1990s, Eric B.'s path crossed with Wendy Williams. At the time, Wendy was working as a radio host in New York City and she had become one of the biggest names in the business.
Their relationship was reenacted in Williams' biopic which was released on Lifetime in January of 2021 and was also discussed in Williams' memoir. According to the film, the two had a very rocky relationship. Williams also claimed that Eric B. couldn't afford a car while they were together and messed up her credit by renting cars in her name. Eric B. has never responded to this claim directly, but shortly after the biopic aired he posted a picture on Instagram with the caption, "Damn, I need a Rental. To hilarious I laughed to well it made for great Tv But the truth is something different Try that !!!!!!!" Williams also became pregnant with Eric B.'s child during their relationship, but she got an abortion.
9. He Is a Very Private Person
As a genre, hip-hop is often seen as flashy and over the top – and it's true, there are quite a few rappers who will do just about anything to get people's attention. Eric B., however, isn't one of them. While he may have bragged a little in the early days of his career, these days he is all about staying low-key. He is a very private person and he hasn't shared much information about his personal life. On top of that, Eric B. has never been someone who really likes doing interviews. With all of the drama that tends to find celebrities who overshare about their private lives, it's easy to understand why Eric B. has taken a more private approach. That said, Eric B. is very active on Instagram so those who want to keep up with him can get a little glimpse into what he has going on.
10. He Is a Muslim
Eric B.'s religious beliefs aren't something that he has talked about extensively in public. However, we do know that he has practiced Islam for many years. In an interview with Ambrosia For Heads, Eric mentioned that he and Rakim are both Muslims. However, he didn't go into detail about whether he was raised in the faith or if he converted later in life.boxing
Tell us what's wrong with this post? How could we improve it? :)
Let us improve this post!