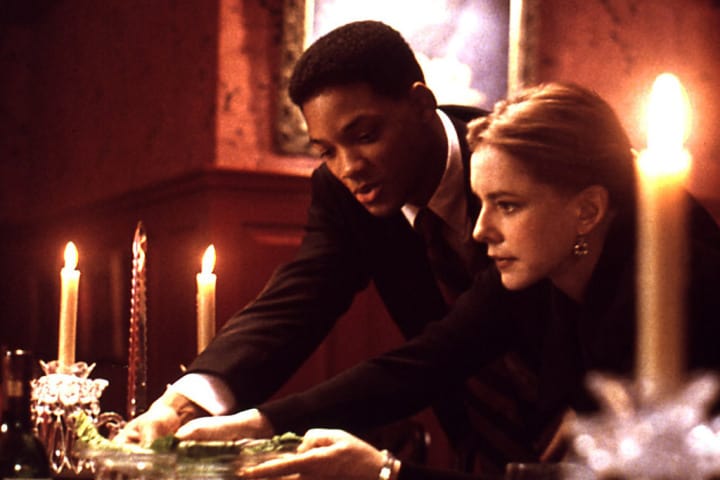 When hip hop started in the late 1970s, no one could have imagined that the genre would eventually go on to have a very close relationship with Hollywood. Not only have the film and TV industries created several projects based on hip hop, but many rap artists have also decided to transition into acting careers. Although there have been dozens of rappers who have been cast in various projects, the list starts to shrink when you think about rappers who have legitimately become successful actors. Some of these rappers have had such big acting careers that their music has taken a back seat to the big screen. Continue reading to see 10 rappers who have become successful actors.
1. Queen Latifah
At this point in her career, acting is probably what Queen Latifah is best known for. In fact, some of her younger fans may not even realize that she started off as a rapper. Queen Latifah actually began her career as a beatboxer. However, things really took off for her when a friend, DJ King Gemini, made a recording of her rapping and gave it to Fab 5 Freddy. This lead to Queen Latifah getting a record deal in 1989. Queen Latifah quickly became known for making songs addressing everyday issues – particularly those affecting Black women. Her debut album, All Hail the Queen, reached number six on the charts and kept the momentum going with her second project. Her third album, however, is the one she is probably most famous for. Titled Black Reign, the album gave us songs like "U.N.I.T.Y" and "Rough". Queen Latifah started acting in the early 90s, but most of her first roles were on the smaller side. However, she got a big break in 1993 when she landed a leading role in the sitcom Living Single. The role showed the world that Queen Latifah could be taken seriously as an actress. In 1996, she got another major opportunity when she was cast as Cleo in the movie Set It Off. In the years since, Queen Latifah has remained a fixture on our screens.
2. Will Smith
Will Smith is another person who has been acting for so long that some people may forget that he got his start as a rapper. Will's music career began in the late 1980s when he was part of a duo consisting of him and the legendary DJ Jazzy Jeff. The pair released their first album, Rock the House, in 1987 which featured the moderately successful single "Girls Ain't Nothing but Trouble". As a duo, Will and Jazzy Jeff went on to release four more albums. They are best known for their 1991 single "Summertime". Once The Fresh Prince of Bel-Air really started to take off, Will focused most of his attention on acting. However, in the late 90s, he returned to rap as a solo artist with an album called Big Willie Style which spawned the hit song "Gettin' Jiggy Wit It". Although Will has released three additional studio albums in the years since, acting has become what he is most famous for.
3. Ice Cube
When Ice Cube started his music career in the late 1980s, no one could've imagined that he would eventually become a big deal in Hollywood. However, early in his career, Ice Cube made it clear that he was going to do more than music. He made his acting debut in the 1991 movie Boyz n the Hood in which he played a character named Doughboy. Initially, most people probably thought that acting would just be a one-time thing for Cube, but he quickly proved that he was serious about being in front of the camera. In the 1990s, Cube took things a step further when he decided to give screenwriting a try. He wrote, produced, and starred in the 1995 movie, Friday, which is now considered a classic. The movie also resulted in two successful sequels and the franchise has become a major part of pop culture.
4. Ice-T
What many people don't realize is that Ice -T has been acting almost as long as he's been rapping. he made his first on-screen appearance in 1984 and he hasn't looked back since. Through his acting, he was able to show the world that there was much more to him than what people thought from his music. Ice-T has made dozens of on-screen appearances over the years, but he is most well-known for playing detective Fin Tutuola in Law & Order: Special Victims Unit. He has now been on the show for more than 20 years.
5. Kid Cudi
At this point in his career, Kid Cudi is probably still more widely known for music than for acting. However, that seems to be in the process of changing. Kid Cudi got into acting just two years after the release of his debut album, and he has also explored what it's like to be on the other side of the camera. After doing a series of short films, Kid Cudi made his feature film debut in the 2014 movie, Need for Speed. His role in the movie was credited under his legal name, Scott Mescudi. In addition to movie roles, Kid Cudi has also done some work on the small screen. Most notably, he was in the 2020 HBO mini-series, We Are Who We Are. On top of that, Cudi has also done some voice acting with an appearance on The Cleveland Show. Lots of Kid Cudi's fans are excited to see what kind of acting he does in the future.
6. Bow Wow
Bow Wow was just a kid when he broke into the entertainment industry. Within just a few years, he became an international star. His debut album, Beware of the Dog, sold more than 100,000 copies within the first week. Just a year later, in 2001, Bow Wow was also introduced to the acting world. His first role was in the MTV TV movie Carmen: A Hip Hopera which starred Beyonce. By the time the mid-2000s rolled around, Bow Wow was almost as well known for acting as he was for music. In 2006, he got an awesome opportunity when he landed the role of Twinkie in The Fast and the Furious: Tokyo Drift. He reprised this role in the 2021 movie, F9. In recent years, it appears that Bow Wow has been more focused on reality TV, but we will probably see more acting from him in the future.
7. Method Man
When Method Man started his rap career, he was known for being gritty and raw. Although he made a few minor on-screen appearances in the early 90s (mostly cameos of himself), most people probably never thought that he would eventually decide to take acting seriously. But that is exactly what happened. By the late 1990s, he started getting more acting roles and it became obvious that he was born to be in front of the camera. Since 2020, he has been a series regular on Power Book II: Ghost on Starz.
8. LL Cool J
With his good looks and smooth style, it was never a surprise to anyone that LL Cool J wanted to be in front of the camera – even outside of his work as a rapper. He began acting in the late 1980s and by the mid-90s he was a star in the sitcom In the House. Like many of the other people on this list, LL Cool J eventually decided that he wanted to focus more on acting than music. As an actor, LL Cool J is best known for playing detective Sam Hanna in NCIS and NCIS: Los Angeles.
9. Yasiin Bey (Mos Def)
As a rapper under the name Mos Def, Yasiin Bey has become well-known for being one of the most highly regarded "conscious" rappers in the game. His deep lyrics often penetrate the surface and require listeners to really think deeply. However, what lots of people don't know is that Yasiin actually started acting before he released his first album. He made his first on-screen appearance in 1997 and his first solo album was released the following year. He hasn't had as many major roles as some other rappers turned actors, but he always leaves a lasting impression every time he hits the screen. Unfortunately, however, it's been about five years since Yasiin Bey has made an on-screen appearance.
10. Common
While many of the other artists we've talked about started acting early in their music careers, that wasn't the case for Common. By the time he got his first acting opportunity in 2003, he had already been rapping for more than 30 years. The shift to acting may have come as a surprise to some, but Common quickly showed that he was very talented. From movies to TV shows, Common is the kind of person who is known for giving 100% to everything he does. In 2010, he starred alongside Queen Latifah in the romantic comedy Just Wright. For those who have been following hip-hop since the genre began, seeing two legendary rappers star in a major movie was probably a very special moment. In addition to the live-action work Common has done, he's also had some voice-acting roles over the years.Ice -T
Tell us what's wrong with this post? How could we improve it? :)
Let us improve this post!