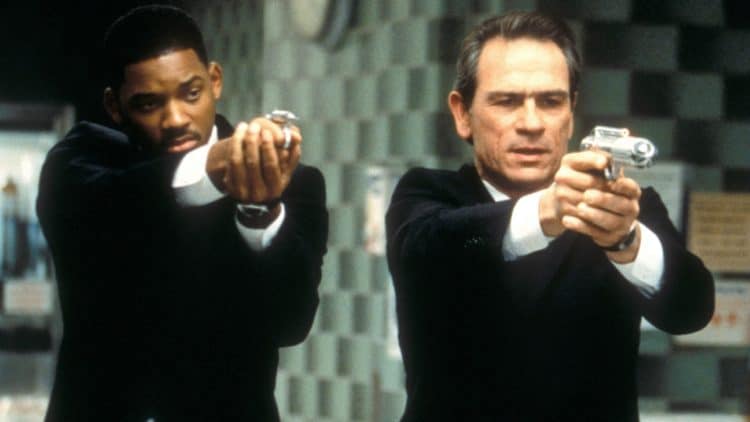 Most people recognize Will Smith as a famous Hollywood star, with his primary achievement involving roles related to sci-fi movies. Of course, movie fanatics from the early 90s know well that his screen debut began as a rap artist and later featured in a television show series known as Fresh Prince of Bel-Air. His popularity increased after that, making him transition from TV series to the film industry, with Independence Day becoming his first Sci-Fi movie appearance. Most fans recognize his energetic performance, full of humor and charisma. Let's look at all his Sci-Fi movies ranked from worst to Best and the reasons that make them rank accordingly.
7. Wild Wild West (1999)
After his back-to-back titles from 1995 to 1998 featuring in Bad Boys, Independence Day, Men in Black, and Enemy of the State, respectively, fans had already admired him as an acting prowess. However, some films such as Wild Wild West simply negate his acting charisma after toping as among the worst films he ever performed. Many reviewers criticized Wild Wild West as a poorly executed action movie. Most popular movie rating sites rank it below 50%. Even worse, it is even ranked in the list of 100 terrible films of the 20th century. There were notable embarrassing performances from crucial stars, though we can't blame Will smith. However, the vague concept of the poorly executed content gives all the reasons to blame the production team for the negative reviews. Perhaps, if this movie featured Smith's half of his most iconic rap songs in the early 90s, it could have scored some high ratings.
6. Gemini Man (2019)
Gemini Man is a recent action-packed movie featuring Will Smith, hunted by a younger clone of himself. However, it's awkward to expect anyone with a better performance like Will Smith, after resurrecting his youthful '90s swagger, to compare himself to Henry, which feels much like fluffy content. Though we can credit the Weta Digital visuals effects for their impressive performance, the lack of a genuinely accompanying and convincing story makes the action film appear pretty dull. Overall, all blame goes to the scriptwriters.
5. Men In Black II (2002)
At least, the millennials have all the happiest reasons to welcome this film in compact DVDs, which by that time were getting popular. MIB-II is simply a sequel featuring revisiting agents trying to protect and hunt aliens hiding on Earth. Smith accompanies fabulous agent Jay in pursuit of the extra-terrestrials creatures, but we can argue that he lost track to some of his appeals that worked better in Men in Black. Generally, this film lacked the freshness and originality of the first hit since it simply recycled the ingredients from the first release with an expected result. Overall, the scriptwriters didn't introduce original ideas but easily reworked its predecessor, making the movie's rating below average.
4. I, Robot (2004)
We are now getting above mediocre Sci-Fi movies acted by will Smith that generate mixed or average reviews. Most of this movie's storyline shares Isaac Asimov's ideas and characters about robots but with a few plot adaptations altogether. Generally, it doesn't break the three robotics laws that it introduces for human safety. This means it integrates well with scientific ethics, human nature, and technology to trigger deep reflections. However, the most critical aspect from most reviewers was the fact that it yielded less resemblance to Isaac Asimov's short stories. At least most reviewers rate I, Robot as a surprisingly good Sci-Fi movie with excellent special effects and acts by Will smith but with pretty criticism in the plot idea.
3. Men In Black 3 (2012)
According to most reviewers of the Men in Black series, it is shocking that no sequel ever truly exceeded the quality of the original release. While producers tried to improve the second sequel with the Men in Black 3 release, it still appeared unnecessary with more work needed. At least, it makes sense to realize that nobody has replaced the starring role of Will Smith, and he's still a treasured character in these sequels. His buddy Tommy Lee Jones gets replaced by a younger Agent K, as Josh Brolin but received an underrated act. But at least, his chemistry with J made it easy for viewers to forget the terrible script.
Overall, while Men in Black 3 never surpassed the excellence portrayed by the original release, it exceeded expectations and was way much better than the second version. Besides, for the fun stats about its budgets, the film is one of the most expensive comedies ever made, grossing over $215 million.
2. Independence Day (1996)
Given that this blockbuster is one of the best Will Smith movies, it seems he delivers most when his character feels free. His liberty from damage and death meant he could treat alien attacks at ease. Nonetheless, the movie created mixed reviews with much criticism about its characters and positive approvals for great visuals and performances. It is one of the highest-grossing moves in the mid-90s, with a wide margin in budget and box office amount. While the story focuses on special effects displaying the demolition of key monuments and lots of other blowing activities, Will Smith showed another inclusive performance. At least he had significant support from Bill Pullman and Jeff Goldblum with a pretty good script, to sum up, the plot.
1. Men In Black (1997)
Men In Black comes as the best Will Smith Sci-Fi movie because of the numerous positive feedbacks from most reviewers. It is a late 90s movie that surpasses all the other recently released movies featuring a fulfilling summer blockbuster hit. The film has won several awards and nominations in different categories sealing the deal as the best Sci-Fi movie ever acted by Will Smith. Men in Black is a top example of the summer blockbuster that featured an intelligent, well-executed plot with excellent creativity and high-concept comedy, and a movie you can watch multiple times. Besides, though Will Smith has always brought stellar game and all-star charms to his films, this one is most likely the most entertaining and far-reaching example of his prowess as a star actor.