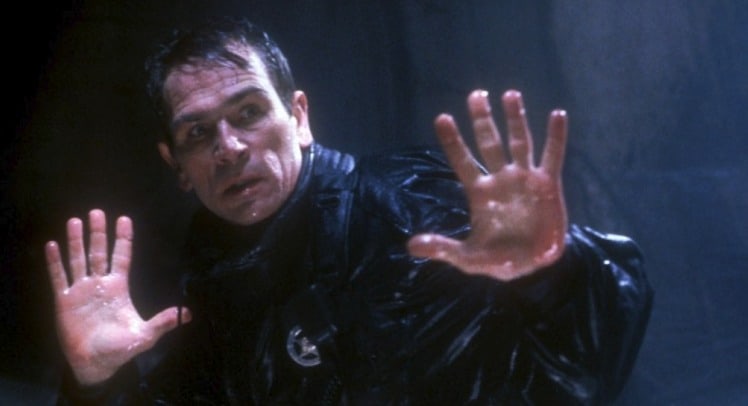 Tommy Lee Jones seems like he kind of fades in and out sometimes in terms of his career. Of course that's not accurate since he's an award-winning actor and has been around long enough to become a legend in the business, but it does feel as though he does his best to stand out at times, which means you absolutely KNOW he's there, and then he kind of fades into the background just a bit to be no less effective but not quite as noticeable. In truth it seems like he's one of the few that can do this and still retain his level of fame and the kind of reputation that has made him who he is throughout his time in show business. He's put up so many great performances that picking just a few doesn't seem all that possible, though there are some movies that don't seem to need much mention. Sorry, but his role in Captain America, while good, wasn't quite the kind of standard that has been set by his other movies.
Here a few of the best movies from his career.
5. Blue Sky
Things in the military have a way of happening that don't always seem fair but are held to certain regulatory standards that are quite harsh and unforgiving. When Hank and his family move to Alabama because of his job they quickly find that Carly is stifled in their current location and begins to act out. It's only when she has an affair with the base commander that things really start to unravel and Hank begins to see his career in the military going down the drain. Eventually he's forced to resign and he and his family move to California, but the entire movie seems poised to drop the emotional bomb that finally comes at one point.
4. Double Jeopardy
It's interesting how US law works sometimes. If you're convicted of a crime you would think that no matter what you'd be punished for it each and every time. But what's used in this film is the idea that since her husband was supposedly already dead and she had served her time, Ashley Judd's character could walk up and put a bullet in her still very alive husband's head and not get penalized for it. That's an odd law to keep on the books but it's also one that seems to have a massive loophole that would work firmly against anyone that decided to pull a disappearing act by 'dying' and then pinning it on someone else.
3. The Hunted
This movie actually endured a lot of criticism since it was deemed as rather unrealistic in some spots and for good reason. The whole aspect of training killers doesn't seem to have come under attack, but some of the techniques and the idea of forging a knife while the FBI are hunting for you seems a bit off. Of course a lot of it was done for the sake of the movie and the effects, but if you take a look behind the scenes it kinds of ruin the whole effect since you learn that the final, epic fight scene between teacher and student takes place on a set that was largely controlled and didn't offer much if any danger. Of course that's the point, make it look awesome but remain as safe as possible.
2. Men In Black
In this film it almost felt like Will Smith was the fresh-faced rookie trying to contend with the grizzled veteran in Jones, and it was obviously meant to be that way since the wisecracking J thought he was something special until he realized he had no idea what he'd just been recruited into. K was without a doubt a hard man that longed for something simpler since he'd never had his memories fully erased and had someone he could go back to. It was a nice fantasy but it seems obvious that there wouldn't have been a MIB 2 or 3 without K since he was such a pivotal character. But in the first movie he was great, while in the second it's almost as though they thought to drag him back as an afterthought.
This was what got him the nod and the win for an Academy award and it's hard to argue that he didn't deserve it since he put in such a great performance. He's the kind of guy trying to do his job and make sure it gets done right since he doesn't like to mince words or waste too much time on motions he doesn't have to take. But when he meets up with the fugitive he plays it about as cool as he can while still angling to do his job and see justice be dished out.
He's one of a kind and that's why he's such a great actor.