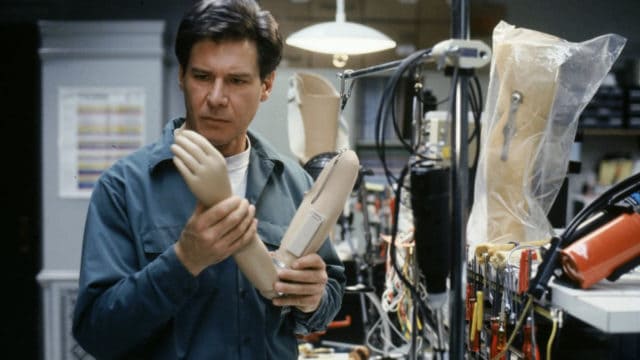 Can you believe it's been 25 years since the remake of The Fugitive starring Harrison Ford and Tommy Lee Jones came out? A lot of us were probably still just kids when this movie hit theaters and thought it was the original deal, but found out thanks to our parents that it wasn't. A lot of those actors that made the movie what it was haven't gone on to do much of anything but supporting roles ever since, but there are still a good number that went on to continue a career that had already been something special, or made it that way through other opportunities. Some of them were already well-established for them this might have just been another movie, but for some it was a chance to break out and do something special. Sadly, as good as the movie was, it didn't really provide any breakout roles for anyone, but it did manage to gain recognition for a lot of people that might have needed it.
It's interesting to see decades later what's become of those same people since a lot can happen in twenty-five years. People can retire, they can lose interest in their career, and they can even find something else that might be a little kinder in their estimation. Thankfully the majority of people on this list managed to stick with acting, as it's something they've done well for a good amount of time and is far more lucrative than a lot of other jobs that they might be qualified for. Any actor would probably tell you that that movies come and go. Roles will appear and if their name is called then they do what they can to make it work.
How they're remembered throughout history often transcends one role that might have been just so-so.
L. Scott Caldwell – Poole
Caldwell has had a rather full career at this point, though much of it has been spent in TV and in the theater. She seems to be happiest when she's performing and helping others in various ways, and has made quite a busy life for herself. She's even directed a couple of productions but has remained in front of the camera for the most part. As one of Gerard's agents she was integral in searching after Kimble, and she managed to get a moderate amount of screen time.
Daniel Roebuck – Biggs
Roebuck has done quite a bit since his time in The Fugitive. In fact he came back for the sequel starring Wesley Snipes alongside Tommy Lee Jones. His career has been pretty extensive but to date he's been a supporting actor and not much more. There are a lot of individuals that find their niche in the film industry and tend to stick there no matter if they want to move up. The only way to go is forward or down at that point, and he's kept on a pretty even keel.
Andreas Katsulas – Sykes
Andreas didn't stay too terribly active after The Fugitive, but he'd already had enough of a career in his earlier years to sustain him. He also played the voice of a video game character one point which was a fun thing to find out. The game, Primal, came out in 2003, just three years before he passed away due to lung cancer. In all honesty he was a great actor and a very wonderful addition to this film.
Jeroen Krabbe – Dr. Charles Nicholas
Jeroen has had a busy life before and after The Fugitive. If you remember the ill-fated Punisher movie that came out in 1989, that was him that played the top mob boss. He was also given a role in Ocean's 12 as the reclusive Van der Woude, who never left his house and had something that the crew desperately needed to steal. His career has been filled with highlights and continues to be so as he has expressed interest in a wide array of fields, such as writing and painting just to name a couple.
Joe Pantoliano – Cosmo Renfro
Joe Pantoliano, or Joey Pants as he's sometimes called, had a very amusing role in The Fugitive, and was the unfortunate agent that had his lights put out by Dr. Nichols as he and Kimble were chasing each other near the end of the film. Joe had a very successful career before this film and even after it. In fact he was in three other films the same year that The Fugitive came out. Joe is kind of like the working man's actor, he's always busy and is very easy to relate to.
Julianne Moore – Dr. Anne Eastman
Her part in this movie was very short but it was meaningful enough as Kimble managed to help one of her patients before running off. Since this she has done a lot of movies, not the least of which was her somewhat sketchy performance of Clarice Starling in Hannibal. Thankfully it was just the one movie and no others seem to be forthcoming.
Sela Ward – Helen Kimble
Sela didn't have much of a part in this film, but since this movie she's done a lot. She was in the movie The Day After Tomorrow in which she played a doctor that refused to leave one of her patients. She was also featured in Independence Day: Resurgence, though this movie wasn't all that well-received.
Tommy Lee Jones – Samuel Gerard
Tommy Lee Jones has had a lot of roles following The Fugitive, including US Marshals, the kind-of sequel. A lot of his other roles have been a little more low-key it seems than this one since his star status seemed to be at a serious peak around this time.
Harrison Ford – Richard Kimble
Harrison Ford has definitely been busy during and after The Fugitive. If you've been under a rock you might have missed the fact that a character he made famous was run through by his own son, and you might have missed the news that Indian Jones is supposed to be coming back for another round. So yes, he's been busy.
It wasn't a bad movie really, but compared to much of what the actors have done before and since it was so-so.