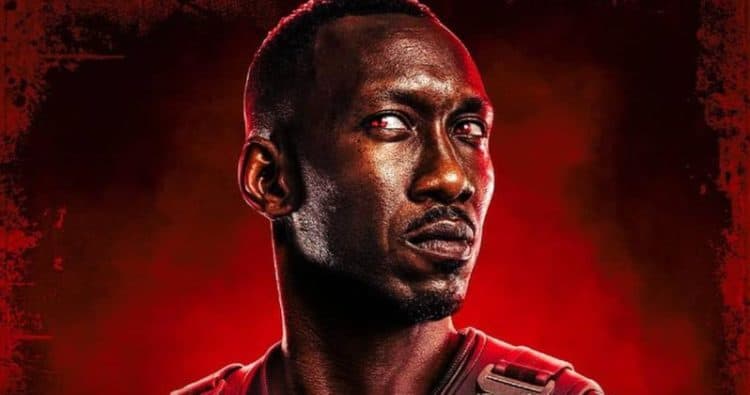 Do you all remember when Dracula was the villain of the Blade: Trinity movie? If you do, then you most likely hated it. You have every right to feel that way because it was just so awful. The portrayal of the notorious vampire lord was only part of the problem that was Blade: Trinity and it derailed the franchise. We sadly never got a Wesley Snipes Blade movie after that, but that's okay. By now, his time as the awesome vampire hunter anti-hero is a thing in the past and despite the failure of Trinity, his first two movies were crazy good. Between all the CGI blood being spilled and the vampires blowing to bits, the first two Blade movies made for some great action movies. They owe that to the dedication and legitimate martial arts prowess of Wesley Snipes. Can the same be done with Mahershala Ali?
When it was announced that Blade would be rebooted in the Marvel Cinematic Universe, many fans were calling for the return of Wesley Snipes. However, and perhaps for the best, Marvel opted for another actor to carry the torch. During Marvel's panel in 2019's San Diego's Comic-Con, it was revealed that Mahershala Ali would be the new Blade for the MCU. So no Wesley Snipes. Okay, that's a bit of a bummer, but hey, Ali is a phenomenal actor, so that's a reason to get excited.
So far, news on the plot and characters of the new Blade reboot has been scarce. We don't know what other characters will be in the movie and very few other actors have been announced. But with the next San Diego Comic-Con D23 Convention coming up, we may be hearing some updates. Now what are the chances Marvel will announce that Dracula will be the villain of the Blade reboot? I don't think I would bet money on it, but we Marvel fans are just dying to know more. Well, based on some recent rumors spreading on the web, it's likely Marvel will announce who the villain of the Blade movie is. No, there is nothing that hints to a confirmation of Dracula being the main villain.
So where does this all come from? Well, it's all brewing from very anxious fans doing what they love doing. And let's face it, as fans, we're all guilty of doing this. When we hear the slightest rumor, we have a tendency to speculate and we often overthink it. Why do we do it? I think it's just fun. In this case, there's not much to go on, but it doesn't take much to get fans going. And what we have is a single tweet posted by user The Marvel Sheriff. What he posted was leaked by Reddit, so please, take this with a big grain of salt. That goes without saying, but we'll still speculate about what we're all thinking.
What was posted and leaked was a supposed layout of who will be attending the Marvel panel for SDCC panel. Unsurprisingly enough, Blade was a part of that supposed layout, and it included several names of the cast. And according to this post, The Boys star, Anthony Starr, will be playing Dracula. Oh yes, Homelander himself will apparently be joining the MCU as the most famous vampire ever. The source of this supposed casting is just "big news" and nothing very specific. So again, take it with a grain of salt. However, fans have quickly jumped on the hype train and are excited of the idea of Anthony Starr playing Dracula.
Okay, so I'll just come right out and say that I don't believe Anthony Starr is playing Dracula. Don't get me wrong, after watching The Boys, I'm all for Starr playing any villain. Anyone who has seen his stellar performance as Homelander in The Boys series on Amazon Prime would be inclined to agree. Ever since his popularity has grown with The Boys, Marvel fans have been calling for him to play the Wolverine. That's not a bad choice and if you've seen some fan art, I think you'll be more convinced.
But apparently Anthony Starr won't be playing Wolverine or any kind of hero in the MCU. Let's just say for a minute that these rumors have some validity behind them. If Anthony Starr is in Blade, I wouldn't count on him playing Dracula. Honestly, if we do see Dracula fight Blade at some point in the MCU, it shouldn't be in the first movie. That can definitely happen, but he's the type of villain who should be built up before he debuts. A villain like that would be a great Thanos-level villain to go against the Midnight Sons when they are set up in the MCU. And yes, you can bet Blade will be a major member of that team.
If Anthony Starr is in Blade, I don't think Dracula would be the best role for him. Who I do think he should play is another major Blade villain. He's one that we've already seen before in the first Blade movie, the former human-turned-vampire Deacon Frost. Although we've already seen this villain in the first Blade movie, there's no reason we can't see another version of him in the MCU. Unlike Dracula, Deacon Frost has a far more human element to him, given that he was once human. Stephen Dorff played him in a satisfying manner, but if you want to see the character done better, go watch the Blade anime series from 2011.
That has got to be some of the best of Blade I have ever seen. And guess what? There's no Dracula. What we got was a great dive into the backstories of Blade and Deacon Frost. The same can be done for the MCU reboot. And if the reports of Anthony Starr are somewhat true, then he can play Deacon Frost that way. While Dorff's version was more conceited and power-hungry, the Frost from the anime was sympathetic and motivated more by revenge. It's best if you watch it and when you do, you'll realize Frost is a villain the MCU Blade villain should face. And yes, he would be played very well by Anthony Starr. For all we know, the rumors of him playing Dracula are true. If they are, then I'll take it, because he's Anthony Starr. The man just has that natural talent of playing villains.
What are your thoughts, Marvel fans?