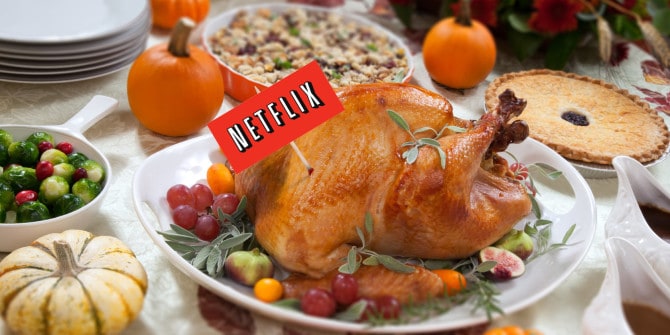 Thanksgiving is one of the biggest holidays in the United States. Not only is it a chance for people to spend time with their loved ones, but it's also a great time for all of us to stuff our faces with good food. However, despite being one of the biggest holidays, Thanksgiving hasn't gotten as much attention in the entertainment industry as Christmas. While Christmas movies could be considered an entire genre all by themselves, the same can't be said for Thanksgiving. However, there are actually lots of great Thanksgiving movies out there that are worth adding to your watch list this holiday season. Continue reading to see our list of the 10 best movies about Thanksgiving.
10. Friendsgiving
If there's one word that accurately describes the movie Friendsgiving, it's chaotic. The film centers around two best friends, Molly (Malin Åkerman) and Abby (Kat Dennings), who plan to have a quiet Thanksgiving dinner together. However, that changes with Molly decides to invite a few people. Before they both know it, their Thanksgiving has turned into a party and becomes a bigger deal than they expected in more ways than one.
9. Turkey Hollow
Created by the legendary Jim Henson, Turkey Hollow is a magical movie that can be enjoyed by people of all ages. The movie is about the Emersons, a family that travels to a small town called Turkey Hollow. Since the down doesn't have any access to technology, the children quickly find themselves getting bored. They come up with an idea to investigate the local legend of a monster called the Howling Hoodoo. Although the residents of Turkey Hollow insist that it's just a myth, the Emerson children are determined to uncover the truth.
8. What's Cooking
Released in 2000, What's Cooking is a movie that went under the radar for the most part. However, it's better than a lot of people give it credit for. What's Cooking tells the story of four families from different ethnic backgrounds as they each celebrate Thanksgiving day. The movie features an awesome cast that includes Alfre Woodard, Julianna Margulies, and Kyra Sedgwick. On top of that, there is plenty of family drama at all of the Thanksgiving tables.
7. Tower Heist
On the surface, Tower Heist may not seem like a Thanksgiving movie, but that's exactly what it is. Starring Chris Rock, Tower Heist is about a group of people who work at a luxury apartment building in New York City. After learning that their pensions have been lost in a Ponzi scheme orchestrated by one of the building's tenants, they come up with a plan to rob him on Thanksgiving Day.
6. Home For The Holidays
For some people, going home for the holidays is something they look forward to all year. For others, however, being around family brings up nothing but stress and anxiety. In Home for the Holidays, Claudia Larson (Holly Hunter) is part of the second group. After her daughter decides that she doesn't want to do Thanksgiving, Claudia travels back to her hometown to celebrate with her parents. Once she gets there, though, it doesn't take long for the drama to begin.
5. National Lampoon's Holiday Reunion
Also known as National Lampoon's Thanksgiving Family Reunion, this movie was released in 2003. While it's not as good as the older National Lampoon's movies, it's still something that will make you laugh and remind you not to let yourself get too stressed during the holiday season.
4. A Charlie Brown Thanksgiving
No matter your age, A Charlie Brown Thanksgiving is one of those movies that never gets old. Originally released as a TV special in 1973, A Charlie Brown Thanksgiving has since become an annual fixture on screens all over the country. This adorable little movie is all about friendship and gratitude.
3. Planes, Trains, and Automobiles
Thanksgiving is one of the most highly traveled days of the year and, as a result, it can be very stressful. In Planes, Trains, and Automobiles, Steve Martin stars as a corporate executive named Neal who is trying to get from New York to Chicago to celebrate Thanksgiving with his family. However, his trip quickly becomes full of the worst kinds of surprises.
2. You've Got Mail
If you enjoy love stories as much as you love the holidays then You've Got Mail is the perfect Thanksgiving movie for you. This romantic comedy starring Tom Hanks and Meg Ryan is easily one of the most memorable movies of 1998. The film centers around two people who have started an online relationship but have no idea they're competitors in the business world. Although Thanksgiving itself isn't a major theme in this movie, part of it actually takes place on Thanksgiving Day.
1. Grumpy Old Men
Grumpy Old Men is another movie that may not seem like a Thanksgiving movie, but that's exactly what it is. In the movie, Walter Matthau and Jack Lemmon play neighbors who have been at odds for years. Their dispute grows even stronger when a woman moves into the neighborhood and they both develop an interest in her. When they see her having Thanksgiving dinner with someone else, tensions rise even more.
Tell us what's wrong with this post? How could we improve it? :)
Let us improve this post!