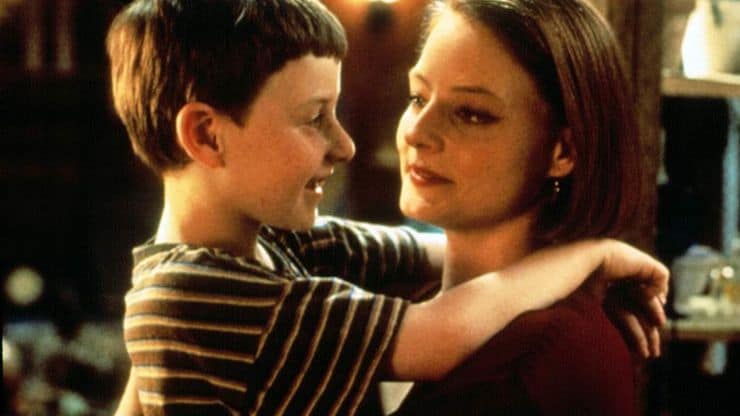 Motherhood is often described as one of the best experiences a woman can have. What many people fail to acknowledge is the fact that motherhood also comes with lots of challenges. This can be particularly true for women who are raising their children on their own. In these situations, women are often forced to work multiple jobs in order to make ends meet, and sometimes still end up falling short. Over the years, this has become a popular subject in Hollywood and there have been quite a few movies about single mothers. Although many of these movies are fictional, they still provide insight into a perspective that people sometimes forget to consider. Continue reading for the 10 best movies about single moms.
10. Room
Room definitely isn't as widely known as many of the other films on this list, but anyone whose seen it will agree that it deserves more attention than it's gotten over the years. The film tells a dark story about a woman named Joy Newsome (Brie Larson) who, along with her son, Jack, is being held captive in a small room. Although the person holding them captive is technically Jack's biological father, he does not play any kind of paternal role in the child's life. Fortunately, the two eventually escape, but returning back to 'normal' life isn't easy. Joy struggles to adjust and is also worried about how her son will adapt to his new environment. The film received mostly positive reviews and despite its dark themes, it has a somewhat happy ending.
9. Losing Isaiah
In the 1995 film movie Losing Isaiah, Halle Berry plays a young drug-addicted mother named Khaila Richards who abandons her baby, Isaiah, in a dumpster. Although he is almost killed by a garbage truck the following day, Isaiah is ultimately rescued and eventually adopted by a white family. Several years later, after going through rehab and getting on a better track, Khaila learns that Isaiah is still alive and has been adopted. She begins a legal battle to regain custody which raises lots of questions about what rights she could have as a birth mother who left him to die. The movie is gut-wrenching and heartwarming at the same time. Even though it didn't do well at the box office, it has since become somewhat of a cult classic.
8. Raising Helen
Not all mothers earn that title by giving birth, and Raising Helen is an example of the different ways a person can fall into the role of motherhood. The movie stars Kate Hudson as a single woman named Helen Harris who is thrust into parenthood after her sister and brother-in-law die in a car accident and she becomes the guardian of their three children. Initially, Helen has a difficult time taking on the responsibility and she does her best to balance her successful career with the responsibilities of raising a family. Not only does she learn to find balance along the way, but Helen also starts to genuinely enjoy her new role. However, despite doing her best, Helen's oldest niece, Audrey (Hayden Panettiere) falls in with the wrong crowd and disappears from prom. Helen enlists the help of her older sister to search for Audrey and they're able to track her down at a local motel. Helen, however, is afraid to confront Audrey and put herself in a position to be the bad guy. She begins to doubt her skills as a parent and decides to give her older sister custody of the children. By the end of the movie, however, Helen learns exactly why her sister chose her to look after the kids and she decides she's ready to give it another chance. The film received a fair amount of critical reviews, but the story itself is a good one.
7. Erin Brockovich
Based on a true story, the 2000 movie Erin Brockovich is all about a single mother who helped win one of the largest class-action lawsuits in history. Julia Roberts' portrayal of Erin earned her lots of praise and an Academy Award, A BAFTA, and a Golden Globe all for Best Actress. The movie was a reminder of what single moms are capable of, even when their backs are against the wall and it became one of the most inspirational movies of the decade.
6. Kramer Vs. Kramer
During the 1970s, divorce wasn't as common as it is now and the film Kramer Vs. Kramer shed light on this. The movie was based on a novel of the same name and featured an all-star cast that included Dustin Hoffman and Meryl Streep. The film followed the lives of Ted and Joanna Kramer as they go through a divorce and battle over custody of their young son. In addition to exploring the realities of single motherhood, especially after a divorce, Kramer Vs. Kramer also explored the impact that divorce can have on children. The film was well-received by viewers and critics and both Hoffman and Streep won Academy Awards for their performances. These days, the subject of divorce isn't as controversial as it was when the movie was released, but Kramer Vs. Kramer is still widely considered to be a classic movie.
5. Precious
On the surface, Precious isn't a movie about single-motherhood, but at its core, that is one of the biggest themes. The movie, which was released in 2009, is based on a novel called Push. The film's title character is a young woman who comes from a broken home. She has been sexually assaulted and abused in other ways by several people including her mother. On top of that, she becomes a teen mother and is expected to raise her children, one of whom has special needs, without any real support. Despite her difficult upbringing, Precious is determined to make something of herself. She was also dedicated to doing whatever it took to make sure her kids were taken care of. Even though Precious had a relatively low budget, the movie was a box office hit and it helped launch Gabourey Sidibe's acting career.
4. Changeling
They say that a mother's love knows no limits, and that's something the 2008 movie Changeling explored. The film was based on the true story of the Wineville Chicken Coop murders which occurred between 1926 and 1928. In the movie, Angelina Jolie portrays a single mother named Christine Collins whose young son, Walter, is abducted in the summer of 1928. Christine immediately seeks the help of the police but becomes frustrated with the way they handle the case. Months after Walter's disappearance, police let Christine know that he has been found. However, when Christine is reunited with her son, she claims that the boy isn't actually Walter. Although police and the boy insisted that he is her son, Christine believes otherwise and refuses to accept the child as her own. Instead, she continues to search for Walter. No matter how much pressure was put on her, Christine never faltered. In addition to the theme of motherhood, the movie also showed how quickly women were dismissed and disempowered. Because of her refusal to accept the boy police returned to her as Walter, Christine was sent to a mental hospital. The performance earned Angelina Jolie an Academy Award for Best Actress.
3. Little Man Tate
Raising a child alone can be difficult, but especially when that child is different from other kids their age. In Little Man Tate, Jodi Foster plays a single mother named Dede Tate whose young son, Fred, is a child prodigy. Throughout the film, both Dede and Fred struggle to decide what would be best for him. Should he be in an environment with other highly intelligent children, or should he be allowed to live a "normal" life? Despite their struggles, Dede always keeps Fred's well-being at the forefront and the movie tells a heartwarming tale of a unique mother/son relationship. The movie was Jodie Foster's directorial debut and it was a box office success.
2. Jerry Maguire
A lot of the movies on this list are a little on the depressing side, but not Jerry Maguire. At a glance, Jerry Maguire is a movie about a sports agent, but it is also the story of a devoted single mother who is willing to do what it takes to provide for her son. Renée Zellweger's character, Dorothy, is hired at Jerry Maguire's (Tom Cruise) new sports agency and she becomes instrumental in the company's success. On top of that, Jerry ends up having a father-figure-like role for her young son. The movie was one of the most successful of the year (1996) and it earned Cuba Gooding Jr. an Academy Award for Best Supporting Actor.
1. Mommie Dearest
If you've ever seen Mommie Dearest, chances are you've never forgotten. Based on the memoir of the same name by Christina Crawford, Mommie Dearest depicted Christina's upbringing with her famous mother, Joan Crawford. In the movie, Joan was depicted as manipulative and abusive. She also had a very strong dislike for wire hangers. Although Christina maintains that everything she mentioned in the book was true, claims of Crawford's abuse have been denied.
Tell us what's wrong with this post? How could we improve it? :)
Let us improve this post!