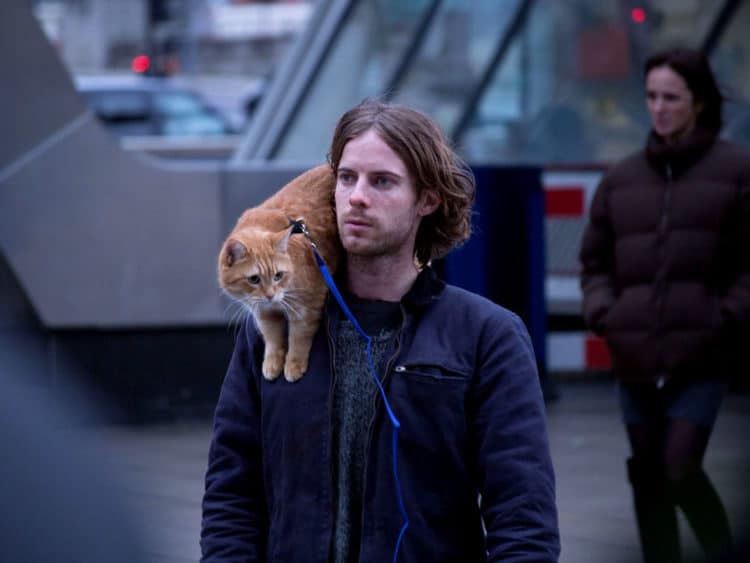 If you're a cat lover and would love to binge on movies where the plot revolves around cats, we have five movie recommendations for you. The list includes both animated and live-action movies that you can enjoy watching with your fur baby. Get ready to lounge on your couch with your feline friend while watching these cat-centered movies.
The Aristocats
The 1970s animated movie The Aristocats, produced by Walt Disney, is a classic film you should watch if you're a cat lover. The title of the movie is a pun of the word "aristocrats" and tells the story of an aristocratic cat, Duchess, and her kittens, who inherit the fortune of retired opera singer Madame Bonfamille. The cats are kidnapped and abandoned in the countryside by the butler Edgar who finds out that he is next to the cats in the inheritance. The cats go on an adventure to go back to their home as they are guided by an alley cat. One of the highlights of the movie you should watch out for is the song "Everybody Wants to Be a Cat." The movie is set in France and it might remind you of the Lady and the Tramp. In a movie review by Empire, they wrote, "Amusing and imaginative and, of course, beautifully animated, this movie has all the superficial hallmarks of a great Disney picture."
Keanu
The action-comedy Keanu, directed by Peter Atencio and written by Jordan Peele and Alex Rubens, stars the comedy duo Keegan-Michael Key and Jordan Peele, a.k.a. Key & Peele. Keanu follows the story of cousins Clarence and Rell who try to retrieve Rell's cat Keanu. The two faces trouble in saving the beloved cat as it involves street gangs, thugs, and killers. The movie also features Tiffany Haddish, Method Man, Nia Long, Will Forte, and Keanu Reeves. Common Sense Media shared their review of the comedy film, saying "KEANU isn't terribly ambitious, and the guys don't really have anything in mind other than making us laugh. They have lots of fun playing with racial and cultural stereotypes, reminding us that people are people, and books shouldn't be judged by their covers." RogerEbert.com's review of the film praises the comedic duo. "Keanu is a pure pop confection that delights even as it proves to be wildly uneven. This big screen debut of comedic powerhouses Keegan-Michael Key and Jordan Peele as leading men highlights many of their greatest strengths, as they bounce between personas, voices, and different physicality with ease."
The Cat Returns
The Cat Returns is an animated movie produced by the acclaimed Japanese animation film studio Studio Ghibli and directed by Hiroyuki Morita. The animated feature film is based on the manga of the same name by Aoi Hiiragi. The Cat Returns is Hiroyuki Morita's only film so far as director for Studio Ghibli. The movie centers on high school student Haru Yoshioka who one day saves a cat from being hit by a truck. The cat she saved turns out to be the prince of the Cat Kingdom. As a form of gratitude, the cat prince invites her to the Cat Kingdom, and once there, she starts developing cat features. She must now try to escape and return to the human world. The English dubbed version of the film features the voices of Anne Hathaway, Cary Elwes, Peter Boyle, Elliott Gould, Andy Richter, René Auberjonois, Tim Curry, Judy Greer, Kristen Bell, Andrew Bevis, Kristine Sutherland, and Katia Coe. The film has received relatively positive reviews. It received an 88% rating from critics on Rotten Tomatoes. "Sweetly charming and beautifully animated, The Cat Returns offers anime adventure suitable for the very young and young at heart."
A Whisker Away
This coming-of-age story with a main theme of cats features a girl named Miyo who is able to transform into a cat with the help of a mask. Miyo tries to get close to her classmate Kento Hinode, whom she has a crush on through her cat form. The film stars Mirai Shida, Natsuki Hanae, and Hiroaki Ogi and is directed by Junichi Sato and Tomotaka Shibayama. A Whisker Away is produced by Studio Colorido, Toho Animation, and Twin Engine and was released on June 18, 2020, on Netflix in Japanese. A review of the film was published in RogerEbert.com. "A wholesome fantasy built of serene settings and cute animals is more fun when it gets a little wacky, and thankfully 'A Whisker Away' has some left-field ideas to make the tale more magical as it goes along. There are rules, secret pathways and more, as if the movie were building its own furry cosplay mythology."
A Street Cat Named Bob
The British biographical drama A Street Cat Named Bob is a heart-warming film directed by Roger Spottiswoode and written by Tim John and Maria Nation. The film is based on the book of the same name and The World According to Bob by James Bowen. The film won Best British Film at the UK National Film Awards in 2017. It stars Luke Treadaway, Ruta Gedmintas, Joanne Froggatt, Anthony Head, and Bob the Cat as himself. The Guardian was all praises for Bob the Cat, who charmed viewers with its on-screen cuteness. "Bob, who appears as himself in this film (alongside six other ginger feline lookalikes), is a particularly gorgeous specimen. And Bob's weapons-grade cuteness is almost enough to power this slight but warm-hearted film by Roger Spottiswoode (a veteran of the animal/human buddy movie genre, he also directed Turner & Hooch). Bob's human companion, busker James Bowen, is played by Luke Treadaway, who conveys convincingly the jittery emotional chaos of a former addict." Variety said that despite its repetitiveness, A Street Cat Named Bob still is a good watch. "Roger Spottiswoode's film might be the most overtly dedicated man-and-his-cat movie since "Harry and Tonto." Unpretentiously touching on the page, this material feels stretched a bit thin on film, with televisual production values and a samey song score doing little to enrich matters: Still, it's sweetly hopeful (and, in its own parlance, "Catmassy") enough to score in ancillary as a future holiday-season standby."Jordan Peele
Tell us what's wrong with this post? How could we improve it? :)
Let us improve this post!