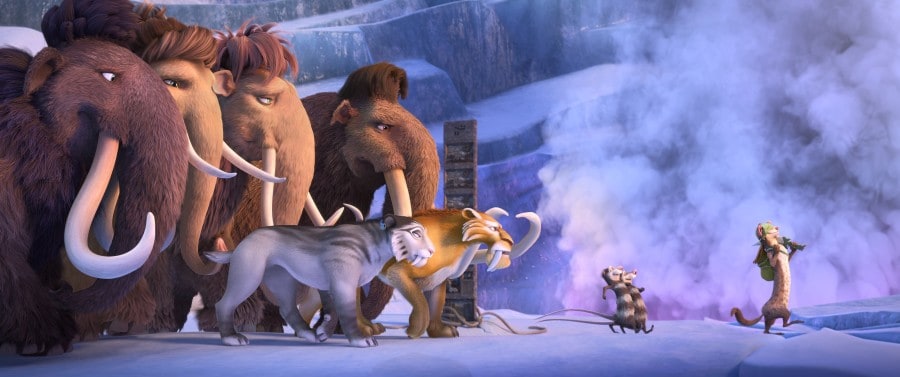 When the first Ice Age movie was released in 2002, no one could've imagined how popular the franchise would become. Not only was the first film a box office success, but it laid the foundation for an entire brand that now includes video games, merchandise, several short films, and five feature films (with another on the way). Despite being animated, Ice Age has always appealed to people of all ages. Not only does Ice Age have plenty of humor and excitement, but it's also introduced the world to some pretty awesome characters. In fact, even if you've never seen any of the Ice Age movies, there's still a good chance you've seen some of the characters. Here are the 10 best characters in the Ice Age franchise.
10. Shira
As a saber-tooth tiger, Shira is fierce and strong. She also has somewhat of a temper and is known for being a little on the stubborn side. However, that isn't all there is to her. She is also very loyal and has a softer side that is brought out through her relationship with Diego. On top of that, Jennifer Lopez's voice brings the character to life in an unforgettable way.
9. Crash and Eddie
Since Crash and Eddie are basically a packaged deal, we thought it made sense to add them to the list together. Like most twins, Crash and Eddie have their differences but they also have a very close relationship. Any time they're on the screen you can bet that it's going to be a funny moment.
8. Roshan
Ice Age is mostly about the animal characters, but there's one human baby who also found his way into the spotlight. Roshan was essentially raised by Sid and Manny who he develops close relationships with. Initially, however, neither of them have any idea how to care for a tiny human. Roshan is cute and sweet and his dynamic with the other character is always entertaining.
7. Granny
When most people hear the word granny, they immediately think of a sweet little old lady. However, that wasn't the kind of Granny that we got in Ice Age. This Granny is an old sloth who is low on patience and tends to be a little inconsiderate. Granny is voiced by the legendary Wanda Sykes who brings something magical to everything she does.
6. Ellie
Ellie is easily one of the most recognizable characters in the Ice Age franchise, and it's not just because she's a big woolly mammoth. Ellie meets Sid and Manny during their travels and she quickly becomes a prominent part of the story. It is eventually revealed that Ellie was separated from her herd when she was younger and was raised around opossums. As a result, Ellie actually thought that she was an opossum. This confuses Eddie because he initially recognized Ellie as one of his own.
5. Buck
Buck may be a weasel, but he doesn't have many of the traits that come to mind when most people think of that word. Even though he's somewhat all over the place, he is also confident and good-spirited. Buck is also someone who isn't afraid to jump out of his comfort zone and try new things. Of course, this sometimes puts him in some sticky situations.
4. Diego
Let's face it, saber-toothed tigers are pretty intimidating, and Diego is no exception. His demeanor always shows that he means business and he makes it clear that he isn't interested in playing around like some of the other characters in the franchise. Like Shira, however, Diego softens a bit over time.
3. Scrat
You know what they say, sometimes the best things come in small packages, and Scrat is definitely one of those things. Despite his small size, Scrat (and the acorn he constantly carries around) is always ready for action. However, because he spends so much time being focused on his acorn, he's often slightly out of tune with the things that are going on around him.
2. Manny
Even though the Ice Age movies are relatively light-hearted, there are some serious themes and moments. For instance, Manny's wife and kids were killed by humans which is something that is discovered through cave paintings. Experience such tragic losses is probably a key reason for Manny's grump disposition. Overall, though, Manny is likable.
1. Sid
When people think of the Ice Age franchise, Sid is more than likely one of the first characters that come to mind. Voiced by John Leguizamo. Sid is a very sweet and friendly character. At the same time, he is often naive about most things which is part of what makes the character so funny.
Tell us what's wrong with this post? How could we improve it? :)
Let us improve this post!