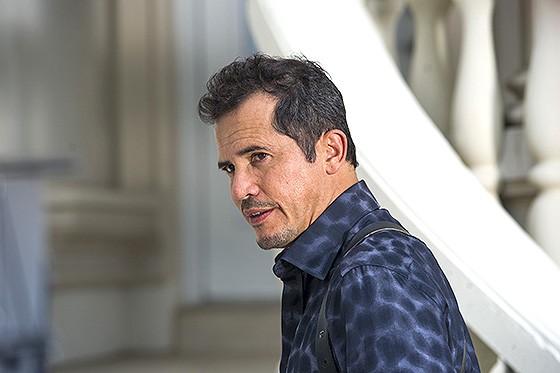 John Leguizamo isn't an inordinately short man but he's not all that big either. The only reason I mention this is that he's actually stated in the past that he got beat up quite a bit when he was a kid and had to learn how to be funny in order to avoid a beating now and again. This tends to happen when a person is small enough or weak enough that they can't fight, they find ways to get around the beating or avoid it completely. With John it was humor that got him out of the tight spots and it's been humor that has kept him in the business for a long time. Some of his humor is hard to understand and even take as a comedy act, but overall he's easily one of the funniest guys in show business, though he can also nail a serious role as well. So far he's had an impressive if sometimes understated career, though he's been one of the best supporting characters in the business and has proven that he can take the lead.
Here are some of his best films to date.
5. The Pest
There was no way I could leave this one out since it's one of his funniest despite being one of the corniest as well. Pest is the kind of guy that will pull a scam just because he can and because he's deep on the hook to the Scottish mob…yes, the Scottish mob. But when he's recruited by a rich German individual to participate in a hunt that will last 24 hours and earn him $50,000 dollars he simply can't say no since he needs the money. What follows is a trip through a jungle and then through the city as the German fellow continues to hunt Pest in an attempt to collect his head and mount it on his wall.
4. Carlito's Way
Carlito is out of prison and out of the game and he doesn't plan on going back. But the problem with being so well known in your neighborhood is that everyone expects you to go right back to what you know and conduct business as usual. Carlito wants none of it however, and along the way he makes a few new enemies as he rebuffs any attempt at a young up and comer in the neighborhood, even going so far as throwing him down a flight of stairs when the young buck won't leave him alone. Unfortunately Carlito gets drawn back into the life despite his attempts to leave town, a decision that ends up costing him everything eventually.
3. Summer of Sam
During the Son of Sam days people were understandably on edge as they had to wonder just who would be next to be killed since the Son of Sam didn't seem to be leaving anyone behind when he had the chance to commit another murder. What this movie shows however is the widespread paranoia that gripped the city without fail once the killings started and the way in which old friends would turn on each other if they had even an inkling that someone in their neighborhood was the killer. This is the kind of panic that a tightly-knit neighborhood doesn't need, but is subjected to all the same when people are scared.
2. Empire
When a streetsmart gangster decides it's time to step up his game he doesn't seem to think that he's going to be the one on the hook when his money goes missing and the guy that did it, a white man that he thought he could trust, is responsible. The scam kicks off a heap of trouble that he didn't see coming, and eventually starts a turf war that, as you might guess, doesn't end until someone's dead and what was wrong is set right. Unfortunately that means that the main character is the one that has to pay in the end, as it usually seems to go. Sometimes crime only pays if you're the one holding the gun on everyone else.
1. John Wick
Aurelio isn't really the low man on the totem pole but he's not the guy you simply step on to get what you want either. The fact that he struck Viggo's son might have gotten him killed had it been for any other reason besides the fact that the kid brought in John Wick's car and admitted to killing his dog and leaving him alive. John Wick just isn't the kind of guy you leave alive in a situation like that, as the blowback is going to be worse than anyone wants to contemplate. At the very least Aurelio is the guy trying to keep the peace since he does loan John a car and he does give justification for his actions.
John is one of those actors that's fun to see whenever he shows up.
Tell us what's wrong with this post? How could we improve it? :)
Let us improve this post!