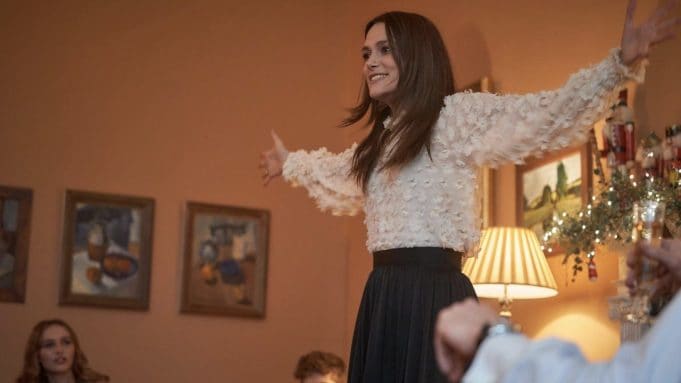 Silent Night, directed by Camille Griffin, was recently released in theaters and can also be streamed on AMC+. The film at first glance might seem like a usual holiday movie with friends and family getting together to celebrate the holidays, setting up a cliche Christmas dinner. While you get to laugh during the first parts of the film, it gets darker and shifts to serious themes about climate change, death, and moral dilemma. The cast includes Keira Knightley, who starred in the classic holiday flick Love, Actually. The movie also features Matthew Goode, Roman Griffin Davis from Jojo Rabbit, Annabelle Wallis, Lily-Rose Depp, Sope Dirisu, and Kirby Howell-Baptiste. If you enjoyed Silent Night's dark humor, you might be looking for movies with a similar vibe, so here are five movies you can watch when you're done with the apocalyptic dark comedy.
Anna and the Apocalypse
If you're into musicals, apocalypse, and zombies, then Anna and the Apocalypse should be on your list. Anna and the Apocalypse, directed by John McPhail, is based on Alan McDonald and Ryan McHenry's screenplay and is based on McHenry's 2010 BAFTA-nominated short Zombie Musical. The film is set in Scotland during the Christmas season and tells the story of a teen and her friends as they try their best to survive a zombie apocalypse together. A scene from the movie even shares a lot of similarities with Edgar Wright's zombie comedy flick Shaun of the Dead. Although not reaching the latter movie's level of success, Variety describes the film as "a horror-musical-comedy loaded with cartoonish gore and peppy production numbers performed with full "let's put on a show" gusto by an appealing cast of little-knowns. Although this combo of carnage, crooning, and comedy is just a tad overlong, it has the originality and crowd-pleasing energy to become a Christmas movie hit." The Guardian noted about the movie's international impact, "Some American critics have been swept up by Anna and the Apocalypse's goofy charm." In Rolling Stone's review, they talked about how the mash-up genre creates a fun movie, saying, "director John McPhail keeps the movie speeding over the potholes provided in the script by Alan McDonald and the late Ryan McHenry, whose short film, Zombie Musical, is the genesis of the story. In short, this is a genre mash-up has no agenda except providing escapist fun. Mission accomplished." Collider also considers the film as "a kickass cult classic in the making." They praised the film even further, saying, "This movie is a crowd pleaser of the highest order. It's got a killer cast, including a kickass heroine you would gladly follow into battle, and confident, commanding style. Anna and the Apocalypse looks great. Slick and stylish, with moments of gore that are played for gross-out and laughs in equal measure."
The Poseidon Adventure
If disaster films are on your list for the holidays, you should consider watching The Poseidon Adventure. The holiday disaster film is set on New Year's Eve on a cruise ship heading to Greece. A group of passengers aboard the S.S. Poseidon struggles to survive as their ship capsizes due to a big tidal wave. The film, based on a novel by Paul Gallico, is directed by Ronald Neame and produced by Irwin Allen, who also produced the disaster movie The Towering Inferno and created the Sci-fi TV series Lost in Space (1965). The Poseidon Adventure stars Arthur O'Connell, Carol Lynley, Ernest Borgnine, Gene Hackman, Jack Albertson, Pamela Sue Martin, Red Buttons, Roddy McDowall, Shelley Winters, and Stella Stevens. The film is one of the biggest box office hits in the '70s, the golden age of disaster movies. The film also won two Academy Awards, a Golden Globe Award, a British Academy Film Award, and a Motion Picture Sound Editors Award. Eric Henderson of Slant Magazine describes the film as "A nightmarishly schematic fantasia of guiltless discomfort."
The Ref
The Ref is a dark comedy film that weaves together a dysfunctional family, a problematic marriage, and a burglary on Christmas Eve. The film is directed by Ted Demme and stars Denis Leary, Judy Davis, and Kevin Spacey. In Roger Ebert's review, he took note of the perfect dynamic of the main cast, saying, "Dennis Leary, who has a tendency, like many standup comics, to start shouting and try to make points with overkill, here creates an entertaining character. And Davis and Spacey, both naturally verbal, develop a manic counterpoint in their arguments that elevates them to a sort of art form." "Staying clear of any mean-spirited attitudes, The Ref is a film to warm the hearts and touch the nerves of dysfunctional families everywhere," an archived review of New York Times wrote. Los Angeles Times also shared their review of the film, saying, "The Ref puts the devil into business with Disney. An enthusiastically mean-spirited comedy about family problems and a rather extreme way to solve them, it has as much fun being malicious as Snow White did being squeaky clean."
Rare Exports: A Christmas Tale
If you're okay with reading subtitles, the Finnish movie Rare Exports: A Christmas Tale is worth a watch. The film was written and directed by Jalmari Helander which was based on the two short films he created with his brother Jusso, Rare Exports Inc. (2003) and its sequel Rare Exports: The Official Safety Instructions (2005). The full-length film follows the story of a father and son duo and a secret drilling operation that uncovers the tomb of Santa Claus. RogerEbert.com says the film has an interesting theme. "Rare Exports: A Christmas Tale" is a rather brilliant lump of coal for your stocking hung by the fireside with care. How else to explain an R-rated Santa Claus origin story crossed with "The Thing" (1982)?" Wired also shared a review of the film, saying, "For viewers old enough to enjoy lots of Santa-related mayhem, this movie is the perfect antidote to crassly commercial holiday fare. It's stark, unusual, and quietly menacing. Pay close attention and you'll notice homage is given to all sorts of American films. But I'm pretty sure the herd of naked old guys is a cinematic first."
Go
If you're a fan of Quentin Tarantino films and enjoy eccentric characters, the movie Go might be a perfect choice. This movie has often been associated with Tarantino's Pulp Fiction, although Tarantino himself didn't direct this flick. Washington Post described the association between the two movies, writing, "Go, the second film from "Swingers" director Doug Liman, blatantly borrows the three-part structure of Tarantino's opus, as well as "Pulp's" framing device: a couple conversing in a booth at an all-night hashery. Shameless as that may sound, debuting writer John August's script is wildly inventive, and its kooky characters are blessed with their kooky charms." The movie is set on Christmas eve and features co-workers who are entangled in a web of drug dealing, with storytelling coming from different perspectives. The film is directed by Dough Liman, who also directed The Bourne Identity, Edge of Tomorrow, and Mr. & Mrs. Smith, to name a few. The film stars Desmond Askew, Jay Mohr, Taye Diggs, Scott Wolf, Sarah Polley, Katie Holmes, Timothy Oliphant, William Fichtner, J.E. Freeman, and Jane Krakowski. New York Times reviewed the film, giving credit to the director, "Liman manipulates speed, light, editing and point of view vigorously and keeps the radio humming. He creates a film that lives up to the momentum of its title and doesn't really need much more."
Tell us what's wrong with this post? How could we improve it? :)
Let us improve this post!