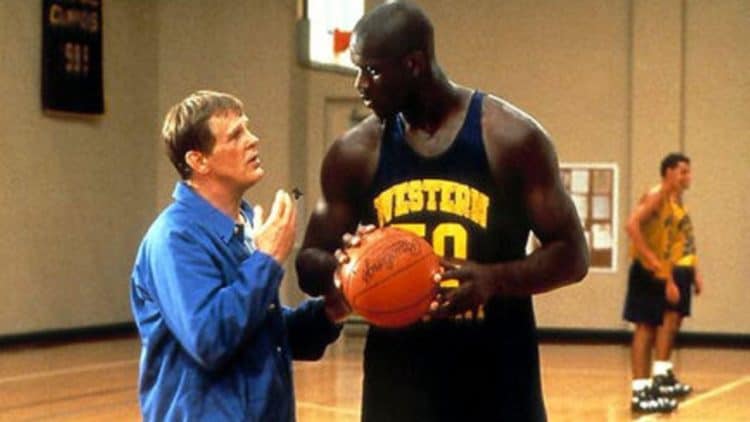 It's been seen as kind of a special thing for athletes to show up in movies over the years, in fact, it's been ongoing for a while really, but there are good times and bad times. Some of the best times are those when the athletes don't have much to say but are there to make the movie look good. NBA players have been showing up for quite a while, but thankfully they usually have the benefit of having enough actors around them that can help out if need be. But there have been movies when the NBA stars have done just fine and been able to add a great deal to the movie they're in just by being who they are. And then there are those that might need a little more help but are basically there to bring in the fans, which works believe it or not.
Here are some of the best appearances of NBA stars in movies.
10. LeBron James – Space Jam: A New Legacy
I had to add this one if only because it's a new movie and it wasn't horrible, though like anything else it was an ego boost to LeBron and a movie that was a seriously big nod to the WB, BY the WB. The grandstanding in this movie almost made it hard to watch, but at the very least it was fun thanks to the Looney Tunes. If not for them it might have been a little more cringe-worthy.
9. Darius Miles – The Perfect Score
Ah yes, the dreaded SATs that so many high school students dislike with a passion. This movie wasn't too bad and it was kind of funny since the students attempted to heist the exam so they can study it (irony at its best) and pass easily. It almost always appears that people in these movies never think that a perfect or abnormally high score on the SATs would be suspicious, but oh well, it was amusing.
8. Gheorghe Muresan – My Giant
The only reason that Gheorghe was picked for this role was because of his massive size. But it was still a touching and heartfelt story about a larger-than-life Romanian man that was seeking a human connection and happened to meet a down on his luck agent that needed something to pull back into the spotlight. Thankfully, the two of them came along at just the right time for each other.
7. Shaquille O'Neal – Scary Movie IV
The opening to this movie featured Shaq and Dr. Phil, who were both forced to attempt to escape using the same trap from Saw with a few very insane and amusing modifications that used the gag of Shaq's noted trouble with free throws in the past to help them escape. This was as far as Shaq went in this movie, but he ended up being a funny addition along with Dr. Phil, especially when he manages to manipulate Doctor Phil.
6. Chris Webber – Like Mike
This is without a doubt a favorite of many people who were growing up at the time it came out, and Webber was just one of many NBA stars that showed up in the movie, but he's the one getting the mention. A lot of kids couldn't help but dream that a magical pair of shoes would turn them into one of the greatest players alive, but the movie that came after this one didn't quite have the same allure.
5. Lamar Odom – Van Wilder
The basketball scenes in this movie were pretty generic, like something that would be seen on a TV show, but Ryan Reynolds' interactions with the team were all kinds of hilarious since he played the big man on campus that knew everyone and knew how to gain access to pretty much anything.
4. Shaquille O'Neal – Blue Chips
The movie centers around a kind of Bobby Knight-type character in Nick Nolte and the idea that his basketball players are taking bribes and gifts, thereby tarnishing the reputation of the program and getting people in trouble left and right. Sadly, it's not too far off the mark as some people would say. But those rumors are hard to substantiate or debunk, so it's better to take this as fiction.
3. Muggsy Bogues – Juwanna Man
The act of pretending to be a woman when he gets kicked out of the men's league is how the lead character goes about coping with the matter, and as one can imagine, it backfires eventually, but not before he becomes a better person. As it usually happens, Muggsy is one of the extras that was brought in to make the game look authentic.
2.Kareem Abdul Jabbar – Airplane!
This was a pretty funny role for Kareem since he was able to show his comedy and acting chops and at the same time ended up being shown in his NBA gear as well when he was being hauled to the back of the plane.
1. Michael Jordan – Space Jam
This one definitely speaks for itself since it's the Space Jam that people still want to believe in no matter how the new movie did at the box office. But it could be that Michael Jordan was going through a much rougher transition than LeBron during the course of this movie.
Some NBA stars can do more than just run the court.
*We didn't forget about Ray Allen or Rick Fox in "He Got Game." Also, Anfernee Hardaway did a notable job in Blue Chips.
Tell us what's wrong with this post? How could we improve it? :)
Let us improve this post!