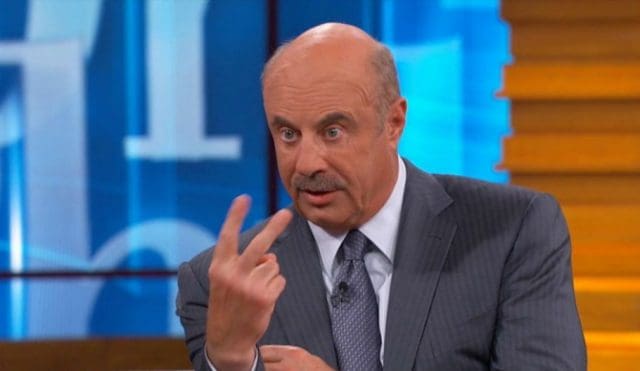 Dr. Phi is at this time being accused of providing drugs and alcohol to those guests on his show that are known addicts. This one comes as kind of a stunner to be honest since I don't tend to listen to or watch Dr. Phil all that much but have heard enough and read enough about the man to know that his show is supposedly geared to help people in need. Of course we won't discuss the Cash Me Ousside girl, one of his notorious failures, largely because that's a black mark on his record that even he might not want to discuss.
But if this is true, and the director of professional affairs for the show is predictably saying that it's not, then the Dr. Phil show might need to have the plug pulled quickly, at least for a while, to perform some kind of damage control. Those accusing the doctor are addicts that claim that those working for the Dr. Phil show were instructing them to detox and then provided them with alcohol and suggesting they get high in order to boost the ratings. If any of this was true at all, and let's not say definitively if it is or isn't at this point, then the show would need to perform a serious overhaul and start cutting out those people that had the nerve do so such a thing.
At this point it's well known that treating an addict to their addiction is a dangerous risk that further impacts their health and only harms them further if they've been attempting to live a clean life. This is where I tend to diverge when it comes to free will and addiction being a disease that can't be fought, but I won't get into that particular argument since it would be a side note from this current issue. But addicts will typically move towards their addiction most times as they are often unable to help their compulsions and after a token bit of resistance won't even try.
The other question I have is if Dr. Phil knew about this or if it was out of his hands. The amount of control he has over his show seems to vary depending on who you talk to. It's assumed that he knows everything that's going on when it comes to his show so you would think that he would know that an addict coming on is being given booze or is somehow being allowed to bring it in with them. Isn't there such a thing as security check on the show? And if there is then how in the world would anyone get by with anything that's not allowed?
There are a lot of questions leading into this issue and none of them seem to give any real, down to the main point answers. I don't fully know if this is real and I don't know if it's something that's true, but if it was then Dr. Phil might be on his way out the door soon.
Tell us what's wrong with this post? How could we improve it? :)
Let us improve this post!