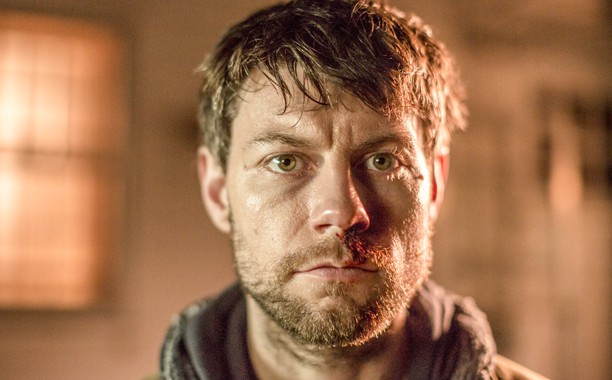 Robert Kirkman, creator of the ridiculously popular show The Walking Dead has created another winner. This time he's focusing on exorcism on Cinemax. The show Outcast has officially been renewed for a second season. The series was debuted at the South by Southwest film festival on Monday. For those who have not read the comic, be careful because we've got some spoilers.
The first episode's climactic exorcism scene involves the show's troubled hero Kyle Barnes (Gone Girl's Patrick Fugit) violently and repeatedly punching a possessed 10-year-old child in the face. Previously the character revealed such a method for driving out a demon worked for him in the past.
"He was a monster and he deserved it," joked Fugit when asked about the scene, then added of the young actor: "He was such a little trouper."
Wow. Guess that Kirkman pulled zero punches here. And he's not working with AMC either so he's got more rope on Cinemax. But hitting a 10-year-old in the face? You can see why fans were a little shocked at SXSW. So far we haven't heard any backlash but I'm quite certain there's going to be plenty of it on social media. When asked about it, Kirkman said,
"We were definitely pushed to push boundaries," Kirkman said later of his working relationship with Cinemax. "We never want to do anything gratuitous, but pushing boundaries and doing the unexpected is very freeing … I love my kids and sometimes I sit around and think, 'What's the worst thing that can happen?' "
Kirkman also announced the show's premiere date (June 3) and that the series has already been picked up for a second season. Can Outcast have the same success as The Walking Dead? I don't think it really matters. At this point Kirkman is playing with house money.
Tell us what's wrong with this post? How could we improve it? :)
Let us improve this post!