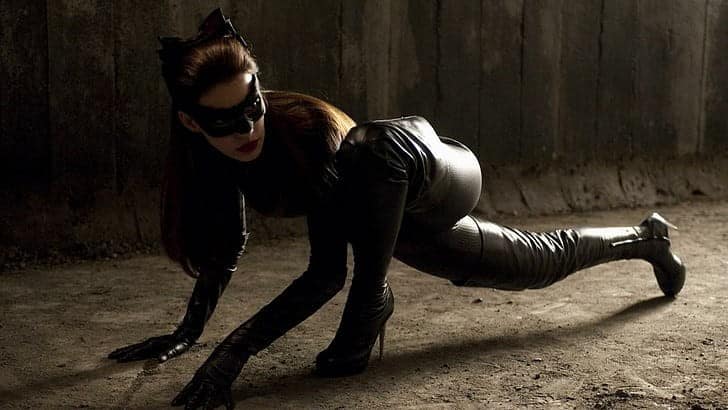 There has been a lot of young actresses who aren't able to break through from their teeny-bopper roles. Luckily, Anne Hathaway is not one of them. The actress was first noticed for her role as Mia Thermopolis, a teenager whose world turns upside down after she learns that she is a real-life princess, in the 2001 Disney movie, The Princess Diaries. Hathaway was still a newcomer during that time, but this did not stop her from giving her best shot, as she starred alongside Hollywood legend, Julie Andrews, who played the role of Clarisse Renaldi, Mia's biological grandmother. The film became a massive success, and brought Hathaway to a new level of stardom.
Making it Big in Hollywood
Hathaway grabbed the window of opportunity by the horns, and made the most out of blossoming career. She went on to portray diverse roles, and became one of the most versatile actresses of her generation. The blockbuster movies just kept coming in, and Hathaway was rubbing elbows with other Hollywood heavyweights in no time. One of her most iconic film roles was that of Andrea Sachs in the comedy drama, The Devil Wears Prada, opposite another Hollywood legend, Meryl Streep (The Iron Lady). The film became larger than life, and became Hathaway's biggest mainstream movie success at that point in her career. Hathaway's first Academy Award nomination came in 2008 when she portrayed a recovering addict with a mental illness in the film, Rachel Getting Married. By this time, she had a growing fanbase, and was well on her way to become a bankable actress with a solid track record. It was a remarkable career trajectory to say the least. Things were looking up, and her future in Hollywood seemed as bright as the California sunset.
The Cost of Fame and Fortune
The winds of change started to take effect around the time Hathaway was shooting the film adaptation of the acclaimed Broadway musical, Les Misérables. Her bubbly and energetic persona might have taken a toll on viewers. Can one really be that ecstatic and eager all the time? The public found her to be trying too hard, which led some to think that she was insincere. I guess you can compare the feeling to having your favorite dish every day until you get sick of the mere thought of it. Hathaway's portrayal of the scorned Fantine in Les Misérables made her win her first Academy Award for Best Supporting Address. The supposedly joyous event was met with backlash and other criticisms. The entertainment industry can be a cold and ruthless world. It's the price you have to pay for fame and success. Luckily for Hathaway, she had the right people by her side, who supported her throughout the ordeal. In an interview, she even looked back at the tumultuous time in her career as an empowering moment. It made her lie low from the Hollywood social scene, but it did not stop her from starring in more notable movies.
Fall Down Seven Times, Stand Up Eight
It's been almost a decade since Hathaway was met with such negativity. The haters have also gone on to create havoc elsewhere. As the saying goes, "time heals all wounds". The dust has settled, and Hathaway has slowly immersed herself back socially. She has also took on memorable roles, such as a tech savvy entrepreneur in The Intern, an actress who participates in a huge jewelry heist in the star-studded Ocean's 8, as well as an evil witch in the remake of the fantasy comedy, The Witches. It was redemption at its finest. Her upcoming projects have also started to make waves. One of them is the Apple TV+ miniseries, WeCrashed, which is a story about the rise and fall of co-working giant, WeWork. Hathaway portrays the role of Rebekah Neumann, the wife of controversial ex-WeWork CEO, Adam Neumann, portrayed by Jared Leto (Dallas Buyers Club). Hathaway continues to reinvent herself as an actress by picking out distinct roles that make a mark.
Hathaway has proven time and again that she is a talented actress. Love her or hate her, but she remains to be relevant and one of the top actresses in Hollywood up to this day. She took the high road, and did let the haters get the best of her. This was a classy move, and proof that she's in it for the craft more than the accolades. This might be what separates a celebrity from an actress. It has not been an easy journey, but Hathaway is in it for the long haul. Leave it to her serious acting chops, and resilience to outlast all the critics.