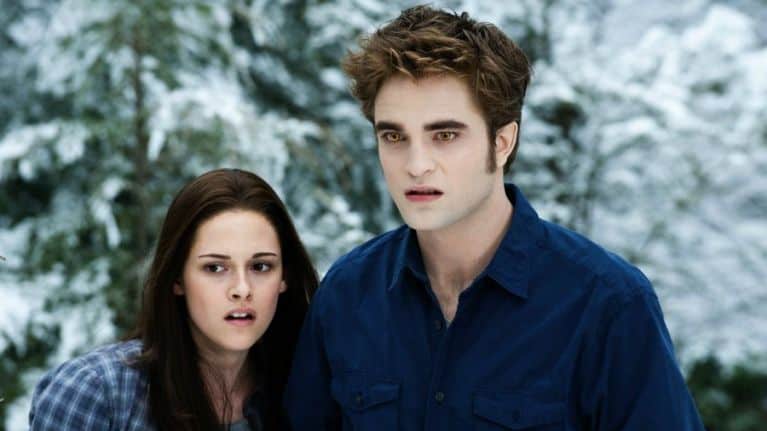 In past years it seems as though Kristen Stewart has been kind of a polarizing figure since she's been quite open about her life and hasn't really seemed to care who knows it. But on screen and in other news she's been one of the most desired women in show business for her acting talents and because she presents herself as that dark beauty that is difficult to get to know and is somehow alluring at the same time. It's a matter of perspective to be honest and some people might think she's a bit standoffish while others might think that she's one of the nicest people around, but all in all she's made a name for herself that follows her around wherever she goes. Trying to disregard any personal bias that might arise about her is kind of easy since she does have the kind of acting ability that makes her easy to watch given the right film.
Here are a few things you might not have known about her.
10. She wore brown contact lenses for Twilight.
Kristen's eyes are naturally green so for the movie she had to wear contacts to conform to the persona of Bella just a bit more. Green eyes might have actually made the character stand out a bit more, but apparently Bella needed to blend in.
9. Kristen wasn't the first choice for the film Panic Room.
She actually replaced Hayden Panettiere at the last second before shooting started. Why this was done isn't really known but it's a guess that there might have been a scheduling issue or that Hayden pulled out for one reason or another. In any case it might have been best for both of them.
8. She served as a juror after shooting Twilight: New Moon.
Even celebrities know when to get in there and do their civic duty as she didn't balk at serving on a jury. It does help that the trial didn't last too long and she was able to get back to work eventually, but it's also nice to know that the rich and famous take their civic responsibilities seriously when they need to.
7. She's been named one of the sexiest women in the world in many different publications.
A person can sit and debate who's the prettiest and most desirable woman in show business all day and have a dozen justifications for their own personal favorite. But the truth is that Kristen is kind of exotic, very pretty, and in some cases much more preferred than other woman. It's just a matter of personal taste really.
6. Kristen worked very closely with Joan Jett for The Runaways.
It's been reported that Joan was very impressed by Kristen's dedication to the film and her ability to pick up on her nuances and movements so that she could get everything as accurate as possible. It does seem like it would instill a lot of pride in a star that gets to watch someone emulate them, especially when they want so badly to get it right.
5. She sustained a couple of injuries on the set of Snow White and the Huntsman.
Kristen did a lot of her own stunts on this movie and unfortunately she did manage to injure herself during an attack scene. She injured a ligament in her hand and sustained an unknown foot injury at one point and filming had to be halted for a bit.
4. Amazingly her favorite vampire film is The Lost Boys.
If you're old enough to have seen The Lost Boys when it came out this should put a smile on your face, especially since she starred in one of the biggest vampire franchises to come along in a very long time. Even the stars of today recognize the classics, and that makes this fact all the more worth it.
3. She turned 19 while shooting New Moon.
Honestly it seems like she kind of grew up on the Twilight set and went through a few changes during the movies that weren't just for cinematic effect. This isn't the first time that a person has grown up through movies but it's still very interesting to notice and kind of a big deal for a lot of fans.
2. For the film Welcome to the Rileys she went above and beyond in her preparation.
She became one of those actors that willingly abuses her health to prepare for the role, but all negative connotations aside she did it to make sure that the role was perfect and that she looked the part, which usually comes out as a great effect. The only problem is that it takes a heavy toll on the body.
1. She was considered for the main role in The Girl With the Dragon Tattoo.
When thinking about how she would have been as Lisbeth Salander it seems that Rooney Mara was possibly the best choice as she kind of fit the profile a little better than Kristen would have.
For every other part she's taken Kristen has definitely owned it as much as possible and done a great job.