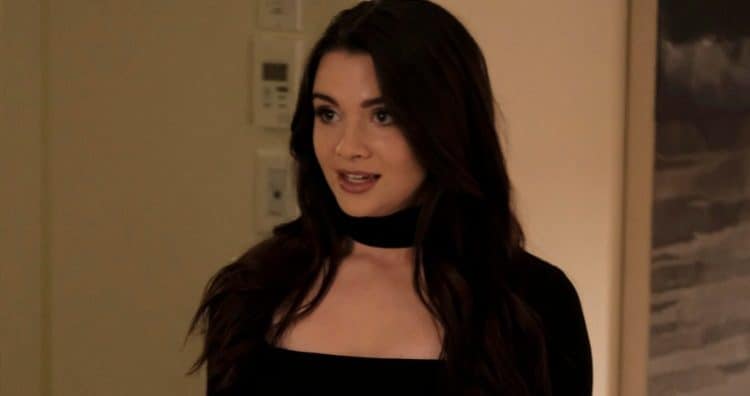 At just 26 years old, Katie Stevens (full name Katherine Mari Stevens) has already made a name for herself thanks to her stellar performances on American Idol, MTV's Faking It and Freeform's The Bold Type. Whether she's wowing the Idol judges with her singing or lightening up the screens with her acting, Stevens is wasting no time in proving she's got what it takes to make it in the entertainment industry. To find out more about the up- and- coming star, keep reading.
1. She wowed the judges at her first Idol audition
Stevens first came to the public's attention during the 8th season of the hugely popular talent show, American Idol. At her first audition on August 13, 2009, she wowed the judging panel (which that year included guest judge, Victoria "Posh Spice" Beckham) with her rendition of Etta James' At Last. So impressed were the panel with her vocal gymnastics that they put her straight through to the next round of auditions, with Kara DioGuardi going so far as to call the talented youngster one of the most gifted 16-year-olds she had ever seen.
2. She faced criticism for her song choices
Despite Kara DioGuardi telling Stevens "You could be the potential winner", the talented singer wasn't immune from the judge's criticism. Most of the criticism centered around her pitch, choice of songs and playing too old for her young age. It was only when Stevens started adopting a poppier, more R&B inspired style that the judges felt she'd found her comfort-zone. Despite praise from the judges, America didn't seem to agree; during the double elimination night of April 14, 2010, Stevens (along with fellow contestant Andrew Garcia) saw her Idol dreams come to an end.
3. She featured on the American Idols Live! Tour 2010
Despite her early elimination, Stevens still managed to impress enough during her time on the show to earn herself a place on the American Idols Live! Tour 2010. The extensive tour, which kicked off in in Auburn Hills, Michigan, on July 1, and came to a close in Indianapolis, Indiana, on August 31, took in a mammoth 44 dates- if Stevens needed a firsthand experience of the vigor's involved in making it in entertainment, the tour provided it in spades. Performing alongside Stevens was 2010 Idol winner, Lee DeWyze, and runners- up Casey James, Aaron Kelly, Crystal Bowersox, Michael Lynch, Siobhan Magnus, Did Benami, Tim Urban and Andrew Garcia.
4. She's talk-show gold
Despite not making it to the Idol final, Stevens was still considered one of the show's top talents. Further to her elimination, she became hot property for Hollywood's various talk shows. Her April 2010 performance of Over the Rainbow on The Ellen DeGeneres Show went down a storm, while her subsequent performances on the Late Show with David Letterman (which saw her perform the Chris Brown hit "Superhuman" alongside fellow Idol star Andrew Garcia) and the Wendy Williams Show (where she sang "Big Girls Don't Cry") did little to sate the voracious public appetite for the talented singer.
5. She won her first acting gig in 2014
In 2014, Stevens made the transition from pop star to actress when she landed the plum role of Karma Ashcroft on MTV's Faking It. The show premiered on April 22, 2014 and made headlines for featuring both the first intersex lead character on a TV show, and the first intersex actor to play said character. Both Stevens and the show proved a hit, picking up two more seasons before being cut from the air in May 2016.
6. Her biggest role has been in The Bold Type
After impressing as the character Lindsey Willows in the CSI finale movie Immortality (2015), Stevens landed her biggest role to date in the Freeform show, The Bold Type. The show, a comedy- drama, is inspired by the real-life exploits of former Cosmopolitan editor-in-chief, Joanna Coles. Its story centers on the often outrageous adventures of three friends living in New York City and working for the fictional woman's magazine, Scarlet. Stevens takes the part of Jane Sloan, a writer at Scarlet. Starring alongside Stevens is Aisha Dee as Kat Edison, the social media director of Scarlet, and Meghann Fahy as Sutton Brady, the magazine's fashion assistant. So far, the show has proved a runaway success: since its premiere on June 20, 2017, it's picked up three further seasons with a fourth announced in May 2014.
7. She's engaged
In January 2018, it was revealed that Stevens and longtime boyfriend, Paul DiGiovanni, had got engaged. The couple broke the happy news on Instagram… although not in the most obvious of ways. Rather than making the announcement outright, Stevens decided instead to post a picture of her hubby-to- be captioned with the words "my fiancée". Still, we managed to get the picture in the end.
8. She developed a taste for performing at high school
Stevens started honing her craft at an early age. While studying at Pomperaug High School, she was a regular face on the school's dramatic and musical productions. Her role as Nellie Forbush in the musical "South Pacific" led Pomperaug's drama teacher, Paul Doniger, to remark "she was as good as Broadway." The school's principle, Lorrie Rodrigue, clearly agreed: "With Katie, what you see is what you get. She's a wonderful girl with a big heart and a big voice. We are so thrilled that she is living her dream."
9. She's featured in a Country music video
Country music may not be a genre we associate with Stevens, but that didn't stop her pulling on her cowboy boots when she got the chance to star in a music video for one of Country's most popular duo's, Dan + Shay. The video in question accompanied How Not To, a mid-tempo country ballad from Dan + Shay's hit 2016 album, Obsessed.
10. She likes to give back
Although only 26 years old, Stevens is already developing a reputation as a noteworthy philanthropist. One of her most significant endeavors has been helping in the creation of the Evan Gagnon Memorial Scholarship Fund, a charitable foundation that provides college scholarships to the seniors of her old stomping ground, Pomperaug High School.