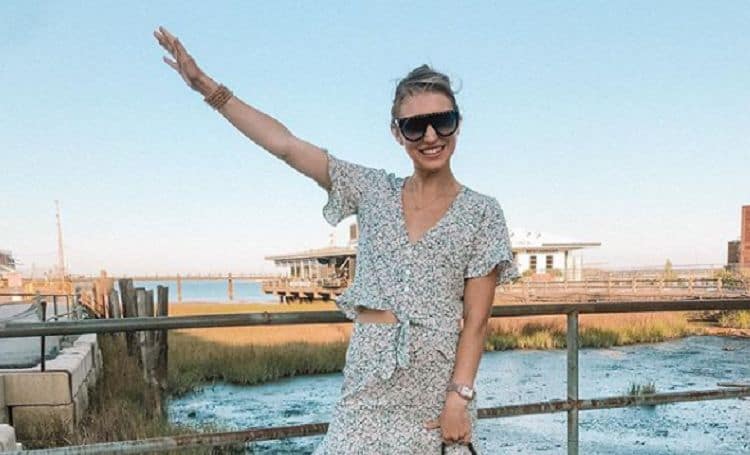 If you're a fan of reality TV, you'll know the name Eliza Limehouse. For those less familiar with the genre, Eliza is one of the stars of Southern Charm, Bravo's hit reality TV show that follows the lives and loves of a group of wealthy socialites in Charleston, Carolina. Now in its sixth season, the show has made household names of its cast of Craig Conover, Cameran Eubanks, Shep Rose, Kathryn Calhoun Dennis, Austen Kroll, Chelsea Meissner, Naomie Olindo, and, last but by no means least, Eliza herself. Unlike certain other reality TV show stars (no names mentioned), Eliza's talents aren't limited to appearing on screen: in addition to managing her family's real estate business, she also has her own line of jewelry and a budding career as a model. Find out more about the up-and-coming star with these 10 fast facts.
1. She's a ninth-generation Charleston native
As a ninth-generation Charleston native, Eliza can boast of coming from one of the city's oldest families. Her paternal grandfather, Thomas Limehouse, signed the Declaration of Charleston, while her lineage on her mother's side can be traced all the way back to the Mayflower. The burden of responsibility that comes with being such an integral part of Charleston's history isn't one that Eliza takes lightly, and she's revealed in interviews that she's often felt the pressure of having to live up to the family name.
2. She comes from a close-knit family
As well as being one of the oldest families in Charleston, the Limehouse family may well be one of the closest, something Eliza is clearly proud of (even if it can sometimes be a little irritating). "My family, we're in each other's business all the time," Eliza told People. "I want to slap them sometimes, but we're so lucky we're all together. I grew up with all my cousins. I talk to my grandparents every day, I talk to my parents every day, I talk to my brother every day – I'm so lucky to have these businesses and this family. When things do get tough, we have each other. I'm really blessed."
3. She's used to making headlines
Attracting media attention, both good and bad, is par for the course of signing up for a reality TV show. Fortunately, Eliza has plenty of experience in handling unfavorable press. In 2016, Eliza's family made headlines when her father, the politician Chip Limehouse, was revealed to have not only cheated on his wife Susan but to have fathered a love child with his mistress. Susan and Chip have subsequently divorced (with the latter frequently posting pictures of his newborn to Instagram), but Eliza remains close to both parties and chooses to ignore any bad press surrounding them.
4. She's close friends with Thomas Ravenel
One of the original stars of Southern Charm, Thomas Ravenel, left the show in inauspicious circumstances at the end of season five after allegations of sexual assault were made against him by his children's nanny. Eliza's friendship with the troubled star predates the show (she attended the same church as him growing up and was close friends with his nieces), and she's found returning to the show without him difficult. "It was weird without him. He was like my shield, in a way," she's said.
5. She doesn't watch Southern Charm
Season 6 may mark Eliza's debut as a main cast member, but it's not the first time she's been on the show. Back in season 4, she hosted a pool party for the show's cast at one of her family's impressive residences. Not that she watched it… Eliza openly admits to never having seen the show (she doesn't even have cable), which may explain why she's sometimes struggled to understand the dynamics of the group. "No matter what I did, it was a catch 22. I was damned if I do, damned if I didn't. No matter what, I couldn't get my foot in the door," she's said about her first few weeks on the show.
6. She's had a near-death experience
During a recent episode of Southern Charm, we leaned Eliza had a near-death experience when she and her then-boyfriend almost got on a plane that would later go missing over the ocean. Fortunately, Eliza escaped death by a whisker: her boyfriend had forgotten his passport, and the two had to turn back before boarding the plane. "Cheating death is the weirdest feeling I have ever felt," she recalled to her dad, adding "Makes you appreciate your life one million times more."
7. Her ex-boyfriend appeared on The Bachelorette
Eliza has previously dating Don Capodanno, who TV fans may recall from his fleeting appearance on Season 4 of The Bachelorette. During the show, Don tried to win the heart of the show's lead, DeAnna Pappas, but was eliminated after just one episode. These days, Eliza has moved on to new flame Struthers Mcbride- judging by the regular pictures she posts to Instagram of the happy couple, they're well and truly in love.
8. She manages her family's business
After graduating from Clemson University, Eliza returned to Charleston to help manage her family business, Limehouse Properties, which specializes in buying and renovating hotels. She's also active in their other interests, which include parking companies, commercial and residential real estate brokerage offices, and a produce company.
9. She has her own jewelry line
Despite coming from one of the wealthiest families in Charleston, Eliza clearly has no plans to sit back and rely on her inheritance. Her enterprising nature manifested itself at a young age, and at 17, she was already making her own money thanks to Snaffle Bit Bracelet Company, a jewelry company she continues to manage to this day. To add to her list of achievements, she's co-founded the Plantation Candle Company alongside her business partner, Allston Pate, and signed up as a model with Tout Models.
10. She's an animal lover
Eliza is a passionate advocate for animal rights, and she and her mom have spent years rescuing and fostering abandoned dogs and horses. According to her Bravo profile, Eliza would like nothing more than to own her own farm, and dreams of becoming a politician so she can help increase awareness of animal rights issues.