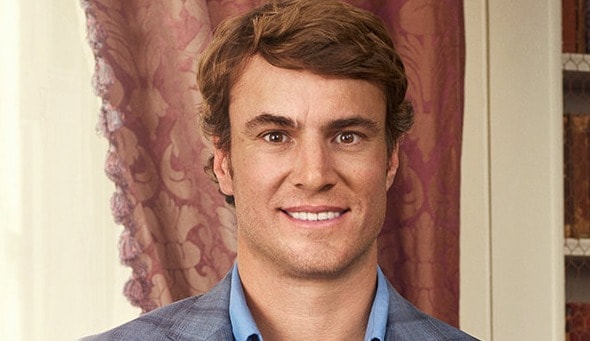 This 37 year old socialite playboy, Shepherd Rose, was born and raised in South Carolina and he has made quite a name for himself over the recent years. His family is very well-known in the state, primarily, the Charleston area, and they are very well-to-do. He has a ring of socialite buddies in the area, and together, they were followed by the Bravo network on the reality TV series, Southern Charm, charming the followers, while Rose had the girls swooning after him. Rose is not only a good looking socialite, but he has tried his hand in several different businesses, from restaurants, to real estate, and clothing line. Rose has been a big playboy for years, but he says he is ready to settle down and is apparently looking for his next, real, relationship on his new show with Bravo. If you have ever watched Southern Charm, you probably already know who this guy is, but here are ten things you didn't know about Shepherd Rose.
1. Looking for love
Shep Rose is one of those good looking, wealthy bachelors that women swoon after, so of course he played the field for a while, and was quite happy being a bit of a playboy. Rose is said to be giving up the playboy lifestyle and is really looking for true love now, and you can watch it playout on his reality show, RealtionShep on the Bravo network. Rose travels around the country looking for the one girl that's right for him by going on blind dates and narrowing his list as he goes. In the end, he'll choose one girl who will go back to Charleston, South Carolina with him.
2. Comes from old money
Rose was raised in a well-to-do household and was accustomed to the luxuries of life. His mother, Fran, and father, William Rose, settled in Hilton Head Island, an exclusive part of South Carolina, when Rose was just a little guy, only one years old. Rose's father practices law, but his paternal grandfather worked in the steel business, and the money he made was enough to set the family up for generations to come. His maternal side of the family is said to be a family of lawyers, so money does not run short in his family.
https://www.instagram.com/p/BlgjKjXjeE0/?hl=en&taken-by=relationshep
3. Attended two colleges
You've got to be pretty bright to get into Vanderbilt University, or maybe just have a lot of money. Either way, Rose graduated from Vanderbilt with his MBA and shortly after, he began working with a friend of his dad's in real estate development, but it is said that due to the recession in 2008, Rose bailed on the business. Other ventures he has taken on include, owning a hot dog restaurant in Charleston and owning his own line of coastal wear, called Shep Gear. His hot dog restaurant was shut down for some time last year due to a fire in the establishment that caused damage. Rose also attended UGA, University of Georgia, and lived in Athens for five years.
4. Southern Charm "Charmer"
Shep Rose was featured on one of Bravo's realty TV shows, Southern Charm, along with his socialite friends. He comes from one of the most elite families in SC, and Bravo wanted to follow this inner circle of the well-to-do and hone in on the famous southern hospitality that you always hear about, along with all the culture. What better way to get a close up view of true southern charm than by following a group of socialites who know all about it.
5. His mother didn't like being filmed
Rose's mother isn't one to be put in the public eye. Before the show was ever even on, Rose's parents just weren't ones who liked to be on camera and refused to be filmed for anything. Once the show, Southern Charm, began to film, Rose had to convince and persuade his mother to be filmed and take part in the show a little bit.
https://www.instagram.com/p/BlUV5HTjeDR/?hl=en&taken-by=relationshep
6. Didn't have social media sites until the show
Rose wasn't one who got into the social media trend. He didn't have a Twitter account or Instagram, but that all changed when Bravo insisted he start them up as part of the stipulation with the show. They wanted his fans to have something to follow, and way for him to communicate with his fans. He did start both social sites and as of today, he has 441,000 followers, and the numbers are only growing.
7. Referred to himself a "trust fund baby"
During an interview, Rose was asked how he paid his bills. He hinted around that he was a trust fund baby. Once he said it, he changed his answer, saying that he takes care of himself. His mother was quick to jump in and let it be known that they don't pay their son's bills, and hinted that the recession had kind of hit everyone. She said that her son may need to take a different path in his life than she and her husband had, but he does support himself.
8. The state dog is named after his family
The Boykin Spaniel is the state dog and it gets its name from Rose's family. Rose's uncle is B. Boykin Rose and he is a famous community leader in Charleston. He held the position of the Department of Public Safety Leader, and the family owns very expensive property in the historical area of Boykin, South Carolina.
https://www.instagram.com/p/BktU1ILDFVu/?hl=en&taken-by=relationshep
9. Has only had two relationships
Rose has only been in two long-term relationships that are known of; one was with his college girlfriend, Danni Baird, who also appeared on Southern Charm. The other known girl to have been linked to the hunky socialite, is a Chicago-based actress who also happens to be his hair dresser, who's name is Chelsea Meissner.
10. Net worth
Although Rose's estimated net worth is said to be about $200,000, it is unclear if that is the true amount, not knowing what his own earnings are, and what, if any family money is to be included in the figure. It has been said the cast from Southern Charm earns about $5,000 per episode, but any way you spin it, Rose is sure to have a nice bank roll, especially if he keeps appearing in shows, or maybe he'll start up a new venture that brings him a fortune. No matter what, he will probably never want for anything.