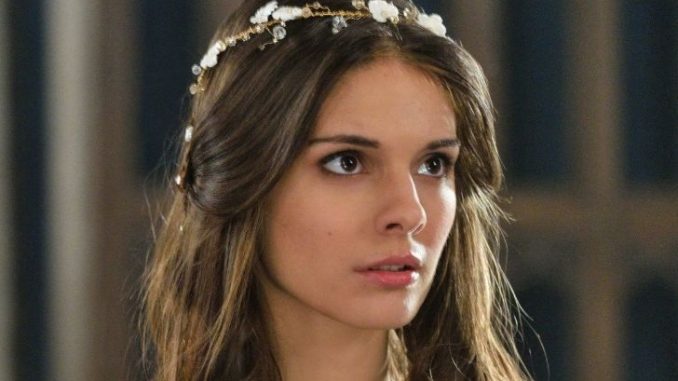 With nearly 20 years of on screen experience under her belt, Caitlin Stasey has made quite the name for herself. She has built a resume that currently includes more than two dozen acting credits and she's become an international star along the way. She plans to cover even more ground in 2021 and she's already well on her way to doing just that thanks to her role as Jill Shore in the Epix series Bridge and Tunnel. In the show, Caitlin plays a recent college graduate who, along with her friend group, is trying to find her place in the world. Caitlin also has a role in the upcoming movie Somebody Like You. Keep reading for 10 things you didn't know about Caitlin Stasey.
1. She's From Australia
In recent years, Caitlin has become so well-known to American audiences that many people may have assumed that she is from the United States. In reality, however, she was born and raised in Australia and it's a place where will always consider home. These days though, she is living in the Los Angeles area.
2. She's A Singer
Caitlin has become famous for her acting, but music has always been a very big part of her life and it's something she has also gotten a lot of attention for. In 2007, she was even offered a record deal but she decided to turn it down in favor of focusing solely on acting.
3. She May Be Going Through A Divorce
In 2016, Cailin married actor Lucas Neff. Lucas is best-known for playing Jimmy in the TV series Raising Hope. Unfortunately, however, there may be some trouble in paradise. Although the two have not officially announced a split, Caitlin did refer to Lucas as her ex-husband in an Instagram story in 2021.
4. She Likes To Travel
In addition to having lived in Australia and now the United States, Caitlin has also gotten the chance to see lots of places all over the world. Thanks to her career, she has gotten to do a good amount of traveling and she has visited countries like France and England.
5. She's Passionate About Social Justice
As a well-known actress, Caitlin has a larger platform than the average person and this is something she doesn't take for granted. She is all about using her voice to raise awareness to the causes that are important to her. She is a strong supporter of women's rights and the fight to end racism.
6. She's Open About Her Sexuality
When Caitlin and Lucas tied the knot, lots of people were surprised because she had previously come out as a lesbian. She later clarified and expressed that she doesn't like labels. In 2015 she stated, "I know it troubles people for me to refer to myself as a lesbian considering I have a male partner. I've known I was mostly gay ever since I can remember… I'm happier being fluid. I'm happier being honest."
7. She Enjoys Being Out In Nature
Caitlin is incredible thankful to be able to get paid to do something she loves every day, but just like everyone else she also enjoys getting free time. When she isn't working, she loves spending time outdoors and appreciating the beauty of nature. From boating and swimming to exploring local trails, Caitlin loves being able to experience a beautiful day.
8. She's Worked On An Adult Film Set
In 2021, Caitlin was introduced to the adult film world when she directed an x-rated film. Although some people wondered how she'd handle the transition, she actually had nothing but positive things to say about the experience. According to Daily Mail Caitlin said, "The porn world is a complicated one, but like any industry there are myriad experiences you can have. Mine have all been exceedingly positive, respectful and professional."
9. She Hopes To Inspire Others
Caitlin takes her role as an actress very seriously and what she hopes to do goes beyond entertaining. She aims to inspire other people through her work, whether they are fellow creatives or not. So far, it looks like Caitlin has done a great job of accomplishing that goal.
10. She Encourages People To "Feed" Their Self Esteem
Caitlin has been in the industry long enough to get a good understanding of how everything works. As a result she has some helpful advice – not only to help with acting, but life in general. She told Backstage, "Feed your self-esteem and starve your ego. Now, if you're like me, the word "ego" might make you think of wide brim hats sitting around a crystal orgy. But unlike shoving onyx up your ass to heal your chakra, your ego is real and it's been fucking you up this whole time. You feed it with compliments, attention, praise, and rewards both material and immaterial. Self-esteem, you feed with commitment, patience, focus, and kindness."
Tell us what's wrong with this post? How could we improve it? :)
Let us improve this post!