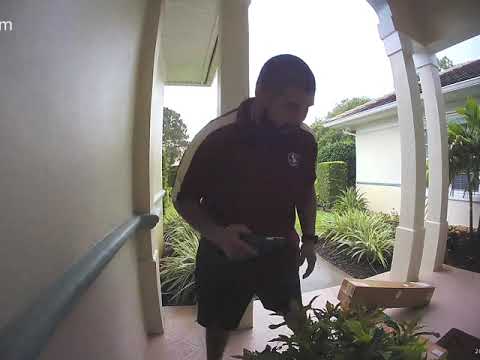 To be a little more realistic this video that shows the difference between FedEx and USPS should be taken as a kind of spoof since like it or not, these two employees are not indicative of the entire workforce that keeps these two services going. It is true that there are times when it feels as though FedEx drivers are trying to go as quickly as they can and don't necessarily care where the package lands when they toss it, but there are rumors out there that suggest that this is how the training is conducted and it saves a few precious seconds not bending down. But if anyone is thinking that this is how all FedEx deliveries go then they've been effectively brainwashed since there are plenty of delivery people out there that do their jobs correctly and will seek to put packages in out of the weather and stack them as near to the front door as they can without damaging them.
USPS has a good track record for delivering packages since this is their job, and to ensure that there are fewer complaints and preferably none they're bound to take care of the packages when it comes to stacking them and by comparison, they'll actually take the time to stack any packages they deliver as well as those that might have been delivered by another carrier. FedEx is the kind of business that relies on their people being swift, efficient, and willing to at least give some personal attention to the packages they're delivering, so this rude and obnoxious dump-off in the video is something that does happen unfortunately but isn't bound to happen with everyone. The USPS has been known to leave packages in an awkward state, but not nearly as often thankfully, while FedEx has a reputation to uphold just as much as the USPS, which means that what people might see in the clip below is one of the worst examples possible.
It might be anecdotal in nature, but there are quite a few people who could vouch for FedEx deliveries when it comes to being professional and efficient since plenty of FedEx drivers will walk an item up to a front door and set it down respectfully and without dropping it for expedience. The individual in the video could have possibly been having a bad day, which isn't a great excuse, but that one person isn't indicative of the entire group of drivers that work for the company. Having worked at FedEx in the past there's more of a need for flinging items when it comes to loading and unloading the trailers that are brought into the warehouse constantly since unloading a truck needs to be done quickly, and loading needs to be done just as quick in order to get the packages to where they need to be. One has to remember that FedEx employees are getting paid by the hour just like everyone else, as are the drivers. That doesn't mean that they get to simply drop their packages and run, but it does mean that like every other job out there, this one will attract those that are there for a paycheck but aren't necessarily going to take pride in their job.
If there's any issue at the moment it's with this video in particular since unless it's a spoof, which would be a safer thing to say, it's highly misleading given that taking one driver from each service and comparing them to show the difference between their level of services is wildly inaccurate and extremely dishonest. Does this happen from time to time? Unfortunately yes, it does, but that doesn't mean that someone should feel the need to point to one example out of many and make it apparent that the differences between these two drivers are indicative of how each business operates. FedEx does have a bit of a reputation with some folks for being a little rough with packages, but unfortunately, that starts back on the loading/unloading dock since yes, folks do get a bit rough with the process. But among the drivers, quite a few of them are paid professionals that do value their job and do manage to take care of each parcel when dropping them off. USPS drivers do much the same, though if there is one common thread between the two services it's something that they both tend to do now and then that bugs some people to no end, which is putting the packaged RIGHT IN FRONT OF THE DOOR. This is a fact that some folks should be able to laugh at since it doesn't happen that often, but it does happen often enough that people have discussed it. Hopefully though, whoever compiled this idea in the first place will realize that comparing FedEx and USPS in this manner isn't exactly fair, or responsible.