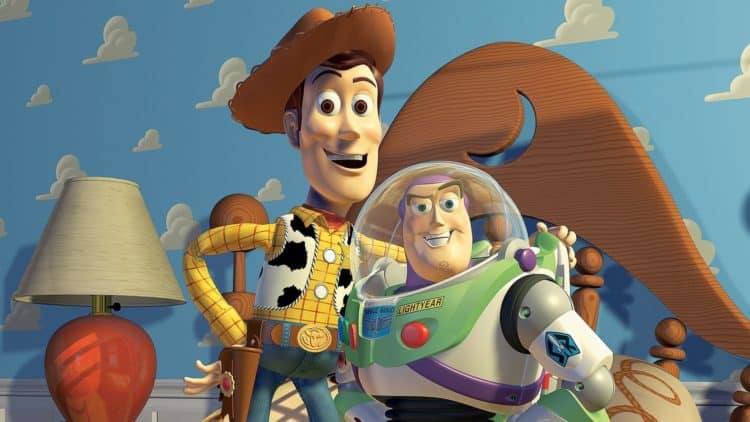 There is no Toy Story without Sheriff Woody and Space Ranger Buzz Lightyear. This iconic dynamic duo is the yin and yang of animated Pixar movies. As everyone should know by now, our man Buzz has finally received his own animated movie. This shouldn't feel like anything new if you '90s kids grew up with watching his old animated show or the animated Buzz Lightyear of Star Command movie from 2001. But Lightyear is basically an origins story of a younger Buzz Lightyear during his early days of Star Command. Out of all the Toy Story characters, Buzz would be the one to earn his own spin-off movie. I mean, he's the most logical choice. If you loved seeing toy Buzz pretending to be a Space Ranger, then just imagine the fun you'll have watching the real thing.
But I've been thinking, regardless if you're a Buzz Lightyear guy or a Woody guy, I think the latter deserves more time in the spotlight. I mean, he was Andy's first favorite toy before Buzz came along. Not that it's a competition, but I think Woody should get as much, if not more attention than his space toy buddy. Oh yes, I'm talking about giving our favorite Sheriff the same movie treatment as Buzz.
Now hold on, is this really practical? Well, it may sadly not be. The Lightyear movie's reception was mixed and fell quite short at the box office. How does this affect the Toy Story franchise going forward? Well, maybe don't expect more Toy Story movies or anything centered around Buzz. But come on, how can any Toy Story fan possibly say no to a spin-off movie for Woody? Or better yet, how about we actually get a modern take on the Woody's Roundup show? Yes, yes, a thousand times yes.
Given on how Lightyear fell short at the box office, I don't expect this to actually happen. But let's put that all aside for one minute and wish upon a star. Every Buzz and/or Woody guy should want to see something that at least resembles the Roundup gang. And I mean the version of the gang that isn't the toys. We've already seen that and Stinky Pete turned out to be a Judas. However, we shouldn't forget that the "real" Stinky Pete was intended to be a clumsy, but loyal companion to Sheriff Woody. Toy Story 2 gave us a glimpse of what the show was like, something that worked in that Pixar universe from 1949 to 1957. And as Stinky Pete put it, the Western theme died down after Sputnik. Hence, the coming of Buzz Lightyear.
But we Toy Story fans know better. No matter how many ways you look at it, Woody came first. This famous Sheriff deserves a spin-off of his own. If Pixar doesn't want to bank on another origins movie, then they can try a series that is basically Woody's roundup for the new generation. Has anyone ever wonder what Woody's origins are? If we want to think of it in a manner that is similar to that of Lightyear's, we have to think of a young Woody. I'm talking about before he became Sheriff. What was he before he earned that badge? Heck, it's entirely possible he wasn't even a regular lawman before he became Sheriff.
I just need to fanboy here for a few minutes and rave about the possibilities that Pixar can play with here. Who doesn't want to see what Woody was doing before he became Sheriff? Better yet, let's think about his first interaction with his sidekick Jesse and his trusty horse Bullseye. And of course, it would be better to see him build a friendship with Stinky Pete that didn't turn sour. All of this is a recipe of immense creative options for Pixar. The more I think about this, the more I need to see this spin-off.
What do you think Toy Story fans? Would you rather take an origins spin-off that explains how Woody became a famous Sheriff? Or would a new show about the Roundup gang be more fitting? Personally, I'd rather take the former. We need to see how Woody became a Sheriff, along with the formation of the roundup gang. Despite the financial failure of Lightyear, we should have the hope of toy Buzz Lightyear that something like this can happen. What other way can Pixar possibly keep the Toy Story franchise alive? Toy Story 5? Doubtful, but hey, try to expect the unexpected. I'll always be pulling for this Woody spin-off, but that's just the Toy Story fan in me.