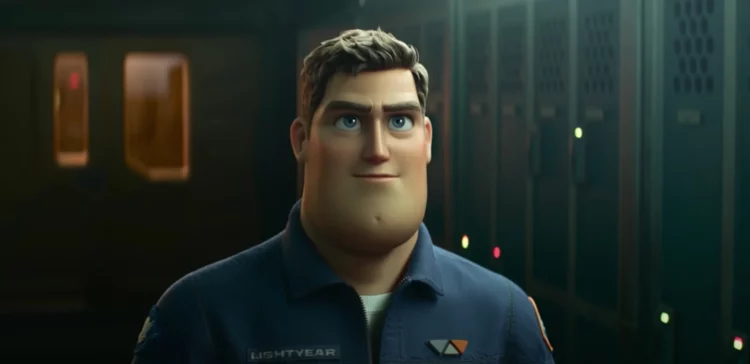 The latest Pixar film Lightyear, directed by Angus MacLane and produced by Galyn Susman, hit theaters last June 17, 2022. The computer-animated science-fiction action-adventure film produced by Pixar Animation Studios and distributed by Walt Disney Studios Motion Pictures is a spin-off of the Toy Story film series and follows the adventures of Buzz Lightyear. Instead of the film being an origin story of Buzz, the movie is described as a narrative of the reason the toy existed in the first place. Chris Evans will voice the title character, with Keke Palmer, Peter Sohn, James Brolin, Taika Waititi, Dale Soules, Uzo Aduba, Mary McDonald-Lewis, Efren Ramirez, and Isiah Whitlock Jr. in supporting roles. The film has received favorable reviews so far and in a review published by Common Sense Media, they praised the film's animation and voice acting saying, "With its fabulous animation, honorable hero, and lovable sidekicks, this tribute to a host of space adventures is a story of perseverance, teamwork, and friendship. This version of Buzz Lightyear is ideally voiced by Evans, who already has that perfect Captain America halo of courage, loyalty, and hard work." Like any other Pixar film, Lightyear has brought us joy and inspiration, and if you're still looking for films to watch involving lovable heroes on an adventure, here are five of our movie recommendations.
Big Hero 6
Big Hero 6 is a 2014 American computer-animated superhero comedy film produced by Walt Disney Animation Studios and released by Walt Disney Pictures. The film was directed by Don Hall and Chris Williams and produced by Roy Conli, with a screenplay written by Jordan Roberts, Dan Gerson, and Robert L. Baird. The film stars the voices of Ryan Potter, Scott Adsit, Daniel Henney, T.J. Miller, Jamie Chung, Damon Wayans Jr., Genesis Rodriguez, James Cromwell, Maya Rudolph, and Alan Tudyk. The film tells the story of Hiro Hamada, a young robotics prodigy who discovers his late brother's health companion robot Baymax and joins forces with a group of friends to form a band of high-tech heroes. Together, they work to stop a villain from taking over the city. Big Hero 6 was praised for its visuals, story, characters, and themes. Empire published a review of the film praising the heart-warming storyline and wrote, "It's in the burgeoning, Iron Giant-style friendship between Baymax and Hiro that we find Big Hero 6's most humorous and heartwarming moments, especially during the early stages of the film, as the guileless inflatable sidekick with the limitless medical knowledge proves entertainingly incongruous to high-stakes adventure."
Toy Story
https://www.youtube.com/watch?v=rNk1Wi8SvNc
If you're feeling nostalgic after watching Lightyear, it's a must to watch the 1995 American computer-animated comedy film Toy Story featuring Buzz Lightyear together with the other toys who come to life and share an adventure together. The film was directed by John Lasseter (in his feature directorial debut) and written by Joss Whedon, Andrew Stanton, Joel Cohen, and Alec Sokolow from a story by Lasseter, Stanton, Pete Docter, and Joe Ranft. The film features the voices of Tom Hanks, Tim Allen, Don Rickles, Wallace Shawn, John Ratzenberger, Jim Varney, Annie Potts, R. Lee Ermey, John Morris, Laurie Metcalf, and Erik von Detten. The film was a critical and commercial success upon release gaining a 100% rating on Rotten Tomatoes It is considered to be one of the best films ever made and also the first feature-length film to be entirely computer-animated. In a review published in The New York Times, they wrote, "The computer-animated "Toy Story," a parent-tickling delight, is a work of incredible cleverness in the best two-tiered Disney tradition. Children will enjoy a new take on the irresistible idea of toys coming to life. Adults will marvel at a witty script and utterly brilliant anthropomorphism."
Wall-E
Another Pixar film set in space is the 2008 American computer-animated science fiction film Wall-E. It was directed and co-written by Andrew Stanton, produced by Jim Morris, and co-written by Jim Reardon. It stars the voices of Ben Burtt, Elissa Knight, Jeff Garlin, John Ratzenberger, Kathy Najimy, Sigourney Weaver, and Fred Willard. Set in 29th Century Earth, the film follows a robot named Wall-E, who is designed to clean up an abandoned, garbage-filled Earth. He falls in love with another robot named Eve, who also has a similar task, and follows her into outer space on an adventure that changes the course of human history. Wall-E was highly acclaimed by critics and praised for its originality, visuals, voice acting, humor, soundtrack, and themes. It was nominated for six Academy Awards including Best Animated Feature, Best Original Screenplay, and Best Original Score, winning the Academy Award for Best Animated Feature. It also won the Golden Globe Award for Best Animated Feature Film. In a review by Common Sense Media, they gave particular praise to the film's storytelling saying, "This Pixar masterpiece manages to be profoundly moving and thought-provoking, yet still entertaining. Who would've expected that from an animated feature with stretches of near-silence, a deeply intellectual and ecological bent, and a robot with relatively few bells and whistles?"
Home
Another science-fiction adventure that centers on friendship is the 2015 American computer-animated comedy film Home produced by DreamWorks Animation and distributed by 20th Century Fox. The film was directed by Tim Johnson, from a screenplay by Tom J. Astle and Matt Ember, and stars the voices of Jim Parsons, Rihanna, Steve Martin, Jennifer Lopez, and Matt Jones. The film follows an alien race called the Boov, who invade Earth and relocate the human race to another planet. One of the Boov, named Oh (Parsons), accidentally allows the enemy race, the Gorg, to know about their plans, and is forced to go on the run with a human girl named Tip (Rihanna). Together, they must find a way to stop the Gorg before they destroy Earth. The film was a critical and commercial success, grossing $386 million worldwide against its $135 million budget. The Film Magazine commended Rihanna's performance and the film's use of music saying, "Not only does Rihanna create a loving girl searching for her mother and not unrealistic for a character of her age, but the artist also lended her voice to the original music of the soundtrack and was able to sing both upbeat and cheerful songs, yet also sing slow, moving and emotional ballads. All of the songs are used at exactly the right time."
Treasure Planet
Just like Lightyear, the 2002 animated science fiction action-adventure film Treasure Planet produced by Walt Disney Feature Animation centers on an adventure in space. The film was directed by John Musker and Ron Clements and features the voices of Joseph Gordon-Levitt, Brian Murray, David Hyde Pierce, and Martin Short. The film is a retelling of Robert Louis Stevenson's 1883 classic Treasure Island and follows the adventures of Jim Hawkins as he sets sail on a space pirate ship in search of buried treasure. Along the way, Jim befriends the ship's cook, John Silver, who teaches him the ropes of piracy. Treasure Planet was generally well-received by critics, and was nominated for several Academy Awards, including Best Animated Feature. Decent Films gave particular praise to the film's animation and wrote, "The animation — a combination of hand-drawn and computer-generated — is gorgeous. We get to see incredible architectures and landscapes that are realized in amazing detail. A lot of inventiveness went into making this movie — the locations, the aliens, the technology. It's a real kaleidoscope."
Tell us what's wrong with this post? How could we improve it? :)
Let us improve this post!