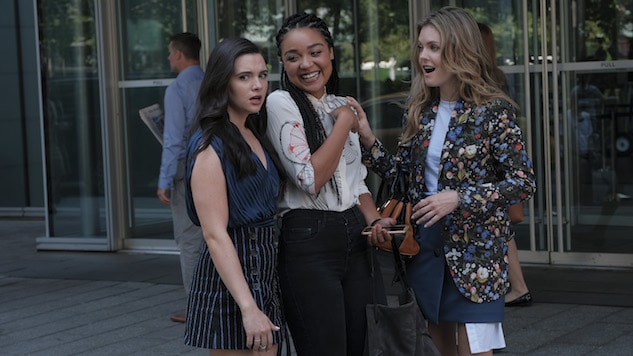 Do you remember how it felt watching Sex and the City or Girls? Quite empowering and uplifting for women, wouldn't you say? Well, Freeform's the Bold Type is one of those drama series except that it is more twenty-first century, digital and up-to-date with modern affairs. It is inspired by the life of Joanna Coles. The Bold type is about three best friends who met when they started their careers at Scarlet. The Scarlet magazine is a creative representation of what the Cosmopolitan Magazine offers women folk out there, and the three best friends are helpful in depicting how women struggle rising in their professional careers.
The cast of the show is racially and religiously diverse, and they are helpful in advancing a robust female empowerment agenda. The three main characters are very interesting, and it took passionate, talented and hardworking actors to pull them off. This show is about young career women in New York, working in a giant women's magazine, discovering and exploring their sexuality, fashion and ultimate purpose. In fact, considering that the show delivered so much in the pilot, we can the cast motivated the production department to organize seasons two and three. In that regard, we might as well as discover these excellent cast members.
1. Katie Stevens
Katie is honored to play as Jane Sloan in the series. Jane Sloan is a talented, daring, bold and budding writer who is heavily opinionated and inclined to empower women. She is sometimes timid when confronted with authority, and her editor in chief seeks to make her more tenacious and assertive. That is why Jacqueline Carlyle keeps asking her to write articles that compel her out of her comfort zone. This 26-year old delivers the Jane Sloan character with grace, precision and power. She is just as audacious in real life, and we all adore her for finishing the ninth season of American Idol in eighth place. She also played in the Faking It series as Karma Ashcroft and in CSI and Lindsey Willows.
2. Aisha Dee
Aisha Dee was fortunate enough to land the role of Kat Edison, and she has been delivering excellent performances on the character relentlessly. Kat Edison is one of the three main characters in the drama series, and she is employed as the Scarlet Magazine Social Media Director. The Last time when Dee talks about Kat, she explains that Kat is about to go into an uncertain moment in her life when she'll be facing heartbreak. Kat is a flexible person who questioned her sexuality by asking questions to her friends, colleagues and even superior freely.
Aisha Dee shares a special bond with Scarlet Magazine, and she confesses that she would read the Cosmopolitan magazine while hiding from her mom in the library. Naturally, a woman as confident, free-minded and audacious as Aisha Dee wouldn't find an issue playing Kat Edison who is also just that. Dee is an Australian singer and actor. She played Desi Biggins in the Saddle Club, Beth Kinston in Chasing Life, Katherine Wallace in the Skyrunners and Olivia in Baby daddy among numerous other roles in other productions. She also got nominated for a Teen Choice Award in the Choice Summer TV Star category.
3. Meghann Fahy
Meghann Fahy is privileged to play the role of Sutton Brady in the Freeform drama series. Sutton is employed as a fashion assistant, and she is best friends with Jane and Kat. She is also the most outgoing and versatile character of the three, and she gets entangled in a secret relationship with a board member. Her love interests get even more complicated when she sleeps with one of her close friends and colleagues.
Just like Aisha Dee, Meghann Fahy is a singer and actress, but she is American. She also starred in Next to Normal as Natalie Goodman and in One Life to Live as Hannah O'Connor. When Sydney Harper and Joanne Levine asked Meghann Fahy wat Sutton Brady would be up next in the Bold type, she said that Sutton would be discontent with her position as an assistant. Miss Brady will be struggling to find a suitable career trajectory for her future self.
4. Melora Hardin
I guess it is safe to say that Melora Hardin is an outstanding actor who plays the most pivotal role in the series the Bold Type. This character must have been hard to get because it kind of means playing Joanna Coles. Melora Hardin performs as Jacqueline Carlyle who is the editor in chief of Scarlet Magazine. This iconic character oozes feminist power, friendliness, competence, wisdom and authority. Jacqueline Carlyle is somewhat of a mentor to Jane, Sutton, Kat and the rest of the Scarlet Staff as a good boss should always be. Melora Hardin is also an American singer and actress like Meghann Fahy. She has quite the track record in filmography with some of her most outstanding roles including:
The Blacklist as Isabella Stone
Transparent as Tammy
Falling Skies as Captain Katie Marshall
Do It Yourself as Kaye
Scandal as Shelley Meyers
Wedding Band as Roxie Rutherford
CSI Miami as Wendy Colton
Without a Trace as Pamela Seaver
Outlaw as Claire Sax
Etc
5. Nikohl Boosheri
We're pretty sure that you remember Adena El-Amin. She teaches something entirely new about love and sexuality about which we do not often talk. She made Kat realize that she had lesbian sexual inclinations, and left her pretty distraught at times when her past sexual escapades came up. She is adamant and resilient in her beliefs. It was quite a major and recurring role, and Nikohl Boosheri aced it. Nikohl Boosheri is a Canadian actress of Persian descent. She was born in Pakistan by Iranians who later moved with her to Canada after fleeing Iran. She is pretty fluent in English and Persian. She is quite talented and is fortunate enough to have featured in TV productions like:
Tower Prep starring as Assistant
Continuum starring as Laura Kellog
Supergirl starring as Kelly Soto
Seeds of Yesterday starring as Toni