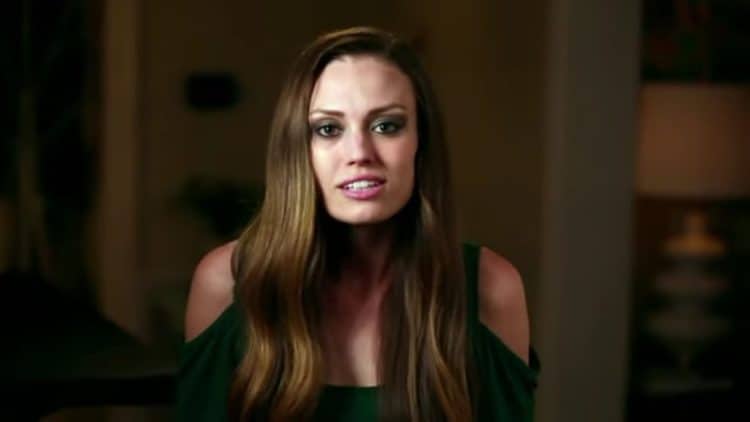 Even though Love After Lockup has only been on the air for two years, it's already introduced the world to some very interesting characters, and Lindsey Downs might just be one of the most interesting of them all. Lindsey made her first appearance on the show in 2020. Her relationship with her much older boyfriend, Scott, instantly raised a few red flags for a lot of viewers. Not only was there a big age gap, but Scott moved all the way to Mississippi to be with her even though they'd never met. Once Lindsey came home from prison, it didn't take long for the cracks in their relationship to start showing. Continue reading for 10 things you didn't know about Lindsey Downs.
1. She Went Back To Jail
When Lindsey was released from prison, she seemed determined to stay on the right path – especially because she wanted to build a relationship with her daughter. Unfortunately, however, within 60 days of being home, Lindsey was arrested again for violating her parole.
2. It's Unclear If She And Scott Are Still Together
Anyone who followed Lindsey's story on Love After Lockup is probably curious about whether she and Scott are still together. Unfortunately, however, there doesn't seem to be any information on the couple's fate one way or the other. There is some good news, though. Lindsey and Scott's journey will continue to be featured on WE TV's Life After Lockup.
3. She Has a Girlfriend
As if Lindsey's relationship with Scott wasn't already complicated enough, she threw another plot twist in the scenario when she revealed that she also has a longterm girlfriend. Apparently, Lindsey has been dating a woman named Terra Belle on and off for several years and they both seem to be happy with having an open relationship. With that being said, however, Lindsey decided to keep this tidbit of information from Scott because she didn't think he would be okay with her having another relationship.
4. She Watches The Show
There are some people who refuse to watch themselves on TV because they feel uncomfortable, but Lindsey isn't that type of person. Based on her activity on Twitter, she seems to be watch the show regularly and she hasn't hesitated to comment on the other couples.
5. She's A Model
Being on Love After Lockup may have been Lindsey's first reality TV experience, but it's not her first time being in front of a camera. Evidently, she has some modeling experience and has done several photoshoots. Surprisingly though, she has only posted two photos on her Instagram account.
6. She's Not Afraid To Speak Her Mind
One thing about Lindsey is that she's always going to say what's on her mind. On Twitter, she has spoken up about on several topics including the coronavirus and the unethical treatment of people who are incarcerated. Lindsey also isn't afraid to speak her mind in her relationship with Scott. at this point it's yet to be determined whether or not that'll be a good thing for her.
7. She Was A High School Cheerleader
Lindsey's life didn't always consist of prison sentences and parole. At one point in time it looks like she was living a 'normal' life. During her high school days, she was a member of the cheerleading squad. In an old picture with her and her teammates, she seems to blend right in.
8. She's A Kevin Gates Fan
Since the show was focused primarily on Lindsey's relationship with Scott, viewers didn't get to know much about her outside of that. One thing we have learned is that she's a big music fan. As someone who was born and raised in the south, it's only fitting that Lindsey be a fan of southern hip-hop. She is a big fan of Louisiana based rapper Kevin Gates and she has posted about him several times on Twitter.
9. The Quote She Wrote in Her Journal Really Was From A Book
Anyone who watched Lindsey on Love After Lockup will remember the moment when Scott went through her journal and uncovered a very suspicious entry. Lindsey had written out what appeared to be a very detailed plan on how to scam someone, but when Scott confronted her about it she insisted it was a quote from a book. Although it was easy to assume that Lindsey was lying, it looks like she was telling the truth. According to Starcasm, the quote was from a book called Beautiful Criminals: A Novel.
10. She's Not Worried About Her Haters
As you can imagine, there are a lot of people who have had a lot of things to say about Lindsey since the show aired. So far, Lindsey has been doing a good job of ignoring people's comments and she appears to be genuinely disinterested in what people have to say about her.