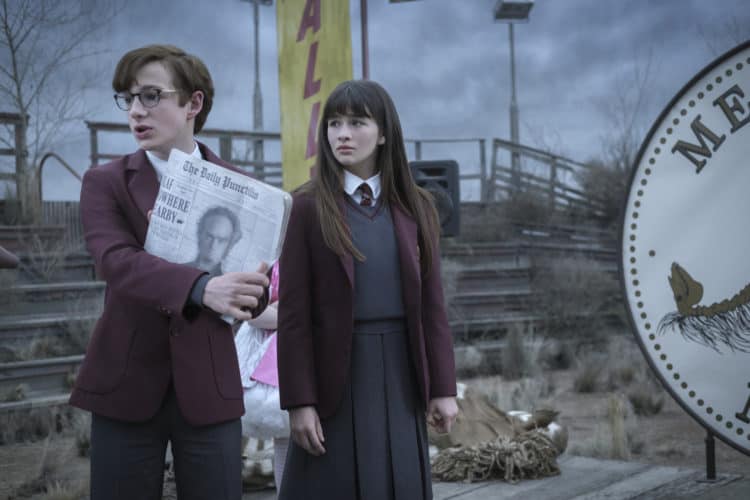 Louis Hynes is only a teenager, but he is as talented as many actors two and three times his age. The British-born actor is one of the few people who has been able to make major gains in his career in just a short period of time. He earned a major role the year he made his acting debut when he was cast in the TV show, A Series of Unfortunate Events. Since then, he has continued to get opportunities and his current role in the Hulu series, The Great, has given him another opportunity to show and prove just what he's capable of. Continue reading for 10 things you didn't know about Louis Hynes.
1. He Hosts A Podcast
There's been lots of debate over whether or not people should use the extra time they've gotten during quarantine to work or rest. Louis has decided to take the work route and has used his time to create a weekly podcast called Louis' Lockdown Lowdown.
2. He Plays The Guitar
Acting is definitely Louis' first love, but he's also a fan of music. When he isn't acting, one of his favorite things to do is practice playing the guitar. He hasn't discussed whether or not he has plans to pursue music as a career, but he'd definitely be in good company among other actors who are also musicians.
3. He Enjoys Spending Time Outdoors
Over the last several years, there's been countess conversations and think pieces about how young people today simply don't spend enough time outside. Louis isn't one of those young people though. He loves being outside and exploring his natural surroundings.
4. He Loves The 80s
Lots of people would agree that the 80s was one of the best decades in relatively recent history. When Louis was born the 80s had been long gone. However, he still feels a close connection to the decade. In fact, he loves the 80s so much that he believes he was born in the wrong era.
5. He Loves His Dog
Louis and his relationship with his dog give a new meaning to the phrase 'dogs are a man's best friend'. Louis' dog really is his best friend and he loves spending time with him. In fact, being able to hang out with his dog is one of the things that's been helping him get through quarantine.
6. He Wants To Direct Some Day
Even though Louis is enjoying his acting work, he'd also like to learn more about TV and film production as a whole. He's already thinking about what he'd like to do in the future and says that he would love to direct a film some day.
7. He's Always Wanted To Act
Louis is the kind of actor who was bitten by the acting bug at a very early age. He's loved acting for as long as he can remember. In an interview with Paste Magazine, he said, "I started acting for fun when I was around six and just really loved it. I always did it on a Saturday morning and it was really only a hobby for most of the time and I was content with that. I still find it surprising that it has become so much more." Louis added, "I loved the challenge of getting into a different person's head and found the whole process very cathartic."
8. He Grew Up Reading A Series of Unfortunate Events
There's nothing better than those moments in life where everything comes together nicely. When Louis got the role in the TV version of A Series of Unfortunate Events, it was a bit of a full circle event. His parents used to read the books to him as a child, and he when he learned how to read, he started reading them himself.
9. Education Is Important To Him
For most of his career, Louis has had to balance being in school with his acting career. He admits it's been challenging at times. However, also says that it was important for him to maintain both because education is important to him.
10. Photography Is One Of His Hobbies
Despite spending a lot of time in front of a camera, he also likes to spend his free time behind one as well. Photography is one of Louis' favorite hobbies. Not only does he like taking pictures, he likes taking them with a 35mm camera that belonged to his grandmother.