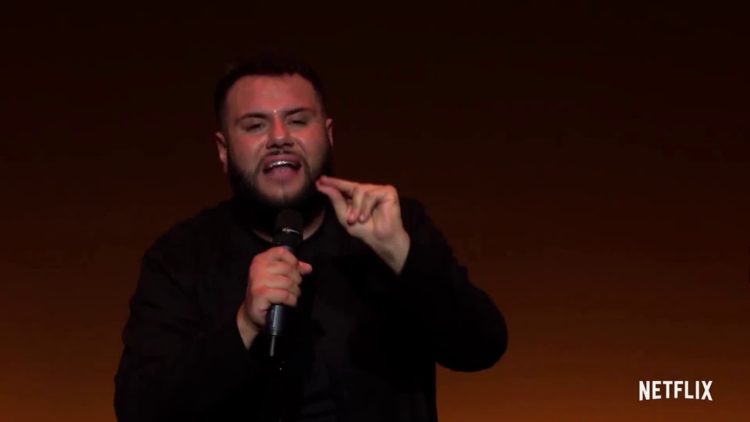 Growing up in Kuwait, Mohammed Amer, popularly known as Mo Amer, went to a private school thus knew British English, which made communication much easier for him when the family relocated to America. At the age of 10, he knew he wanted to be a comedian, but it is not until when Mo was 14 that he found someone who saw in him something special. By the time he graduated high school, he was already doing stand-up comedy, but it was not paying the bills; thus, Mo had to work at a flag store. Today, he uses comedy as more than his source of income but as therapy as well. Get to know more about the comedian through these few facts.
1. He compared his encounter with Eric Trump to a bad one-night stand
When Mo got on his flight to Scotland, he thought of the beauty sleep that awaited him, seeing that he had only arrived from Australia. However, upon boarding the plane, he found out he would be sitting next to Eric Trump. The two started talking, and Mo even took a photo which he sent to his group of friends. After drifting off to sleep, the comedian woke up to his phone continuously buzzing, and when Eric turned on his phone, it also started ringing constantly. The two realized it was a poor decision to post the pictures hence the comparison to a regretful one-night stand.
2. He was mistaken for a Latino in his high school
Mo admits that his high school days were tough. According to NPR, the comedian was caught up between Latino and Black gangs because while the Latinos wanted to recruit him figuring that he was one of them, the blacks could not stand him because they thought he was Mexican. It is only after an encounter with a gang member that Mo said he was Mohammed hence clearing up that the Spanish were not his family.
3. The 9/11 attack affected his career as a comedian
By 1999, Mo had already established himself as a comedian, and by 2000, he was the first Arab-American comedian to travel around the world performing for troops. Unfortunately, the 9/11 attack happened, leaving his family to believe his career was over, but Mo thought it would propel him further. He, however, had to be careful not to upset the audience and had to even lie about his ethnicity. It took him six months to come clean about being an Arab since he believed being a comic demands honesty.
4. He had a hard time finding a filming location for "The Vagabond."
Mo was set on shooting the film in his hometown, but not everything went according to plan. As much as he wanted to film in Houston, it was the music month, and the venues he wanted were already booked; thus, Mo ended up delaying production for two weeks. Hurricane Harvey then damaged most venues which would need repairs and consequently be opened in September. However, postponing production until September was not an option; thus, finally, Austin became the only alternative.
5. How he met with Dave Chappelle
Mo Amer was part of a touring comedy group "Allah Made Me Funny" that comprised three Muslim comedians. They had traveled the world, and Dave Chappelle was a fan; hence he and his family watched the group perform in Columbus. Four years later, the relationship grew from acquaintances to friends because when the comic group heard that Dave was performing nearby, they went out hoping to get a picture. Strangely, Dave was thinking about getting a picture with them too, and a friendship was struck at that moment. Since then, the group started touring with Dave.
6. He did not enjoy his first Halloween
After being in America for a couple of days, Halloween came up, and Mo was surprised to see people walking around with funny costumes that included blood gushing from the neck. What was more interesting to Mo was that they were getting candy for dressing up; hence he thought he would do the same. He, therefore, went out with a pillowcase hoping to fill it with candy, but the first thing he saw were children throwing rocks on a car. As he told Houston Chronicle, he saw a man carrying a gun approaching the kids, so he ran home with only a piece of candy.
7. He has always wanted to be a performer
Mo does not recall his childhood, but his five siblings remember him trying to get their attention. As a young boy, Mo would turn off the TV and tell his family members to watch him instead. It is, therefore, no wonder that he naturally gravitated towards comedy when he watched Bill Cosby at a Houston Rodeo.
8. His first stand-up comedy experience
After his father died, Mo decided education was unnecessary; thus, instead of attending classes, he would sneak out to watch baseball. However, his teacher told him to think of what his father would feel if Mo failed to graduate. To further encourage him, she asked him to learn a monologue by Shakespeare for a passing grade, and then he would get to perform in front of his classmates. For Mo, getting a real audience for the first time meant the world to him, and he still gets emotional talking about how Mrs. Broderick put him on the right path.
9. He was offered a chance to be on Netflix and HBO
After struggling to get his special filmed in Austin, doors began opening for the comedian. HBO offered him a chance to put the special on the network, but even before he could accept it, Netflix came along. For Mo, it was a dream come true to have his work being seen in over 130 countries and reach millions of viewers. Therefore it made sense to pick Netflix over HBO.
10. Why he thinks his mother is a gangster
When Mo talked to Aljazeera America, he kept referring to his mother as a gangster because he had seen firsthand what she was capable of to protect her children. When they fled Kuwait, Mo's mother decided to smuggle the money she had saved for years. Since the authorities were taking the money, she skillfully hid hers in purses since women were not being searched. However, she had left some in the suitcase which would be searched; thus, the witty woman ransacked her suitcase to make it seem like the soldiers had already been through it.