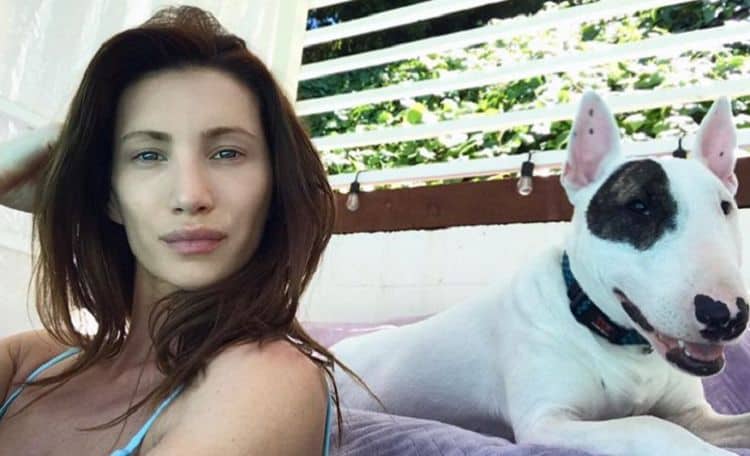 Sonni Pacheco is an actress who is best known for her role in two popular films. She appeared in "American Pie Presents: The Book of Love" in 2009, and in "The Wingman" in 2012. She has a following of fans, but she is perhaps better known for her relationship with superstar Jeremy Renner. We wanted to learn more about her and a look into her life and career yielded some interesting results that we think her fans would be interested in hearing about, so here are 10 things that you probably didn't know about Sonni Pacheco.
1. Sonni had a baby with her boyfriend
Pacheco and Jeremy Renner had a child together. Sonni was just 25 when she was born. They named their daughter Ava Berlin Renner. She was born on the 28th of March 2013. The couple only had one child together. After the birth of Ava, Pacheco and Renner got married, but the relationship didn't work out and they divorced. They married in January of 2014, but the union only lasted a year before they divorced in December of 2015.
2. Sonni found strength and healing in her art
While Sonni was expecting her daughter, she found strength and comfort in clay sculpting. It's an art form that she took up to help her deal with some very personal issues which had plagued her mind. Sonni shared that she had endured psychological as well as verbal abuse. After several years, and the focus that art allowed her to gain, she learned that it's something you shouldn't keep inside and she claims on Instagram that her art as helped her in a few different ways. She has once again found her voice, she's stronger and she's empowered.
3. She's fighting Renner for sole custody
According to Glam Sham, Pacheco has filed for a change in the custodial arrangements for her daughter Ava. She filed documents with the Superior Court of California in Los Angeles County which requests sole physical and legal custody of the child. In addition, she requested that Renner be limited to supervised visitation when he spends time with his daughter.
4. Sonni is a native of Canada
Pacheco has been living in the United states but she was actually born in the country of Canada. She was born in Pitt Meadows, Vancouver, British Columbia in 1991. This makes her 28 years old.
5. She's a farm girl at heart
We learned that Pacheco was raised on a farm in her native BC. Throughout her early years, she developed a love for animals, but we found the choice of her favorite pet to be a bit surprising. Instead of a fluffy kitten or a cute puppy, her absolute favorite was a frog. Still, she has a deep and abiding love for animals
6. She's better known for her marriage problems than for her acting career
With just two films to her credit, Sonni hasn't built a very large portfolio yet. She has appeared in two minor parts, and while it's a start, the film industry is a competitive business and if you truly want to establish a fan base then you have to get your name and your face out there. She's actually received more press for her marital problems and the ongoing custody dispute with ex-husband Jeremy Renner than she has for her acting career. She's better known as Renner's ex-wife than she is for being an actress.
7. Sonni was a professional model
Several years ago, Sonni established a modeling job while living in Canada. She took a break from this career to move to Mexico and sell timeshares at a hotel resort, but this didn't work out for her. After the failed venture in Mexico, she went to China, where she resumed her modeling career as a lingerie model
8. Pacheco is a private person
You can search far and wide and look through all of the social media posts that you like, but all you're going to turn up in your search is the fact that Sonni Pacheco is a very private person. She's tight-lipped when it comes to her personal life and her daughter. She's not attention-seeking as some would have you to believe. The drama over her divorce and custody battle has been publicized through the information that has been gleaned from public records of the filings and proceedings. This is one thing that she and Renner do both have in common. Jeremy let everyone know that he made every effort to protect the privacy of his wife to make sure that his notoriety as a celebrity didn't negatively impact her life.
9. Her professional careers have been short-lived
Another thing that we discovered about Sonni Pacheco is that she hasn't had a very long or extensive career in any area. If she's currently involved in any professional activities then it's not been publicized. She's only appeared in two films and the parts were very small. Her modeling career has been on again and off again and she hasn't really stuck with it with any real consistency that we could see.
10. Sonni Pacheco is opting to remain obscure
If Sonni Pacheco had any desire to be in the limelight then she would have multiple social media accounts and make a lot of posts. We've seen no evidence of this, and so it tells us that even though she's received a lot of press recently, for her marital and child custody battles with ex-husband Jeremy Renner, there is no evidence to suggest that she's capitalizing on the circumstances. She comes across as a private person who is making the choice to raise her daughter out of the public eye, and that she's making the choice to live her life in a manner that is obscured from the public and the media.
Tell us what's wrong with this post? How could we improve it? :)
Let us improve this post!