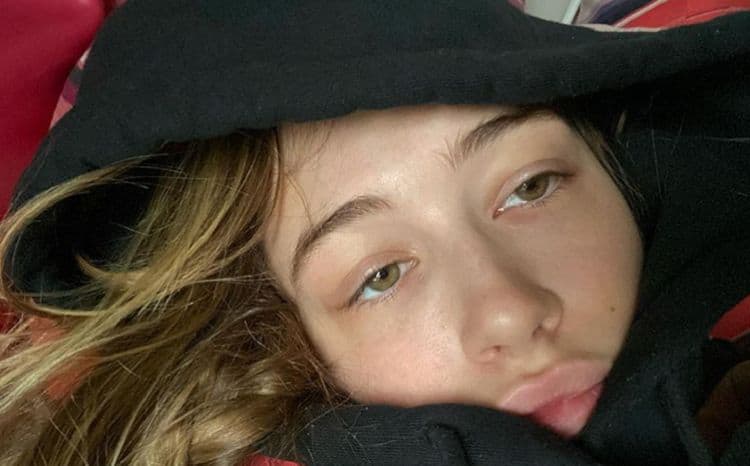 By now, you've probably heard that Ryan Phillippe is being sued by his ex-girlfriend, Elsie Hewitt, for an alleged domestic assault. On September 18, 2017, Elsie filed a $1 million lawsuit for assault, battery, and the intentional infliction of emotional distress. Phillippe vehemently denies the allegations. Of course, you know who Ryan Phillipe is, but who is Elsie Hewitt?
To help you out, here are 5 things you didn't know about 21-year-old, British-born Elsie Hewitt.
1. Although she's been referred to as an "Instababe," she has had plenty of actual modeling gigs.
Thanks to her more than 404,000 Instagram followers and the hot pictures she frequently posts, Elsie is sometimes referred to as an Instababe. While this may be true, she is also a model and is currently represented by Wilhelmina, a prominent modeling and talent management agency. She has worked for Guess and was Playboy's Miss June 2017.
2. She loves to eat pretty much anything.
Based on Elsie's Instagram and Twitter accounts, she loves to eat, especially stuff that's a tad fattening and definitely unhealthy. Seriously, in between all of her sultry posts, you'll run into picks of amazing cheeseburgers, ice cream cones, and more. In a June 2017 interview with Playboy she admitted that one of her favorite things to do was go to restaurants and eat. So, what's her absolute favorite thing to eat? According to Elsie, Italian food, especially pasta, is probably my favorite. I also love a really good steak. I like filet mignon with béarnaise sauce. And I have a huge sweet tooth. I love desserts. I love food."
3. She is surprisingly low maintenance.
It's easy to assume that, as a model, Elsie is a bit high maintenance. She completely denies this. Instead, she admits to being very low maintenance and says she doesn't care ablout looking perfect. Also in the Playboy interview, she said "I don't wear makeup. I just got my first haircut in six years. My hair was down to my butt. I chopped off 12, 13 inches, and it's still long."
4. She's very sensitive.
Elsie admitted, "I'm very sensitive, even though many people just see me as another sexy girl on Instagram." This probably makes it very hard to deal with some of what is being said about her on the internet since she filed her lawsuit. According to TMZ, investigators feel that her domestic assault allegations "don't add up." In fact, no charges have been filed against Ryan Phillippe and the L.A. City Attorney refuses to prosecute him. There are currently rumors swirling around that Ryan plans to sue Elsie for defamation.
5. She's done a little bit of acting.
Although you could easily blink and miss her part, at least in the movie, Elsie has appeared in a both a music video and movie. In 2013, she appeared in a video for Garrett Lodge's Underwater. In 2014, she played the role of Cammy's Friend 1 in Mostly Ghostly: Have You Meet My Ghoulfriend? Interestingly, Bella Thorne played the role of Cammy in the movie, which is based on a series by R.L. Stine.
Tell us what's wrong with this post? How could we improve it? :)
Let us improve this post!