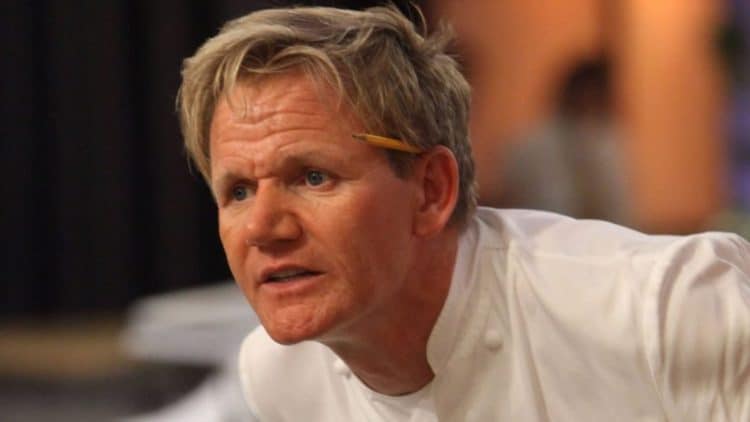 Is Gordon Ramsay seriously the kind of guy that a lot of us would get irritated by in a drive-thru lane? Or is this just a special case when he wanted to make one of his signature jokes? It's tough thinking that Ramsay would ever go through a fast-food line simply because the guy is one of the most well-known chefs in the world and thinking that he might enjoy a soggy, overcooked bit of meat in a limp bun is definitely something that might surprise a lot of people. But getting out there and ridiculing others or their establishments for their fare isn't exactly beyond the man apparently since in this clip he's showing himself being super-picky about the menu and then even going so far as to pull his 'idiot sandwich' joke on a fast-food worker. Let's be honest, fast food isn't always the best stuff in the world, but it's fast, it's technically food, and it keeps a person going through the day if it's all they can afford or all that's around.
As someone that's worked in remote areas where there might only be a few greasy spoons and fast-food diners to choose from instead of healthy and nutritious options, the quicker one can get a meal, and the less expensive it is the better. Of course, the less expensive part is going away quickly for a number of reasons it would appear. But getting something fairly cheap and quick over something that might take a while but is more expensive even if it's healthier isn't much of a choice for a lot of workers out there that have limited time for meals. Yeah, it's an old argument of Americans not taking care of their own health and appearing to be backward to the rest of the world since we eat garbage and apparently don't care about ourselves, but Ramsay is just one of the many that tend to drive this point home. This time around though it's hard to agree with his methods since quizzing the fast-food workers on their menu and what type of ingredients are going into each meal is beyond aggravating for anyone that might have been behind him and sitting at the final window griping about his meal and its appearance is something that might only anger people further.
Even if it's a joke, which the people in the restaurant took it as (hey, everyone was smiling at least), it was one that fell a little flat since Ramsay wasn't in Hell's Kitchen and doesn't control the fast-food industry. Like it or not, that's what is there, and that's what people eat. If a person has a bad experience with fast food, and many have, then it's time to start saving that money and making their lunch at home. Seriously, if Ramsay went to a break room and criticized someone's lunch the only thing that might save him would be playing it off as a joke since otherwise, the reaction might not be so kind. The thing is, people don't like being brow-beaten over what they eat, since the choices that folks make are either out of habit or due to their financial situation.
Many folks want to scoff at how truly expensive it can be to stay healthy, and it's true that shopping at stores such as Nature's can be extremely pricey. But farmer's markets, various grocery stores, and other locations do have less expensive options, so eating healthy is possible, but it's also a choice. This clip makes it tough to side with Ramsay though since this kind of behavior at a fast-food establishment isn't quite as funny given that it's obnoxious and more than a little annoying. There's no denying the skill and the knowledge that Ramsay possesses when it comes to cuisine, but sometimes the high and mighty elites of the world, even if they mean well, need to back off a bit and remember that the rest of the world doesn't always play to their tune.
This is what's frustrating about a celebrity in any field, the fact that they're an expert and know a great deal about their selected field makes them the absolute authority on pretty much anything. People don't need a master chef to tell them that fast food can be absolutely nasty, nor do they need someone like Ramsay to belittle them, even in jest, at their job when it's evident that what they're giving people is not quite acceptable. Ramsay is a great chef and a favored celebrity among a lot of people, but there are times when he's guilty of the same things that he accuses others of, such as being a donut that doesn't know when to just let things go and stop giving people grief. Most of the time he's fun to watch, but when he goes after people in this manner, sometimes it's enough to think that he might need to lay back just a bit. It's not the worst prank in the world, but it's one that kind of falls just a little flat.