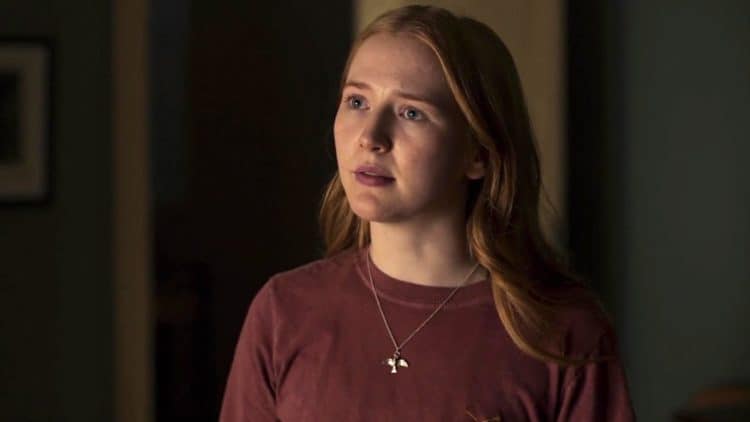 Gina Stiebitz is young, but she already has a decade of experience as a professional actress. Over the years, she has landed several roles in German productions. However, her big break came in 2017 when she was cast in the Netflix series, Dark. Although Dark is a German series, it has been dubbed in several languages and quickly gained international attention. As a result, the show has catapulted Gina's career, and she is well on her way to becoming popular all over the world. Now that Dark is getting ready to enter its third season, there's no doubt that there will be even more people who gain interest in the series, which means Gina's fan base will continue to grow. Keep reading for 10 things you didn't know about Gina Stiebitz.
1. She Began Acting As A Child
Most kids are constantly changing their minds about what they like and what want to do. However, Gina knew from a very early age that acting was her calling. She made her first on screen appearance when she was just 11-years-old, and she's been working fairly consistently ever since.
2. She Likes To Travel
Gina has lived in Germany for all of her life, but that doesn't mean she hasn't ventured away from home. She enjoys traveling and has gotten the chance to visit some very beautiful and interesting destinations. Some of the places she's been include Mykonos, Israel, India, and the United States.
3. She Enjoys Taking Pictures
Gina makes her living by being in front of the camera, but it looks like being behind a camera is one of the things she likes to do in her free time. Gina seems to enjoy taking pictures during her travels, and she definitely has an eye for capturing the right things at the right time.
4. She Knows How To Ice Skate
Like most actors, a love for entertaining is at the core of Gina's love for acting. With that being said, it's not surprising that she is also an ice skater. According to her bio on the Limelight PR page, Gina grew up figure skating and competed in several events throughout her life. Even though they are worlds apart in many ways, figure skating involves lots of the same elements as acting.
5. She Speaks 3 Language
For lots of people, learning a language other than their own can feel incredibly challenging. However, Gina Stibietz has managed to learn three. In addition to speaking fluent German, she also speaks fluent English and can even speak a bit of French. As her career continues to grow, there's no doubt that having the ability to speak multiple languages will definitely help expand her opportunities.
6. She's Signed To An Agency
There's no one way to be successful in the entertainment industry. There are lots of actors who prefer to do things on their own, while others appreciate the help of a professional team. Gina has chosen to take the second route, and she is signed to a Berlin based agency called Lastrada Doells.
7. She Has Theater Experience
Gina's on screen work is what she is most widely known for, but she has deep roots in the theater world and has been a part of stage productions since the beginning of her career. She has also been in a few musical productions which has given her the chance to show off her singing skills.
8. She Plays The Guitar
Acting isn't the only art form that Gina enjoys. She is also musically talented and can play the guitar. It's unclear how long she has been playing or whether or not she plans to take on music as more than a hobby. Either way though, it's always interesting to learn about people's hidden talents.
9. She Likes To Stay Private
Despite having been in the been in the business for a decade, Gina has managed to keep her personal life out of the spotlight. She seems to enjoy keeping her life relatively low-key. Even when she does interviews, she likes to keep the focus of the conversation on her work.
10. She Recognizes The Complexities Of Her Character
Gina's character on Dark, Franziska Doppler, has a lot of different layers. For an actress, this can make the role very challenging, but Gina has a good understanding of her character's complexities. During a segment of the Dark after show, Gina went into great detail about the inner workings of Franziska.