When it comes to TikTok, only a handful of influencers share the popularity and success of Addison Rae. She became active on TikTok in 2019 and has a following of over 88.4 million and 5.8 billion likes. Forbes ranked Rae as the highest-paid TikTok influencer in 2020, with $5 million in earnings.
While Addison Rae is famous for being a social media personality, she's also an actress and a singer. Rae's unique way of connecting with millions of followers is through her dance moves. Dance comes naturally for Rae, who began dancing competitively at six. For new and existing followers, here are the 20 best Addison Rae TikTok videos you need to watch.
1. Addison Rae Performs Extreme Yoga At The Beach
The multi-talented social media personality is never afraid to push boundaries. In her TikTok post uploaded on June 14, 2022, Addison Rae shows her flexibility and performs an extreme yoga move. The video has received over 72.5 million views.
2. First Time Doing Pottery
https://www.tiktok.com/@addisonre/video/7119519199634165038
On July 12, 2022, Addison Rae posted a video of herself doing pottery. Although she had assistance, it's amazing she could create something worthwhile for a first-timer. The video has received over 44.2 million views.
3. Lyrics Gone Wrong
From the TikTok video, it's evident that Addison Rae and her mother, Sheri Easterling, were bonding over pottery. Singing to Lizzo's "I Love You B–ch" song, Rae's unsuspecting mother gives an unfiltered reaction when a swear word is included in the lyrics. The video has over 15.5 million views.
4. Addison Rae in Cabo
Addison Rae has shown several impressive dancing moves on TikTok. However, while joking around, she twerks at the news of a vacation trip to Cabo. The video has been watched over 42.5 million times.
5. Wordle Frustration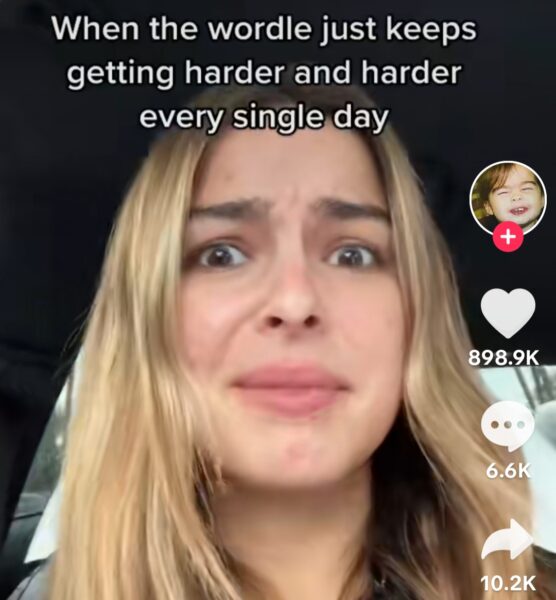 With over 14.1 million views, most people understand the frustration of figuring out a five-letter word on Wordle. What starts as a simple game becomes increasingly difficult as the game advances. Wordle is a web-based puzzle video game that allows players to guess a five-letter word with only six attempts.
6. Addison Rae's Beauty Tips
In Addison Rae's beauty masterclass, she shared tips on creating a custom lip gloss. This video will be handy for ladies looking to step out in a unique lip gloss shade. The video has received over 14.3 million views.
7. I'll Take Two Of That Please
Addison Rae shows items she also gets in pairs by making a voiceover video from Sara's voice. Much like the original sound, "If I like it, I'll just grab it in another color." The items more curious as the video progresses. It has received over 16.2 million views.
8. Nosey Neighbors
Most people can relate to this one. One minute pretending not to be nosey; the best minute sticking noses where they don't belong. With over 890,000 likes on the post, a lot of people can relate.
9. Airport Security Check
The video was posted on August 2, 2021, with Ollie's original sound. It's a funny video identifying those who go through airport security without wearing socks. Meaning they love to walk barefooted on the dirty airport floor. The video has over 45.2 million views.
10. Checking Zodiac Compatibility
For those who appreciate and believe in zodiac signs, this one leaves them guilty as charged. Better to check compatibility early to wait to regret it later. The video has been viewed over 20.2 million times.
11. Happy Father's Day
Addison Rae shares a close bond with her father and mother. Appreciating her father on Father's Day in 2021, she shared a video of herself with her father, Monty Lopez. Lopez, who's also a TikTok influencer in his own right, was the highlight of the video.
12. Duet With Kourtney Kardashian
Addison Rae is close friends with the Kardashian family. She made guest appearances on 2 episodes of Keeping Up with the Kardashians in 2021. She appeared again in season 3, episode 9, of The Kardashians (2023). It's no surprise she made a duet video with Kourtney Kardashian dancing to a "best friend" soundtrack.
13. Gucci Flip Flops Challenge
@addisonre

@blackbeanieboyy 's was so good I had to recreate it
Back in 2021, Gucci Flip Flops Challenge was popular on TikTok. "Gucci Flip Flops" was a song by Bhad Bhabie ft. Lil Yachty received mixed to bad reviews. However, because of the catchy beats, it became popular. The challenge was about people who criticized the song but low-key enjoyed singing and playing it. Rae's video has been viewed 72.4 million times.
14. Grandpa Getting In On The Action
Whoever said TikTok was for Gen Zs has no idea what they're talking about. Addison Rae made a duet video dancing along with Grandpa Frank, a popular grandfather on the platform. The video has received 44.6 million views.
15. 2 Truths & A Lie
The challenge was pretty simple. The TikTok-er had to write out three things for viewers to guess, which was a lie. The person reveals the lie in the end. In Addison Rae's challenge video, her lie was never bailing her ex-boyfriend Bryce Hall from jail.
16. Addison Rae & Bryce Hall
The video was one of several videos she collaborated with her ex-boyfriend Bryce Hall. The two danced off to Don Toliver's "No Idea" song. The video has been watched over 86.3 million times.
17. Lay All Your Love On Me Challenge
Addison Rae joined the "Lay All Your Love On Me" challenge in style. She's in a pool and moving to the beat. The video is one of Rae's most-watched videos on TikTok and has over 114.1 million views.
18. Momma On WAP Challenge
Addison Rae's mother has enjoyed millions of followers on TikTok because of her free-spirited attitude on the app. In the video, Rae reacts to her mother trying to jump on the WAP challenge. The video has over 206.2 million views.
19. Addison Rae Does The WAP Challenge
@addisonre

i had to do it before my mom did…. goodnight dc @besperon
There's no way Addison Rae would pass up a chance to get on the WAP challenge. She's a dancer, so she delivered effortlessly. Knowing her mom would hop on the challenge soon, Rae quickly did hers before bed. The video has been viewed over 315.9 million times
20. A Family That TikToks Together
One of the things Addison Rae has going for her is the love and support she gets from her parents. From an early age, they allowed Rae to follow her dreams. In the video, Addison Rae and her parents take turns sharing things they like/dislike about each other's TikTok videos.