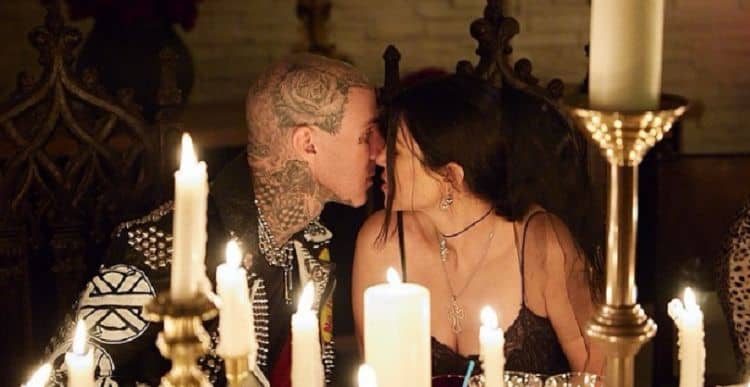 Kourtney Kardashian has always been famous – well, it seems like she's always been famous. She is famously famous for her relationship with Scott Disick, the man with whom she shares her three children, and what has always seemed like a fairly good co-parenting situation and friendship. Back in the early days of Keeping Up with the Kardashians, Disick wasn't someone that fans wanted to see the elder Kardashian sister with. He was shady, he seemed like he had a lot of things going on behind her back, and their fights were nothing short of absolutely dramatic. However, they did seem like they would make it work. When they welcomed three children together over the years, fans were sure that Disick had grown up and Kourtney would want to marry him – but she didn't. The pair never married, and that left her at 43 and an unwed mother of three, which leaves us wondering how on earth she ended up married to Travis Barker so quickly?
The Beginning of Barker
While their romance might seem like it happened all kinds of quick to the rest of it, it turns out that Kardashian and Barker have been friends for many years. It seems that Barker has known the Kardashian family since Kim was just Paris Hilton's friend and not really anyone herself. In fact, Barker once said in an interview that while he hung out with Hilton and Kardashian, it was Kim he had a huge crush on – though he is clear that nothing ever happened between them. It wouldn't be until 2017 when his own stepdaughter had dinner with the entire Kardashian family that things seems to be a little more interesting. A year later, Barker and Kourtney were spotted having dinner together one night, but it appeared to be nothing more than a friendly dinner and nothing came out of it until they were spotted at a church service the same month. Two months later, they went to dinner with Kourtney's friend Larsa Pippen. However, it wasn't until February of 2019 when the two went to dinner together in Malibu that the world was like, "Wait just a moment," and began to really take a look at these two. Just when the world began to talk about them, there was nothing else. No one saw them together again or had an inclination that they were even speaking to one another until 2021.
Are They Really Serious?
When Barker began commenting in a flirtatious manner on all of Kourtney's social media posts, the world began talking about them again. This was in January of 2021, and suddenly they were confirming their romance, and it seemed like it might not be something entirely new. What really made the world realize that this might not be a publicity stunt or just a casual fling was when Barker got on an airplane with Kourtney in August of 2021. That might not seem like a big deal to most, but Travis Barker was in a horrific plane crash in 2008 and had not flown since. He told Kourtney he would go anywhere with her, and he's been traveling the world with her since. When he asked her to be his wife in October of 2021, she said yes, and they made it very clear that they are in this for the long haul.
Their Marriage…all Three of Them
It was sometime in March of 2022 that the pair announced they'd gotten married in Las Vegas. Unfortunately, they also found out that they did not have a legally binding marriage since there was no way for them to get a marriage license until the following morning. They still did it. They wed again on May 15 at a courthouse in Santa Barbara. This time, they had her grandmother and his father in attendance. Fortunately for the rest of their families and all of their friends, this couple also went ahead with a lavish wedding ceremony in Italy in which they both walked down the aisle, exchanged vows, and shared the day with all of their friends and families. Their marriage is one that they are exceptionally excited about, and it shows.