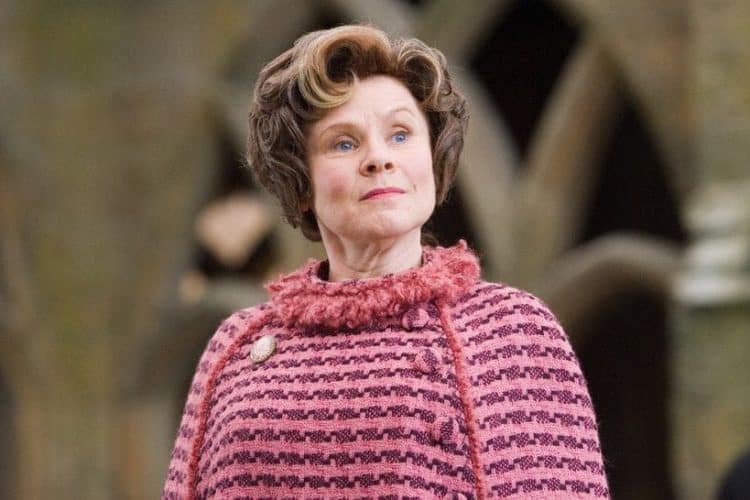 Veteran actress and star of the stage Imelda Staunton may have been in the business for over 40 years, but she's showing no signs of slowing down yet. As a matter of fact, 2019 is proving to be one of the biggest (and busiest) years of her career so far, thanks to her portrayal of lady-in-waiting Maud Bagshaw in the much-anticipated Downtown Abbey movie (which is also set to star Maggie Smith, Michelle Dockery, and Matthew Goode) and her reprisal of the character of Knotgrass in the upcoming release of Maleficent: Mistress of Evil. Find out more about the talented star with these 10 little known facts.
1. She was raised above a hair salon
Staunton was born in North London as the only child of first-generation immigrants from County Mayo, Ireland. Her father, Joseph Staunton, worked as a laborer, while her mother Bridie (a talented musician who had played in showbands before leaving her native homeland) was a hairdresser – a very convenient occupation considering the family lived over a hair salon, managed and owned by Bridie herself.
2. She studied at R.A.D.A
As a child, Staunton studied at the private catholic school, La Sainte Convent. After developing her vocal abilities with the help of an elocution instructor, she began to be cast in starring roles in various school productions. Inspired by her elocution teacher, Staunton decided to pursue her growing love for the stage by trying out for the renowned R.A.D.A; to her delight, her application was accepted and she enrolled at the school, eventually graduating in 1976.
3. She started her career on the stage
After graduating from R.A.D.A, Staunton spent the following 6 years performing in stage productions such as Saint Joan (1979), The Beggar's Opera (1982), Guys and Dolls (1982), The Corn Is Green (1985), Into the Woods (1990), Uncle Vanya (1988), and The Wizard of Oz (1987).
4. She's a multi-award winner
In 1982, Staunton's star turn in The Beggar's Opera saw her claim her first Olivier nominations for Best Actress in a Musical and Most Promising Newcomer of the Year. Since those early days, she's bagged a number of prestigious awards, including the Venice Festival Volpi Cup for Best Actress, four Olivier Awards (out of 13 nominations), and a BAFTA Award for Best Actress. She's also been nominated for an Academy Award, a Golden Globe, a Screen Actors Guild Award for Best Actress and a Primetime Emmy Award for Outstanding Supporting Actress.
5. She made her big-screen debut with Comrades
After working for several years on stage, Staunton branched out to make her big-screen debut in Comrades (1986). She's since enjoyed numerous supporting or starring roles with such high profile films as Vera Drake (2004), Nanny McPhee (2005), Harry Potter and the Order of the Phoenix (2007), Alice in Wonderland (2010), Harry Potter and the Deathly Hallows Part 1 (2010), Pride (2014), and Paddington (2014).
6. Her dog starred in Gypsy
Staunton met her husband, Downton Abbey star Jim Carter, during the stage production of Guys and Dolls in 1982. They married a year later and went on to have a daughter, Bessie, in 1993. In 2007, both husband and daughter appeared alongside Staunton (and a cast of other acting luminaries such as Judi Dench and Maggie Smith) in the hit BBC drama, Cranford. In another piece of opportunistic luck, Staunton's dog, Molly, also got to experience a piece of the action when she appeared at the Chichester Theatre's production of Gypsy. Staunton was on hand to supervise the appearance thanks to her star turn as Madame Rose.
7. Her TV debut was The Singing Detective
Staunton made her small screen debut in The Singing Detective, playing the recurring character of Nurse White. She's since enjoyed numerous high-profile TV roles, including Detective Burakov's wife in the acclaimed feature Citizen X, Mrs. Mead in the sitcom Little Britain, the gossip queen Miss Pole in Cranford, Grace Andrews in Psychoville, and as the wife of film director Alfred Hitchcock in the made-for-TV movie, The Girl. She's also featured in A Bit of Fry and Laurie, If You See God, Tell Him, Midsomer Murders, and Is It Legal?
8. She narrated The Gruffalo
If you have a child under the age of 10, you'll be all too familiar with the works of Julia Donaldson. What you may not know is that Staunton has narrated many of Davidson's classic children's books, including The Gruffalo, The Gruffalo's Child, Monkey Puzzle, Stick Man, Zog, and The Snail and the Whale. If you're a fan of Staunton 's unique style, you may also want to check out her 2014 collaboration with her husband, Jim Carter, on Centenary: Words and Music of the Great War, an evocative collection of songs and poetry either written during World War I or inspired by its events.
9. She's a regular voice on the radio
All those years of elocution lessons as a child have clearly paid off: thanks to her distinctive voice and ability to bring life to a character through her vocal talents alone, Staunton is a regular fixture on the radio. As well as acting the title character in the detective series Julie Enfield Investigates, Staunton has also tackled the lead characters of Izzy Comyn in Up the Garden Path (a part she later re-visited on TV), Courageous Kate in Elephants to Catch Eels, Xanthippe in Acropolis Now, and the schoolboy lead of The Skool Days of Nigel Molesworth.
10. She's a CBE
For a Brit, few achievements rank as highly as a mention on the New Year's Honors list. Staunton has had the rare distinction of appearing twice. In 2006, she was appointed Officer of the Order of the British Empire in the New Year's Honors; 10 years later, she was bestowed the title of Commander of the Order of the British Empire. Both titles were awarded in recognition of her outstanding contribution to drama.