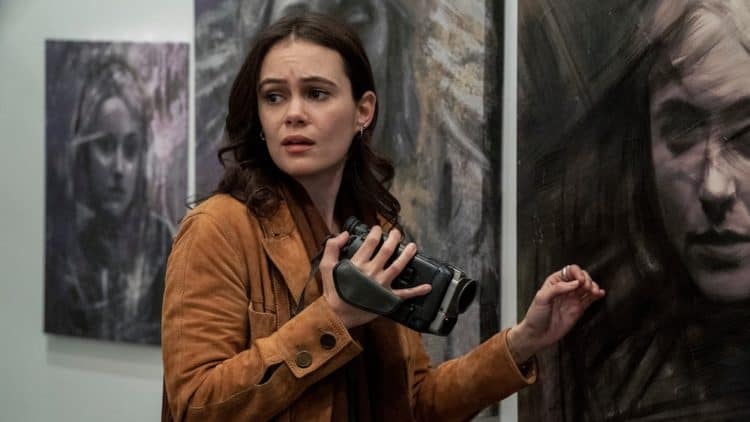 2022 is probably a year that Dina Shihabi won't ever forget. Although she has been in the entertainment industry for more than a decade, things have really started to take off for her recently. She got her first major break in 2018 when she was cast Tom Clancy's Jack Ryan, and she has kept the momentum going ever since. In 2020, she earned her first starring role which came in the Netflix series Archive 81. In the series, Dina plays a woman named Melody Pendras who finds herself at the center of a terrifying mystery when she moves into an apartment building in New York City to research the history of the building. While there, she documents her experience via film. 25 years later, an archivist is tasked with restoring Melody's tapes after they were damaged in a fire that allegedly killed her. Her portrayal of Melody Pendras has earned her lots of attention and it's clear that this is just the start of more great things to come. Dina may not be a household name just yet, but she's well on her way. Continue reading to learn 10 things you didn't know about Dina Shihabi.
1. She Was Born In Saudi Arabia
Dina is originally from Saudi Arabia, but she was also raised in Dubai. Neither of her parents work in the entertainment industry, but her father, Ali Shihabi, is a well-known writer. In addition to Saudi Arabian roots, Dina also has Norwegian, German, and Haitian ancestry. During an interview with W Magazine, Dina said, "I love my culture so much. There's so much beauty to it," Shihabi says. "But there's also a lot of expectation and restrictions to be one sort of girl I was expected to be—not by my parents, who are remarkable people and allowed me to be whoever I wanted to be. But culturally, there are expectations that make you feel boxed in: really polite and sweet and with an expected submissiveness." Dina is currently based in the United States.
2. Dance Was Her First Love
These days, Dina is best known for her work as an actress. However, many people probably don't know that she actually fell in love with performing through dance. She started taking dance classes when she was about 11 years old, and she quickly fell in love with it. Her passion for dance helped her explore her creative side and it also became a great way for her to express herself. It didn't take long for her to realize that she wanted to become a professional dancer, and she was able to make that dream come true. Her first professional dance opportunity was on Saturday Night Live and she credits her time as a dancer with helping her build serious mental toughness. She told W Magazine, "When you're a dancer, you have to dance every day. You have to be committed to it completely. I think I have that mentality when it comes to acting. I give it the same kind of discipline".
3. She's a Part of Higher Education History
Dina has always been the kind of person who isn't afraid to go after what she wants. When she was 18 years old, she relocated to the United States in hopes of pursuing a career in the entertainment industry. She was accepted to both Juilliard and New York University's Tisch School of the Arts. She is the first Saudi Arabian woman to be accepted to both schools. As of now, she is also the only Saudi Arabian woman to earn this accomplishment. As time goes on, hopefully, there will be more opportunities for other women who come from the same cultural background as Dina. In the meantime, she is more than happy to provide on-screen representation.
4. She's Known One Of Her Archive 81 Co-Stars Since She Was A Teenager
Archive 81 was the first time Dina got the chance to work with Mamoudou Athie, but she actually knew him long before the series came along. While talking to W Magazine, she said, "To do this with him felt really special. Acting together felt quite emotional, I think, for both of us." Anyone who has ever gotten the chance to work with a friend knows that it can be great to have a work experience with someone you're familiar with. Anyone who has seen Archive 81 would probably agree that Dina and Mamoudou worked very well together on screen.
5. She Loves To Travel
Traveling is easily one of the best experiences a person can have. Being able to explore and enjoy other cultures can help make people more open-minded and well-rounded. On top of having lived in three countries, Dina has also gotten the chance to travel to places all over the world. Some of the countries she's visited include Jamaica and Morroco. As her career continues to grow, Dina will be able to add lots of other destinations to her list.
6. She Has a Great Sense of Style
Dina doesn't have a background in modeling, but she certainly looks like she could. Not only is she beautiful, but she also has a knack for picking out awesome outfits. It's clear that she sees fashion as another way for her to express herself, and she isn't afraid to experiment with bold colors and designs. No matter what the occasion is, you can trust that Dina is going to show up looking stunning.
7. Her Father Didn't Approve Of Her Role In Jack Ryan
Dina comes from a conversation background, and that doesn't always mesh well with Hollywood. It's no secret that the entertainment industry loves to push boundaries, and sometimes that can rub people the wrong way. Dina experienced this first hand with her role in the Amazon Prime series Tom Clancy's Jack Ryan. During the show, Dina was involved in a sex scene and apparently her father, Ali, didn't approve.
In a tweet that appears to have been deleted, Ali Shihabi wrote, "As a father, I am deeply disappointed with a scene with my daughter @dinashihabi in @jackryanamazon which just premiered. This is not how she was brought up and does not reflect our values. Clearly, the pressures of Hollywood got the better of her as a new actor". As someone who has worked hard to break free some of the restrictions associated with her culture, seeing this tweet probably didn't make Dina feel great. As far as we know, however, she never publically responded to the tweet or addressed it at all. Interestingly enough, Ali has tweeted other things in which he shows support for his daughter.
8. She's Also A Screenwriter
So far in her career, Dina has spent the majority of her time in front of the camera. However, there are also other things she hopes to accomplish in the entertainment industry. She got her first production credit in 2021 with a short film called Chicken, and she doesn't plan on stopping there. Dina loves writing and has already worked on several ideas for shows that she hopes to pitch. She is especially passionate about telling stories of middle eastern women and she hopes to be able to shed more light on her culture through her work. Hopefully, one of her shows gets picked up eventually so we can enjoy her storytelling skills from another perspective.
9. She Enjoys Spending Time Outdoors
Things have probably been pretty hectic for Dina for the last couple of years. However, even with her increasingly busy schedule, she still likes to make time for some of the other things she enjoys. One of those things is being outside. When Dina has free time, you can often find her outside enjoying all of the beauty that nature has to offer. She especially enjoys going for walks and hanging out by the water. Being outside has become a great way for Dina to unplug and take some time away from the hectic nature of her job.
10. A Teacher Inspired Her To Pursue a Career in Entertainment
Sometimes it just takes one person to give you the push you need to go after something. For Dina, that push came from one of her first dance instructors. While talking to Brief Take, Dina said, "My first inspiration, honestly, was my dance teacher growing up in the Middle East…when I was 11, I was taken to this dance class in Dubai, which is a Muslim country. So I was taken to this dance class with this Indian dance teacher who was so badass and confident and incredibly talented and so generous. She changed my life. She took me under her wing and within a year of being in her dance class I was dancing professionally with her. I'm still in awe of her and she changed so many lives. In a culture that hasn't yet embraced expression and creativity, she completely encouraged it with this fierce free spirit of hers. "
Tell us what's wrong with this post? How could we improve it? :)
Let us improve this post!