Sainty Nelsen is a 3x Emmy Award, Tony Award, Drama Desk Award, GLAAD Award, Drama League Award, and Outer Critic Circle Award Winning actor and producer. Nelsen is currently starring in the world's number-one children's animation show, Gabby's Dollhouse, on Netflix. Her voice can also be heard in lead roles in Trolls: The Beat Goes On, Loud House, Boss Baby, and Ridley Jones.
Sainty is one of few actresses in the world starring in multiple DreamWorks Animation, Nickelodeon, and Netflix originals all at once. Aside from a booming career in voice-acting, Sainty was last scene in the FX comedy Sex & Drugs & Rock & Roll opposite Denis Leary and starred in Broadway's Finding Nemo The Musical in the title role of Dory. Notable producing work includes Wakefield starring Bryan Cranston and Jennifer Garner, The Inheritance on Broadway, Broadway Rising, and a documentary with Lin Manuel Miranda, co-produced by Jesse Tyler Ferguson (2022 Tribeca Film Festival Official Selection). Nelsen proudly holds the title of the youngest Emmy Award Winning female producer in history for her work on Peacocks' The Bay.
1. Sainty Nelsen Is Married To The 1883 Actor Eric Nelsen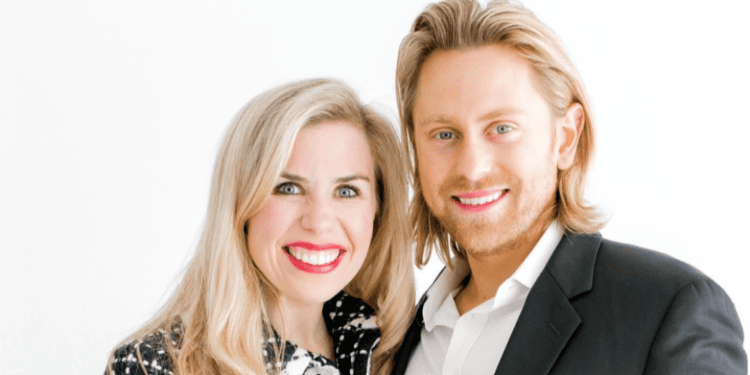 Actress Sainty Nelsen has been married to 1883 actor Eric Nelsen since November 2013. They have two beautiful children, Molly Morgan and Mick. The pair currently split their time between Texas and Los Angeles. Even more, they are currently developing tons of projects together, including a podcast, Will Roger's Story, and a Hallmark Christmas movie.
2. She Is a Part of 5 Generations of Mollys
Nelsen's full name is Molly St. John Reid-Nelsen. However, she has been called Sainty since she was born. Five generations include Grand Molly (great-grandmother), Molly Smith "Sissy" (grandmother), Molly Reid (mother), Molly St. John Nelsen "Sainty," and Molly Morgan (Sainty's daughter).
3. Sainty Nelsen Started Her Career in Theater at the Age of Three
Nelsen began her professional career when she was 3 years old at Casa Manana Playhouse in Fort Worth, Texas. There she performed over 50 professional shows before the age of 18. She graduated from the prestigious Baldwin Wallace University for Music Theatre under Victoria Bussert. Soon after, she found an agent at their New York City Showcase. The first week she moved to New York City after college, she booked Dory in the Broadway in the Park's Finding Nemo: The Musical. At that point, she had to learn puppeteering and flying/flipping in the air.
4. She Was Told To Look Into Voice-Acting
Denis Leary was the first person to suggest that the actress should consider voiceover acting. This was while they were shooting the pilot of Sex & Drugs & Rock & Roll for FX. The series stars Elizabeth Gillies, Elaine Hendrix, Denis Leary, and John Corbett.
5. Sainty Nelsen Was A Debutante And A Competitive Cheerleader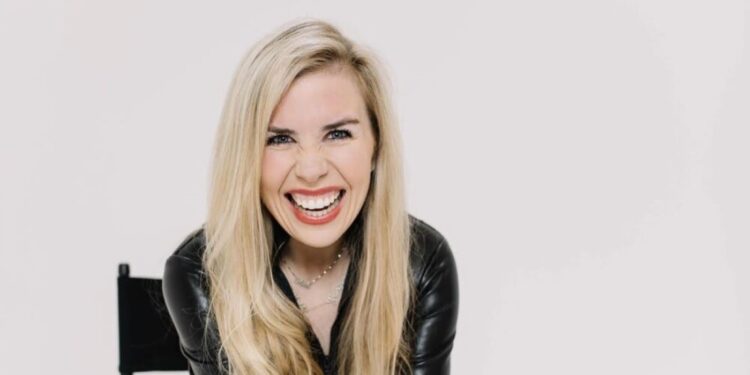 A debutante is a young woman of excellent moral character aged 17-23. She's recognized and honored for exemplifying her commitment to family, school, and community. Sainty Nelsen was a debutante in Fort Worth, Texas. She was also a competitive cheerleader for her entire childhood. So, it would only be fitting her first Broadway audition would be for Bring It On, the musical. This combines her two loves of cheer and musical theatre together.
6. She Is The Youngest Emmy Winning Producer in History
Here's an achievement to be proud of. Nelsen is the youngest Emmy Winning Producer for The Bay. She also won a Tony Award for producing the Broadway production of The Inheritance.
7. She Is Working On The Will Rogers Story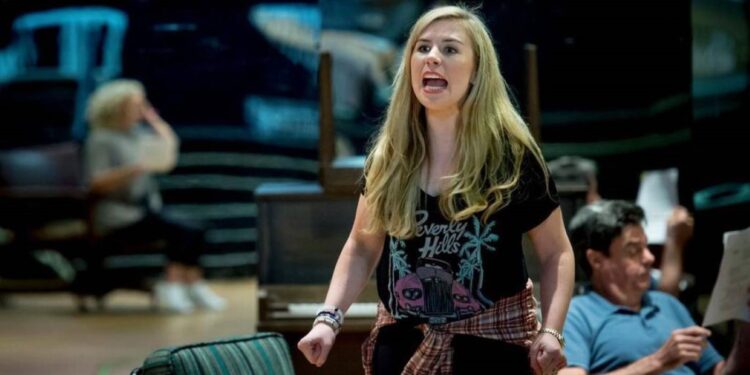 It's safe to say that the actress and producer has had the privilege of working on some amazing projects. More recently, there's one that she landed her hands on. Nelsen and her husband, Eric Nelsen, have received the rights to the Will Rogers Story.
8. Sainty Nelsen Supports The Arts
Nelsen and her family are huge supporters of the arts and many charities. These include Cook Children's Hospital and Creel Family Philanthropies. There's also Cowgirl Museum, Jewel Charity, Texas Health Resources Foundation, and Casa Manana.
9. Her Son Was Diagnosed With Pyloric Stenosis While Her Husband Was Filming 1883
Sainty Nelsen's son, Mick, underwent Pyloric stenosis surgery in December 2021. At his eight-week appointment, he hadn't gained any weight in a month and was starting to look discolored and frail. For almost nine weeks, she felt he had nothing more than reflux. Her husband was filming day and night with the Yellowstone prequel 1883.
Being alone, she had tried every trick, going through 7 different formulas. Then, there was some 24-calorie formula, rice cereals, two medications, two different gas drops, rigging his bed, sitting upright, sleeping in a shaker, and the list goes on and on. He was basically stuck at home because she couldn't take him anywhere.
According to the star, she went to bed every night crying, knowing something was just off. The surgery was a lifesaver for their family. At the moment, he is thriving. Bringing him home from the hospital for the first time was just a dress rehearsal. Bringing him home post-surgery was the real performance! Pyloric stenosis is a rare condition in infants that blocks food from entering the small intestine.