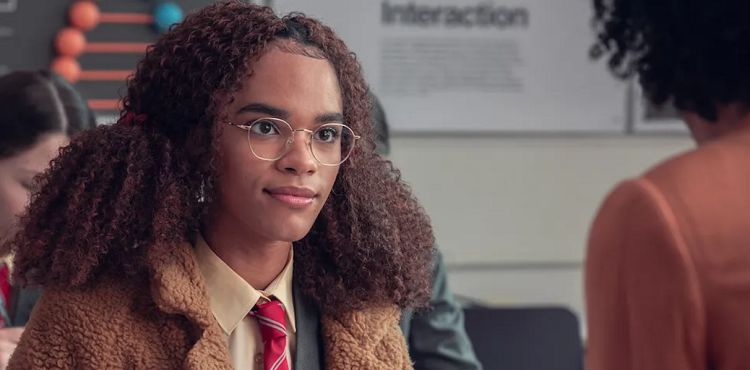 Yasmin Finney is new to the acting scene so you may not have heard of her just yet. However, that won't be the case by the end of the year. She has a role in an upcoming Netflix original series called Heartstopper which centers around two teenage boys who eventually begin to realize that there might be something more to their friendship than they thought. The show is set to debut on April 22. On top of that, she has been cast in an upcoming film called What If which will mark Billy Porter's directorial debut. Unfortunately, however, it's not clear when the project will be released. However, once people start to see how talented Yasmin is, we hope that even more doors begin to open for her. Keep reading to learn 10 things you didn't know about Yasmin Finney.
1. She Is British
From what we know, Yasmin was born and raised in England where she still lives. There is no information to suggest that she has any plans to relocate. We weren't able to track down any specific information about her upbringing or what inspired her to get into acting.
2. She Loves Fashion
On top of her acting skills, Yasmin also has a great eye for fashion. She loves being able to share her personality through her clothing and she knows how to put outfits together for any occasion. Yasmin is also the kind of person who isn't afraid to get creative when it comes to her style and experiment with different things.
3. She Is A Teenager
Often times when people are cast to play teenagers, they're well into their 20s. Sometimes they're even in their 30s. For that reason, some people may have assumed that Yasmin is much older than she actually is. In reality, however, she's only about 18 years old and she's already well on her way to a successful career.
4. She Is Popular on TikTok
Even though Yasmin is new to the entertainment industry, she isn't really new to being in the spotlight. That's because she's already a star on social media. Yasmin has grown a TikTok following of over 300,000 people. The majority of her content centers around her experiences as a trans woman of color.
5. She Is Passionate About Human Rights
Long before Yasmin got the chance to break into the acting world, she was already committed to using her platform to call attention to the things that are important to her. Human rights are at the top of that list. She isn't shy about speaking out on issues – especially those impacting the trans community and she encourages people to educate themselves.
6. She Has Theater Experience
Heartstopper is going to be Yasmin's first on-screen experience, but that doesn't mean she's never done any acting before. According to her resume, she has been involved in several theater productions including Page to Stage and Antigone. It's unclear if she has plans to continue doing theater work once her on-screen career takes off.
7. She Is Fairly Private
Since Yasmin is an active social media user who shares a lot about her personal experiences, the fact that she is private may seem a bit contradictory. In reality, however, she does keep lots of the details regarding her personal life to herself. This may change, however, as she gets further into her career.
8. She Is A Model
Acting will probably be the thing that helps Yasmin gain more attention, but she also appears to have an interest in acting. Several of her social media posts show that she loves posing for pictures and she's a natural in front of the camera. As of now, however, it doesn't look like she has any professional modeling experience. Perhaps success in her acting career will also open doors for modeling opportunities.
9. She Doesn't Have The Best Relationship With Her Family
Lots of people in the LGBTQ+ community are ostracized from their families due to their sexual orientation or gender identity. In several of her TikTok videos, she has hinted at the fact that she has very turbulent relationships with many people in her family due to the fact that they're transphobic and can't accept her for who she is.
10. She Isn't Afraid to Switch Up Her Hair
Hair is a huge part of lots of people's identities. As a result, once people find a style that they feel suits them, they tend to stick with it. Yasmin, however, doesn't shy away from changing her hairstyle. From braids to bangs, Yasmin has shown time and time again that she can rock any hairstyle.
Tell us what's wrong with this post? How could we improve it? :)
Let us improve this post!