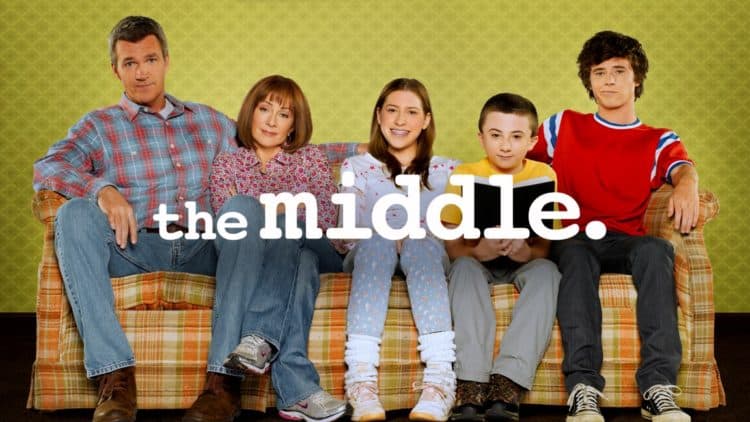 The Middle, upon its 2009 debut, was as relatable as any television show can be, due to its representation of a regular middle-class family. Whether Frankie Heck ( Patricia Heaton) was going to Brick's ( Atticus Shaffer) school when she was mid-work, Sue Heck ( Eden Sher) was trying to be more visible at school, or Brick was living in his tiny little world, the struggling family from Jasper, Indiana, made good television, enough to secure a solid nine-season run. Upon its farewell leg, Heaton said of their time at the show: " We are together all the time. We know everybody's everything about each other's lives. Everybody has moved on and done things; people getting married, crew, and writers alike. So, I think the last table read we do is going to be difficult." Even for such a tight-knit group of people, the end did come, and it's been a few years. Here's what the cast has been up to since:
1. Patricia Heaton (Frankie Heck)
Besides playing the role of Frankie Heck, Patricia Heaton is well known for her role in Everybody Loves Raymond, one in which she has two Emmys to show. Since the end of The Middle, Heaton has appeared as the star of her own show, Carol's Second Act. The show premiered on CBS in 2019 and aired for a single season. Heaton played Dr. Carol Kenney, a former high school teacher-turned doctor, who was also divorced and had two grown children. In 2018, Heaton bagged a voice role in Smallfoot.
2. Neil Flynn (Mike Heck)
Prior to becoming known as Mike Heck in The Middle, Neil Flynn had already become a familiar face, thanks to his portrayal of the janitor in Scrubs. That role was a blessing in disguise since it wasn't the one he had auditioned for in the first place. For his portrayal of Mike Heck, Flynn not only reached a wider audience, but he also bagged himself a Critic's Choice Award nomination. Soon after The Middle had wrapped up, he joined the cast of Abby's. In 2020, he voiced Jonathan Kent in Superman: Man of Tomorrow. This year, he appeared in an episode of Chicago Party Aunt.
3. Charlie McDermott (Axl Heck)
As Axl Heck, Charlie McDermott was the mannerless firstborn who would do anything between licking two jars of peanut at the same time and getting ready in a record five seconds. For the better part, he would have been left alone in his room, and he'd be absolutely okay. Since the series wrapped up, McDermott has appeared in the film Countdown, where he plays the role of Scott. He's also made an appearance on Unbelievable, where he plays the role of Ty. If his Instagram is anything to go by, McDermott prefers a quiet time with nature when he's not busy at work.
4. Eden Sher ( Sue Heck)
In another life, fans of The Middle, and Sue Heck, in particular, would have had the best of times since Eden Sher was in the run for getting her very own spin-off. That didn't happen, however, since it was passed, despite her role earning her a Critic's Choice Award. When the series came to an end, Sher continued with her role as Star Butterfly from Star vs. Forces of Evil, one which came to an end in 2019. The same year, she landed a recurring role on Jane the Virgin.
5. Atticus Shaffer ( Brick Heck)
It's hard to imagine that Atticus Shaffer is now 23 years old. When we first met him, he was the adorable weird kid with a passion for whispering to himself, an act that was also his tell when he was lying. When Brick wasn't being fascinated by the internet due to the fact that a few singles in his area were dying to meet him, he would feel good that people at school thought his Shaquille O'Neal backpack was cool. Through the years, we watched him grow, and when the series came to a close, Shaffer grew as well. He's been incredibly busy, getting voice roles on Harvey Street Kids and Ario the Alligator Boy, and appearing on an episode of Never Have I Ever.
6. Beau Wirick ( Sean Donahue)
For a long time, Sue Heck was a weird one who would do almost anything to gain the attention of people around her. Relationship-wise, she often took a liking to her brother's friends, something Axl did not really appreciate. It was a miracle, therefore when she got her own little love story going with Sean, whose lips she finally got to plant a kiss on. Since the show came to a close, Wirick has been quiet when it comes to acting. He is however enjoying married life to Daniela Bobadilla.
7. Greg Cipes (Chuck)
As a worker at Orson Quarry, Chuck had an air of calmness around him, often accompanied by funny punchlines that we do not think even he knew how hard they hit. Perhaps it was all hidden in his voice and how calm it was. Whether he was giving Mike Heck Valentine's Day advice or referring to himself in the third person, the Chuck was always a delight. Since 2018, Cipes has bagged voice-over roles in DuckTales, Rise of the Teenage Mutant Ninja Turtles, and Cleopatra in Space. He has also landed film voice roles in Teen Titans Go! and Ben 10 Versus the Universe: The Movie.
8. Daniela Bobadilla
When we first met Bobadilla, the show was on its eleventh season. She and Sue Heck shared the same awkwardness in college, and it only made sense that they would strike a friendship. Soon enough, the pair became dormmates and she got to confess her love for Sue's brother, Axl. In real life, however, Lexie was getting cozy with Sue's own love interest, Sean Donahue. Since the show came to an end, Bobadilla has not only tied the knot with the costar but also landed a voice role in Justice League vs. the Fatal Five. On television, she made appearances on episodes of Modern Family, where she played the role of Trish, and Young Justice: Outsiders, where she portrayed Andy Nash.