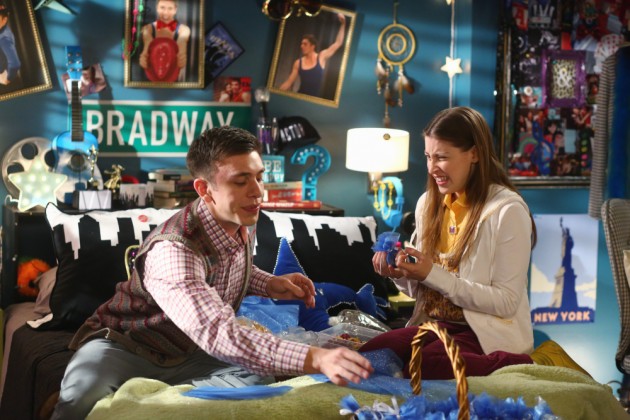 The Year of Sue almost hit a snag in last night's episode of The Middle, as she anxiously waited for college acceptances to roll in. The pressure of this waiting game even affected Mike in the most unexpectedly hilarious way.
Nothing ever comes easy for the Hecks, as we well know by now, but after one rejection and a waitlist offer, everything worked out in Sue's favor. Keeping herself busy making potpourri "Sue-venirs" for her classmates worked for a while, until she found out even Brad had already received his acceptance emails. Sue's first acceptance comes from East Indiana State, which is Axl's school. Frankie says in the voiceover that six more acceptances followed, so I'm sure there will be another episode entirely dedicated to her making a final decision with Axl doing everything in his power to dissuade her from following in his footsteps.
Speaking of Axl, he was home for spring break this week. Brick had gotten so used to having his own room without Axl's mess that he finally snaps. Somehow Brick moved a full size bed and dresser across their house into the dining room as Axl's new room. I have to say, Brick really impressed me with his sudden inspiration to write his own novel. His interest quickly fizzled out after he couldn't write more than two sentences before moving onto another idea entirely, but I think the writers are onto something there. Hopefully, Brick's attention span can stay focused long enough, and he just might find his true calling in writing. If the series were to end with a flash-forward to show where all the characters end up in ten or twenty years, I would love to see Brick as a successful sci-fi genre novelist. He definitely has the imagination for that.
Mike got a silly and surprising storyline of his own when the rest of his family witnessed him singing and air drumming at a red light. They could not believe their eyes or ears, so Axl luckily snapped a short video to remember this momentous occasion. It was so out of character to see Mike like this but in a very welcome way. When he can't stand the teasing of his family anymore, Frankie talks to him in private. That's where she finds out he's just so worried for Sue and he needed that alone time to drive and de-stress. I have always loved the father-daughter relationship between Mike and Sue, so seeing how her future can rattle him is very sweet. He only wants the best for his little girl who deserves the world.
In between all of this other nonsense going on around her, Frankie wanted to accomplish one thing: finally getting a dining room table. She's presumably responsible for selling her Aunt Edie's house, but before she does, she wants to claim her table. That's what led up to seeing Mike rocking out in his car and the clever set up of a dining room table placed over the foot of Axl's bed. Part of me wishes that the Hecks become super lazy so that they never move the bed back into Brick's room.
Notable quotables:
-"It's a new fragrance I'm working on. It's called 'Not Axl' by Brick." -Brick when Frankie commented on how nice his bedroom smelled
-"We've got two kids in college, a novelist, and we're drinking in the dining room bed. We're doing something right." -Frankie
What did you think of "The Waiting Game"?
[Photo via ABC]
Tell us what's wrong with this post? How could we improve it? :)
Let us improve this post!