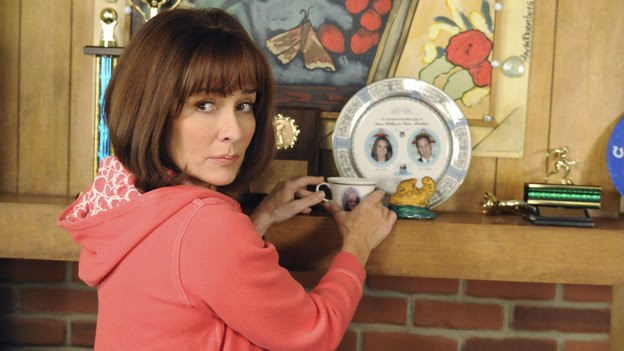 The Middle season 9 premier airs tonight on ABC. This is a bittersweet moment for fans of the long-running sitcom as this year will be the show's last. Patricia Heaton has starred as lovable matriarch Frankie Heck since day one. She is no stranger to television having appeared on Everybody Loves Raymond and Back to You. Here are five things you may not know about the talented The Middle actress.
1. She wears a wig on The Middle
If you have ever caught an episode of The Middle you may think that Patricia Heaton's hair looks different than what you remember from Everybody Loves Raymond. That is because that isn't really her hair. Heaton admitted on The Wendy Williams Show, "I have to be in at 5:45 in the morning to work, but with the wig, I don't have to come in until, like, 6:30." Talk about a time saver!
2. She received 7 Emmy nominations in a row
Though Patricia Heaton has been playing Frankie Heck on The Middle since 2009, she has yet to receive an Emmy nomination. Heaton was nominated seven years in a row for her portrayal of Debra Barone on Everybody Loves Raymond. She was nominated from 1999-2005. Heaton took home the Emmy in 2000 and 2001!
3. She made her TV debut in 1989
Patricia Heaton made her television debut almost 30 years ago. The Middle actress first appeared on an episode of Thirtysomething in 1989. Heaton played oncologist Dr. Silverman and appeared several times on the series for the final two seasons.
4. She is pro-life
When Patricia Heaton is not on the set of The Middle, she spends some of her free time supporting pro-life. Heaton is an honorary chair of Feminists for Life. The group is against abortion and stem-cell research. Feminists for Life started in 1972 and is based out of Alexandria, Virginia. The organization is also against assisted suicide and the death penalty.
5. She could have played an iconic NBC sitcom character
It is hard to imagine anyone else playing Debra on Everybody Loves Raymond, but things could have been different had Heaton gotten another role. When she was just starting her television career, she auditioned for a show about nothing on NBC. That's right! Heaton auditioned for the role of Elaine, played by Julia Louis-Dreyfus.
Are sad The Middle is ending. Tell us about it in the comments section below.
Photo by: ABC
Tell us what's wrong with this post? How could we improve it? :)
Let us improve this post!