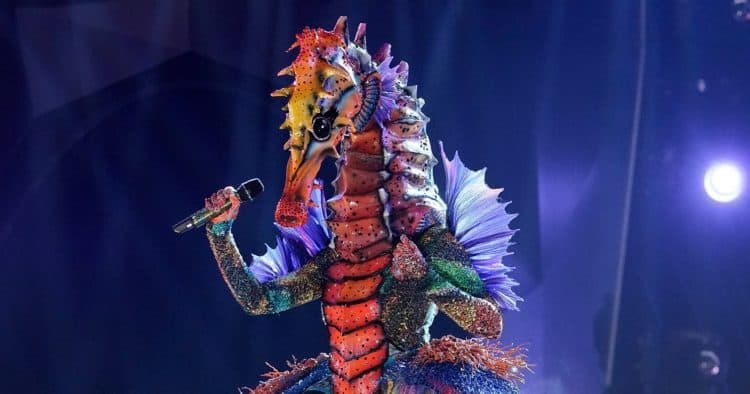 FOX's The Masked Singer, is equal parts competition and suspense. Every season, celebrity contestants wear elaborate costumes and hit the stage to sing covers of well-known songs. The identities of the celebrities remain a mystery until they are eliminated from the contest. Every season, however, there are a few contestants that viewers and judges are able to identity strictly by the sound of their voices. During season four, The Seahorse was one of them. Revealed to be Tori Kelly, The Seahorse's powerful vocals were impossible to disguise. Her performances were so good that many thought she would win, but unfortunately, that wasn't the case. Fans everywhere were shocked by her elimination, but she is still widely considered one of the best singers in the show's history so far. Keep reading to learn more about the Seahorse from season 4 of The Masked Singer.
The Seahorse's Costume
The costumes are always one of the best parts about The Masked Singer and The Seahorse's was certainly one worth remembering. The elaborate costume consisted of a multi-colored seahorse-shaped design that didn't skimp on any of the details. The costume was fun and vibrant and added to Tori's already powerful stage presence. Although some celebrities have a good amount of say in what kind of costume they're going to wear, it appears that The Seahorse was already chosen for Tori. During an interview with Entertainment Weekly, Tori talked about the costume and said that she had an "incredible" experience with the costume team. She also added,
" I don't think it originally had a tail. I just know when I saw the sketch of it when they kind of presented it to me, I thought it was cool, but I didn't realize how sparkly and amazing it would be in person. So it wasn't until I went to the fitting and kind of tried it on and saw it in person that I was just blown away. I believe this is the first time they were experimenting with airbrushing too on a mask, which I thought was really awesome. [There was] so much detail. I remember they were literally adding rhinestones every episode"
Fans' Reactions to Her Being Eliminated
To say that Tori Kelly is a vocal powerhouse might not even be strong enough to describe her vocal ability. Although many would agree that she hasn't gotten nearly as much commercial attention as she deserves, no one can deny the fact that she's a great singer. During her time on the show, people were in awe of Tori's performances and she quickly became a fan favorite. Upon her elimination, many viewers couldn't help but express their disappointment. Some even went as far as to say that the show was rigged after Tori was sent home.
Tori Kelly Shares Her Experience On The Show
Obviously when Tori Kelly agreed to do the masked singer she was hoping to win. However, she still had a great time even though she didn't make it to the end. The reality is that being on the show has certainly helped her gain more exposure. People who weren't familiar with her music got the chance to hear how amazing her voice is. In some ways, that's equally as valuable as winning the show. When asked how she felt about being voted off, Tori said, "it's hard to say disappointed because it's just such a fun experience as a whole. And I think there is a little part of me too, right when they said I was going home, I was like, oh, okay, cool. I get to show people that it's me. It's such a unique show. So it's hard to be so sad when I feel like I got to show so many different sides of me."
What's Next For Tori Kelly?
As mentioned before, being on the show has allowed her to gain some new momentum, and there are a lot of people who are excited to hear what she does next. Unfortunately, however, it doesn't appear that she has any new music in the works. Her most recent album which consisted of Christmas songs was released in 2020. Additionally, she doesn't have any upcoming tour dates at the moment and it's unclear when she will get out on the road again. However, that doesn't mean that Tori hasn't been working. She has a voice role in the upcoming animated movie Sing 2. There's a good chance that she will get back to working on her own music after the movie's released.Christmas
Tell us what's wrong with this post? How could we improve it? :)
Let us improve this post!