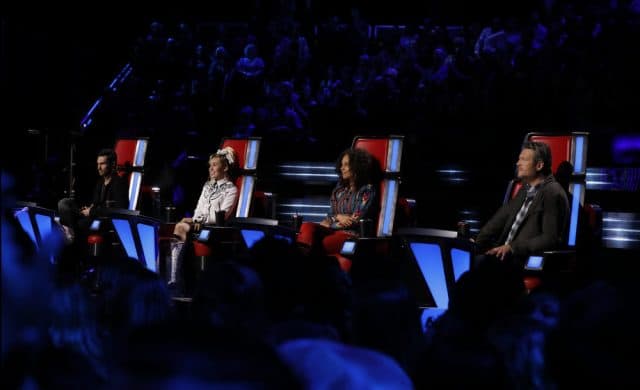 On Monday NBC aired The Voice season 11 top 12 performances. One of the fun things about that episode was watching the fabulous country singer Garth Brooks working with the artists. It's not surprising, but the man really knows his stuff when it comes with arranging a performance! Every suggestion he made played out beautifully.
If you missed them, these are The Voice season 11 top 12 performances. As you'd expect there aren't any bad ones. Covering this there are always some that are better than others, but everyone on the show is very talented. At the same time, there are some standouts in this round, as well as some questionable song choices.
Let's revisit The Voice season 11 top 12 performances – and talk about who ended up going home.
The Voice Season 11 Top 12 Performances
The iTunes Top Three
Judging by how they did on iTunes, these performances blew people away! (All of the iTunes numbers are as of noon on Tuesday, November 15.)
1. We Donald – Take Me To Church
There is no way this young lady is going home. We Donald singing "Take Me To Church" was number 16 on the iTunes charts. My reaction when she was singing at the piano – total tears. Not only is this her best performance to date, but it's arguably the best of the evening. Emotionally, musically, and vocally it's absolutely stunning.
[youtube https://www.youtube.com/watch?v=UDqbcS4xmKw?rel=0]
We wasn't just singing, the emotions and intentions behind her words jumped through the screen. No one mentioned politics once on this show, but this is one of several performances where the feelings surrounding the election poured through the music. She turned that rebellious love song into anthem of personal and political freedom. That's not just singing, that, is art.
Billy Gilman – "The Show Must Go On"
There is nothing subtle about the political intentions behind this performance by Billy Gilman. The bitter anger of the words and Kremlin red flashing throughout made it perfectly clear. It has a couple of notable spots of pitch issues, but emotionally it's such powerhouse they are more than forgivable. At noon it was number 24 on iTunes. He's in for another round. (Not a surprise.)
[youtube https://www.youtube.com/watch?v=pmpCUNsI9Os?rel=0]
Ali Caldwell – "Did I Ever Love You"
One of the things that stands out out about this round of performances is coach Miley Cyrus. You may have some negative opinions about her clothes and politics, but this woman knows and understands music. Throughout this competition her song choices have been brilliant in highlighting her artists' strengths and making their music more appealing to a wider audience. She picked the Leonard Cohen song, "Did I Ever Love You" song for Ali Caldwell. With this song, Ali has hit on iTunes. At noon she was number 25.
[youtube https://www.youtube.com/watch?v=PPBfQ7yIRwM?rel=0]
Vocally there hasn't been anyone on the American music scene since Whitney Houston. Yes, she's that good.
The Country Music Block Shines Bright!
It was a good night for country music on The Voice! All three country artists charted on iTunes with solid performances that had cross-over appeal. Because, as coach Alicia Keys often says good music has no genre!
Josh Gallagher – "Why"
At number 36 Josh charted the highest of the country singers (sorry Blake). I really like Josh. Even though I don't think he always has the strongest vocals, he's got a reliability factor that comes through his music.
[youtube https://www.youtube.com/watch?v=GNkwj1B8nEk?rel=0]
Sundance Head – "My Church"
Sundance Head singing "My Church" was the show's opener, and it was a real feel-good performance! At times it was hard to understand his words, but you had no problem understanding his heart. He's hard on Josh's heels at number 37 on iTunes.
[youtube https://www.youtube.com/watch?v=x23tovFATDc?rel=0]
Austin Allsup – "Do Right Woman, Do Right Man"
Austin Allsup tackled an Aretha Franklin classic and it put him on the charts at number 76. It's not as high as the other two country artists – and there are other singers that charted ahead of him. Austin is a solid singer and musician, but I couldn't keep the original out of my head. For me, his version just doesn't hold up. However, not everyone made it onto the top 100 singles chart at all. Obviously his verison appealed to some. He's likely making it through.
[youtube https://www.youtube.com/watch?v=y5PojJnZlyo?rel=0&w=640&h=360]
The Voice Season 11 Top 12 Performances – Other Chart-makers
It's a safe bet that these performers will make it through. While it's true some have made the iTunes chart and not gotten the popular votes via normal voting, it doesn't happen often.
Brendan Fletcher – "Whipping Post"
Brendan Fletcher finally rocks out! This performance gives him his highest chart number thus far: number 56.
[youtube https://www.youtube.com/watch?v=wvASWVXpizI?rel=0&w=640&h=360]
Christian Cuevas – "The Scientist"
Christian Cuevas is a great balladeer, no matter what the genre. His version of the alternative rock Cold Play song, "The Scientist" landed at number 69.
[youtube https://www.youtube.com/watch?v=1S1TCD67G7A?rel=0&w=640&h=360]
Darby Walker – "Ruby Tuesday"
I was so happy with how Miley Cyrus guided Darby Walker with this song choice! It felt like we finally got to hear Darby sing! By having Darby cut back on the stylizing sound that imitates Florence and the Machine viewers got to hear Darby. The move pays off with Darby making it on the chart at number 93.
[youtube https://www.youtube.com/watch?v=VxYsFsWWg9g?rel=0]
Who Got Saved – and Who Went Home
These singers didn't chart. That didn't mean they were out, but they were more at risk.
Courtney Harrell – "I Don't Want to Miss a Thing"
Blake needs to get some help picking songs for Courtney Harrell. His choices don't do her justice. They aren't bad, but they don't really let her unleash her vocal power. Nevertheless, her being on team Blake may get her through.
[youtube https://www.youtube.com/watch?v=S54j1dls8d4?rel=0]
Aaron Gibson – "Hollywood Forever Cemetery Sings."
I'm worried about Aaron Gibson. It's not that he picked an unknown song. It's that he picked a song that he admits to not having an emotional connection to. The one thing that's important with alternative rock is being to connect to what you're singing. (Incidentally, Miley did not pick this for him.)
[youtube https://www.youtube.com/watch?v=BJSvFX829PA?rel=0]
Sa'Rayah – "Livin' on a Prayer"
I'm even more worried about Sa'Rayah. I can see the idea was to make her more mainstream by having her do rock, but she's not a rocker. This is one singer who's better off staying in her wheelhouse. She's phenomenal with r&b, gospel, and blues. If she makes it through, I hope they don't try this again!
[youtube https://www.youtube.com/watch?v=K7SrRA_cxqo?rel=0]
The Wrap Up – Who Went Home
As expected, Sa'Rayah and Aaron were the bottom two. Each had to sing to survive, and then it was time for the instant save.
Sa'Rayah did the 1970's Aretha Franklin hit "Rock Steady."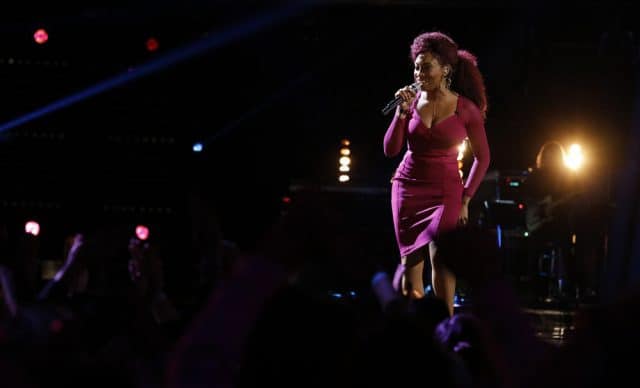 Aaron did "Lego House" by Ed Sheeran.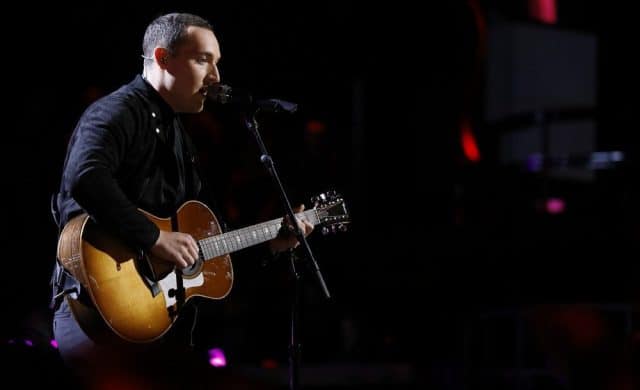 Both Aaron and Sa'Rayah did well, but America chose to save Aaron.
This instant save demonstrates the importance of song choice. Aaron seems to have learned his lesson about obscure songs that he likes for its style. "Lego House" is well-known to the alternative rock rock, and a song about picking up the pieces after a loss is self-explanatory.
In contrast, I wish Sa'Rayah had picked something more gospel and less old-school funk. Basically, unless you are Aretha Franklin, this is not a song most of America is going to relate to. I get that she wanted to get back to her roots after the rock music failure. Still, had she thought about her blind audition she'd have gone more for that emotional kind of song and not so much about a performance piece.
Since I loved both singers the idea of either one of them going home was not a happy one. I felt a little worse for Sa'Rayah because Miley's already said she wants to work with Aaron once the show is over. On the other hand Sa'Rayah may turn out to be the Jennifer Hudson of The Voice. She's got an incredible voice – and an inspiring story. Hopefully we'll be hearing more from her – but it won't be on The Voice.