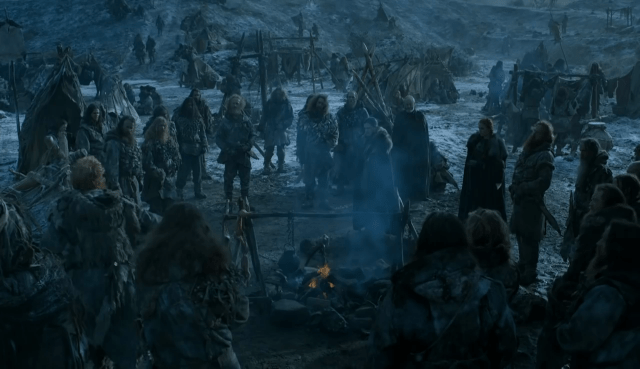 Well, last week's Game of Thrones certainly gave us a lot more to look forward to. I'm gonna talk about last week's episode here so better stop reading because there will be spoilers. Benjen Stark is back and it means a lot for the show. I stated in the preview for last week's episode that it'll be Coldhands that will save Bran and Meera. Turns out the showrunners don't want him on the show. So we now have Benjen Stark, but in the preview we don't see Bran at all. Maybe he's sitting this one out. Since his journey will now take him south to the wall, I know everyone would like to be spared seeing some pointless walking.
Also missing is Daenerys who's recently started riding Drogon. I'd still expect her to be in this. Since she's starting to get interesting again, I'd certainly like to see more of her. But more than Daenerys, I want to see Tyrion this time. Alas, he's also missing but I'd be damned if they don't give us more Tyrion. Arya is expected to feature heavily but she's missing from the preview too.
The synopsis for the episode titled "The Broken Man" reads:
The High Sparrow eyes another target. Jaime confronts a hero. Arya makes a plan. The North is reminded.
The preview begins with Jaime preparing to parley with the blackfish Brynden Tully. Well, it's not exactly a parley but a threat. If you don't yield Riverrun, then we'll kill Edmure. Except, and this is very important, Jaime's not the one making the threats. It's that son of Walder Frey. In the books, he just stands outside Riverrun and threatens the Blackfish every single day. Of course, the Blackfish doesn't relent. He just makes an idiot of himself. Until Jaime arrives. We all know what happens then. I'd expect the same to happen here.
In King's Landing, good ol' Olenna Tyrell is giving Cersei a scolding. If the tales can be believed, she annoyed her husband so much that he literally jumped off a cliff. How's that for the queen of thorns? But I do expect that another plot is being hatched here. Jaime would have doomed them all. Cersei, well she's a different breed. And The Queen of Thorns is also the Queen of Schemes. I wonder what will happen to the Tyrell alliance when Cersei finds out who killed Joffrey.
The thing here is that Aegon will soon join forces with Dorne and descend on the Lord Bannermen of Tyrell and Lannister. With King's Landing at mercy to the High Sparrow and Jaime off to the Riverlands there will be no one to defend Aegon's assault. If Daenerys and Euron arrive, most likely the Lannisters will be caught amid a three-way war. And never forget the northmen that Sansa will raise against Ramsay. If Ramsay is dispatched quickly, then the Lannisters will find themselves with more debts than they can pay.
Meanwhile Sansa is visibly being seen questioned by her father's Lord Bannermen. After all, she married Tyrion and then Ramsay. So, what is she really? Bolton, Lannister or Stark? To which she replies that she'll always be Stark. As for the army, the wildlings seem prepared to die for Jon since Jon died for them. And Sansa's new-found fierceness will be enough to rile the bannermen. And book readers will know about the hidden army that Sansa can raise against Ramsay. In the books Stannis raised an army of wild northmen from the hills. Stannis lost despite that. But I think Sansa can do better with them. Game of Thrones appears to have ditched the books completely so…
As for Ramsay's suporters, the only ones he can rely on are Karstark and Frey. The Manderlys are loyal Stark men and will turn on him as soon as the battle begins. The Glovers as well. And the wildlings are many and fierce. This'll be pretty one-sided unless something happens. Which always does.
Oh, and Bronn's back. Not sure what part he has to play here. I don't know if he's tired of serving the Lannisters yet or if he's being paid enough to do this. It's just great to have him back. It's just not Game of Thrones without some good old fashioned Bronn.
Game of Thrones airs Sundays on HBO at 9:00 PM.