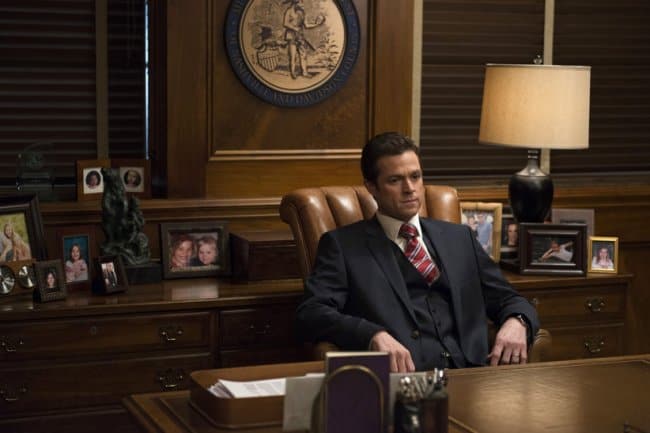 Rayna Jaymes' divorce hits the news, Deacon Claybourne has a birthday party and Gunnar Scott has brother issues… looks like it is just another week in Nashville! This week's episode starts with Rayna confronting Teddy about his affair with Peggy which ends with her threatening not to cover for him with their girls anymore.
Meanwhile Scarlett is getting used to have Gunnar's brother Jason around. Unfortunately Gunnar stumbles upon Jason's gun and freaks out. He confronts his brother, throws the gun in the river and then kicks him out… very intense.
On a high note, Juliette plans a birthday party for Deacon who usually sits alone and watches Old Yeller on his birthday. With the help of Scarlett, Juliette manages to surprise him and has a bunch of people show up at the Bluebird in his honor. The best part… they are all holding up Deacon face cutouts!
As Rayna is trying to deal with the divorce she turns to her sister who is surprisingly helpful for once. Her dad, who is usually terrible, also steps in and tells her that she shouldn't be ashamed of who she is because she has done nothing wrong (so sweet). Despite her dad's words of support, Rayna is becoming annoyed with all of the paparazzi stalking her not to mention the rumors of her sleeping with Liam and Deacon while still being married, which is completely false.
In an attempt to take her life back into her own hands, Rayna goes against her publicist's wishes and shows up to Deacon's party. This she proves that she is a total badass! Deacon's party turns out to be one musical performance after another which is very fitting in Nashville. After Gunnar and Scarlett perform, Rayna takes the stage much to Juliette's dismay. Juliette however can't sing because her mother, who has been sober almost this whole season, breaks down and drinks some champagne. Juliette takes her home, puts her to bed and finally sees that she needs to be more present in her mother's recovery.
In a switch back to Teddy we see that he has not stopped seeing Peggy. In fact, he has appointed her to his staff so he can see her on a regular basis. In a very exciting twist, Rayna's father comes to see Teddy and calls him out for the divorce. After he leaves Teddy has another visitor, Coleman (who he ran against for Mayor). Although Coleman admits he is team Rayna, which is awesome, when Teddy offers him the position of deputy mayor he can't turn it down.
Meanwhile, Rayna is singing a new song at the Bluebird, which is clearly about her current issues and how much she still loves Deacon–aww. While she sings Gunnar is taken by the police for an unknown reason. This week's most shocking moment is when we see Gunnar again. He isn't at the police station like you would think, he is at the coroner's office where he finds out that his brother is dead!
Back at the Bluebird, Rayna and Deacon have a chat that ends with them holding hands–swoon. When the next day rolls around Scarlett is still up because she is worried sick about Gunnar. He finally comes home and tells her what happened. He is heartbroken. To end the episode, Scarlett comforts him which leads to some serious kissing…finally!
What will happen next week? Will Deacon and Rayna rekindle their romance and what will happen to the new lovebirds, Scarlett and Gunnar? Tune in next week to find out!