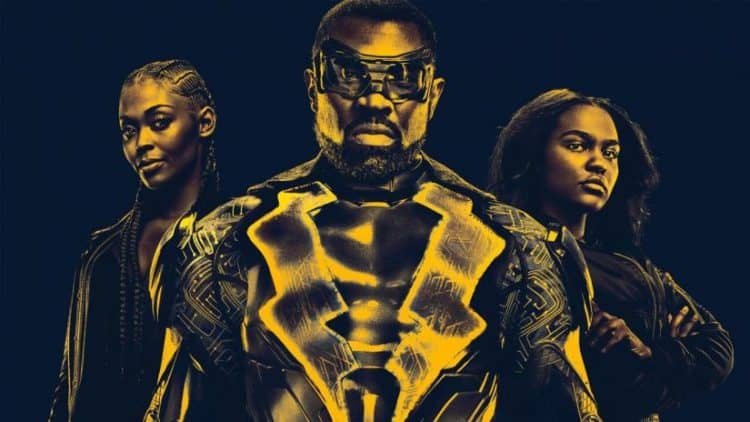 Back for a third helping of superhero action this fall is Black Lightning, the adventure-packed series that's quickly turning into one of The CW's biggest hits. The series revolves around Jefferson, a high school principal turned teacher who just so happens to be the original African-American superhero, Black Lightning. The CW has been keeping the secrets of the new season close to its chest, but it's likely we can expect a lot more butt-kicking, a lot more crime-fighting, and some ever-increasing threats from Markova and The 100. We can also expect to see all the old gang back on fine form … find out more with our who's who guide to the cast of Black Lightning Season 3.
Cress Williams as Jefferson Pierce/Black Lightning
Taking on the role of Jefferson Pierce/Black Lightning, the metahuman vigilante, is Cress Williams. Williams' first taste of acting came in a college production of William Shakespeare's tragedy, Othello. After graduating from UCLA, he got his first professional job in 1993 as Terrence 'Scooter' Williams in the sitcom, Living Single. At around the same time, he landed the role of D'Shawn Hardell in Beverly Hills, 90210, a series he starred in for 13 episodes. Since those early days, he's enjoyed TV appearances on shows such as Star Trek: Deep Space Nine, NYPD Blue, Lois & Clark: The New Adventures of Superman, 3rd Rock from the Sun, JAG, Living Single, Nash Bridges, Providence, Law & Order: Special Victims Unit, Veronica Mars, The West Wing, Close to Home, ER, Friday Night Lights, Hart of Dixie, Prison Break and Grey's Anatomy. His film output, meanwhile, has been no less prolific, with star turns in Reign of the Supermen (2019), Lowriders (2016), Little Black Book (2004), and Never Been Kissed (1999). On the home front, Williams is currently married to Kristen Torriann, after his previous marriage to actress Simbi Khali ended in divorce in 2011.
China Anne McClain as Jennifer Pierce/Lightning
Starring as Jefferson's younger daughter, Jennifer Pierce/Lightning, is actress China Anne McClain. McClain took her first steps in entertainment at the age of just seven years old when she landed a part in the film The Gospel (2005). Since then, she's appeared alongside Idris Elba in Tyler Perry's Daddy's Little Girls (2007), Miley Cyrus in Hannah Montana, and starred as Charlotte McKenzie in Grown Ups (2010), Serena in Barbershop: The Next Cut (2016), Chyna Parks in A.N.T. Farm (2011—2014), Uma in Descendants 2 (2017), and Jazmine Payne in Tyler Perry's The Paynes (2018). The acclaimed actress has won numerous accolades over the course of her career, including 3 NAMIC Vision Awards https://www.imdb.com/name/nm1942207/awards) (the first for Best Performance — Actress of Comedy for Tyler Perry's House of Payne, the 2nd for Best Performance — Actress of Comedy for A.N.T. Farm, and the 3rd for Outstanding Performance in a Youth/ Children's Program — (Series or Special), again for A.N.T. Farm).
Nafessa Williams as Anissa Pierce/Thunder/Blackbird
Reprising her role as Anissa Pierce/Thunder/Blackbird is 29-year-old actress Nafessa Williams. Williams got her first big break in the industry in 2011 when she was cast as Nicole Gordon alongside Philadelphia rapper Meek Mill in Streets. Since then, she's become known for her performances as Deanna on ABC's One Life to Live, Dr. Charlotte Piel in Code Black, and Jade in Twin Peaks. In June 2019, Williams joined fellow CW series actresses Candice Patton and Danielle Panabaker, along with several others, in a tour of U.S. military bases in Kuwait with the United Service Organizations (USO).
Christine Adams as Dr. Lynn Stewart
Back as Dr. Lynn Stewart is Christine Adams, an English actress and model who's acting breakthrough came in the British miniseries NY-LON in 2004. Since then, she's made numerous appearances on TV shows such as My Family, Doctor Who, Pushing Daisies, Heroes, Nip/Tuck and Real Husbands of Hollywood, while her film credits extend to Submerged, Batman Begins, Eye of the Dolphin, Green Flash, Beneath the Blue, and Tron: Legacy.
Marvin "Krondon" Jones III as Tobias Whale
Marvin "Krondon" Jones III is back in season 3 as Black Lightening's nemesis, Tobias Whale. As well-known as a rapper as he is an actor, Jones has enjoyed huge success as a member of the group Strong Arm Steady. Together with bandmates Phil Da Agony and Mitchy Slick, Jones has released several albums, including Deep Hearted, the mixtape Gang Mentality, the conceptual album In Search of Stoney Jackson, and the band's most recent offering, Arms & Hammers. Acting-wise, Jones made his first appearance on TV in Harry's Law in 2011 and has also lent his talents to the role of Tombstone in Spider-Man: Into the Spider-Verse (2018).
Damon Gupton as Deputy Chief Bill Henderson
Back as Deputy Chief Bill Henderson is 46-year-old actor, Damon Gupton. Prior to landing the role of Black Lightening's on/off ally, Gupton was best known as Charles Foster on Deadline, Evrard Valerio on Prime Suspect, Adam Page on The Divide, Detective Cal Brown on The Player, and SSA Stephen Walker on Criminal Minds. Outside of acting, Gupton is a respected orchestral conductor, having won Mexico City's third International Eduardo Mata Conducting Competition, the Robert J. Harth Conducting Prize, and The Aspen Conducting Prize.
Jordan Calloway as Khalil Payne
Starring once again as Khalil Payne / Painkiller is Jordan Calloway. As the son of Primetime Emmy nominated cinematographer Joseph Calloway, you could say Calloway had a head start on his acting peers, but over the past 2 decades in the industry, he's proved there's a lot more to him than a famous last name. Since landing his breakthrough role as Zach Carter-Schwartz in Unfabulous, Calloway has enjoyed a prolific TV career, including recurring roles on NBC's ER (2005—2006) and on The CW series Riverdale (2017—present).
James Remar as Peter Gambi
Season 3 sees James Remar back as Jefferson's oldest friend and mentor, Peter Gambi. Over the years, the 65-year-old actor has earned a reputation for playing the "bad guy', largely as a result of his convincing portrayal of the sexually violent Ajax in the cult film The Warriors (1979), the sociopathic killer Albert Ganz in 48 Hrs. (1982), and the villainous Quill in The Phantom (1996)
Tell us what's wrong with this post? How could we improve it? :)
Let us improve this post!